An All About Me Worksheet is a great yearly kids activity.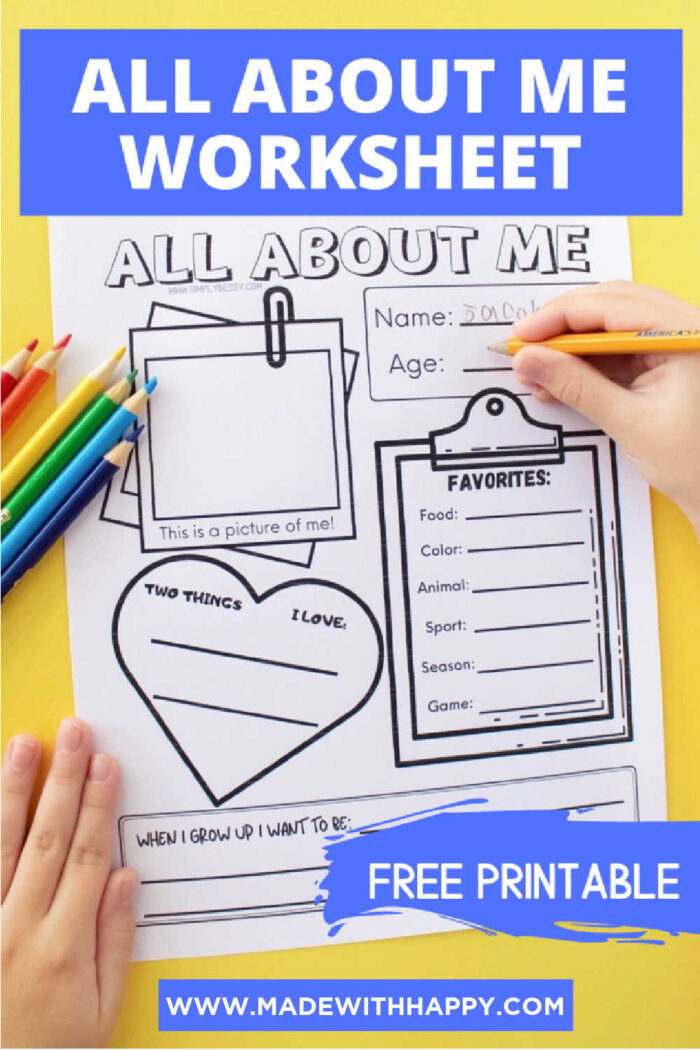 I used to do one with my students at the beginning of each school year. Kids love talking and writing about themselves so it was always a hit in class.
Recently, my boys went through their old school work bin and I didn't see any of these sheets. I decided to make my own for them to fill out! Read on for your free printable worksheet and some ideas on how to use it.
All About Me Worksheet Free Printable For Kids
Get your kids talking and writing about themselves using this simple template. There is a space for a current photo, name, age, two things they love, favorites, and what they want to be when they grow up.
I loved watching my boys filling this in with their info. They even asked me what my favorite things are and it was a fun time together.
If your child isn't quite ready to write by themselves, feel free to write it the answers for them. Another option is to let them draw in the spaces or even use stickers.
Check out this Rainbow Name Craft for Kids!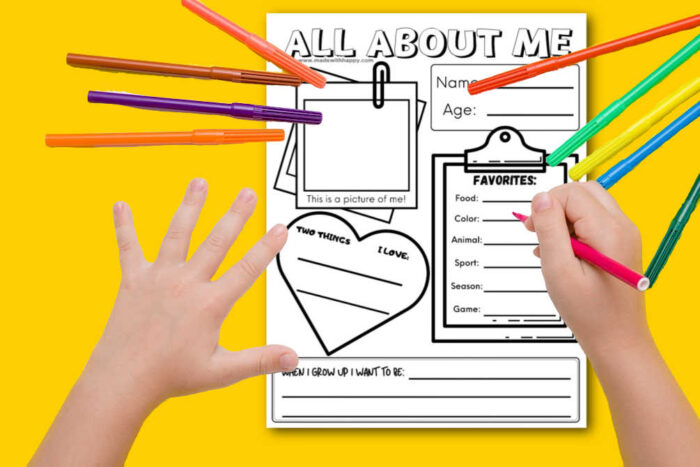 How to Use the Worksheet and Activity Ideas
The first step is to print out the All About Me Worksheet and have your child fill it in with their information.
My boys are 8 & 10 years old so they did this independently and colored the page all on their own. For smaller kids, feel free to jump in and help as I mentioned above.
Once your child is done writing in their info, they can color some of the worksheets if they like. My boys did a little bit of a rainbow theme.
For the photo section, your child can draw themselves or you can add a real photo. We have those little Polaroid cameras at home so I used that. I personally love using a real photo but you can also print one on paper if that's easier.
We highlighted this Back to School Printable along with some other fun kid's crafts in our September Crafts along with our 101+ Easy Craft Ideas for kids.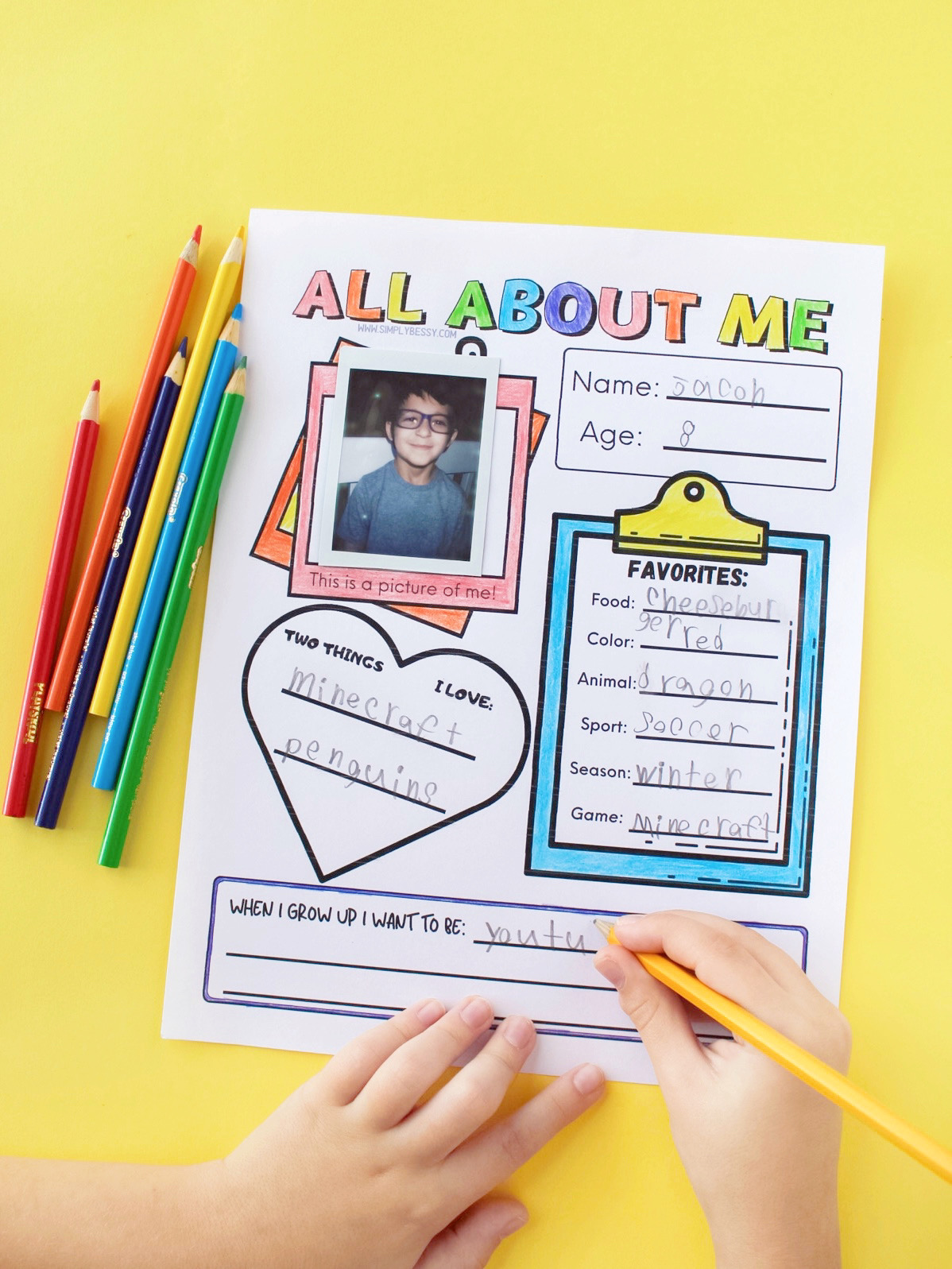 Looking for another writing activity? Check out this Free Printable Writing Journal for Kids!
You can leave the worksheet as is and be done or you can use some of my ideas. Here are other ways to turn this into a longer activity.
Add an "All About Me" Collage on the back of the worksheet. Go through magazines or print out images of the things your child wrote on the sheet.
Have your child add drawings on the back of the sheet of the things they wrote down.
Take photos of your child with the things they wrote down, then add the worksheet to the front of the sturdy card stock and glue the photos to the back.
Have your child write a story about themselves on the back of the worksheet.
There are so many things you can do but my favorite idea is to do it every year! Then, take all of the worksheets and create a memory book with them. What a special way memento to have in your home!
Other Fun Printables You'll Enjoy
Download the Free Printable All About Me Worksheet
Simply enter your email in the form below and you will be taken directly to the free printable.
For personal use only.
CONNECT WITH MADE WITH HAPPY!
Be sure to follow me on social media, so you never miss a post!
Facebook | Twitter | Youtube | Pinterest | Instagram
Looking for crafts to keep your child busy? Sign up for my 5 Ridiculous HAPPY Activities in under 30 minutes for your kids delivered directly to your inbox!
Find and shop my favorite products in my Amazon storefront here!
ALL ABOUT ME WORKSHEET
PIN IT TO YOUR DIY BOARD ON PINTEREST!
FOLLOW MADE WITH HAPPY ON PINTEREST FOR ALL THINGS HAPPY!
I hope you do this with your kids and if you do please share it with me!
Tag me on Facebook, Instagram, and Twitter. It really makes me so happy to see families using my ideas and having fun with their kids.
xo,
Alli