Discover a delightful collection of Fruit Coloring Pages for kids of all ages! Engaging and educational fun with vibrant fruits to color.
These free printable fruit coloring pages are a fun way to color all the different shapes and interesting fruits.
Coloring is a favorite pastime for kids and adults alike. It's fun, therapeutic, and allows everyone to create their own imaginative world. The coloring books you get in the market can be slightly complicated for the little ones. The result? Kids lose interest midway.
Therefore, I think it's best to give kids easy printable coloring sheets to build their confidence. And what better than cute fruit coloring pages, right?
It is why I've attached some free printable coloring pages at the end of this post for you.
Why is Coloring a Good Activity?
Kids are fascinated by colors. They don't like black and white - heck, they don't even spare walls and couches, LOL. So, save your interiors and let them express their creative side with these printable fruit coloring pages. They'll learn to think outside the box and strengthen their sense of self-expression.
Coloring improves the little one's motor skills. They'll learn how to hold colored pencils and crayons. Coloring within lines will also teach them how to control their hand movement, improving their hand-eye coordination.
Moreover, coloring also helps build concentration in kids and encourages them to complete their work. If your little munchkin has a short attention span, hand him some cute fruit or vegetable coloring pages. You'll be surprised how he takes his sweet time to finish each activity.
Don't mistake coloring as an activity for the little ones only. It's for kids of all ages. Even adults can benefit from it. It's therapeutic, helps with stress relief, and also boosts creativity.
How Can I Use Coloring Pages When Completed?
Sadly, most of the time, completed fun coloring pages end up in trash bins. But they don't have to. Here are some different ways to save them:
Frame your child's best work and hang them in their room
Pin them on a corkboard
Make a scrapbook out of them
Create cards for your friends and family
Scan the pages and make digital artwork out of it
If you're extra crafty, you can make adorable paper bags and envelopes out of them too. With these creative ideas, your child's coloring pages will never go to waste.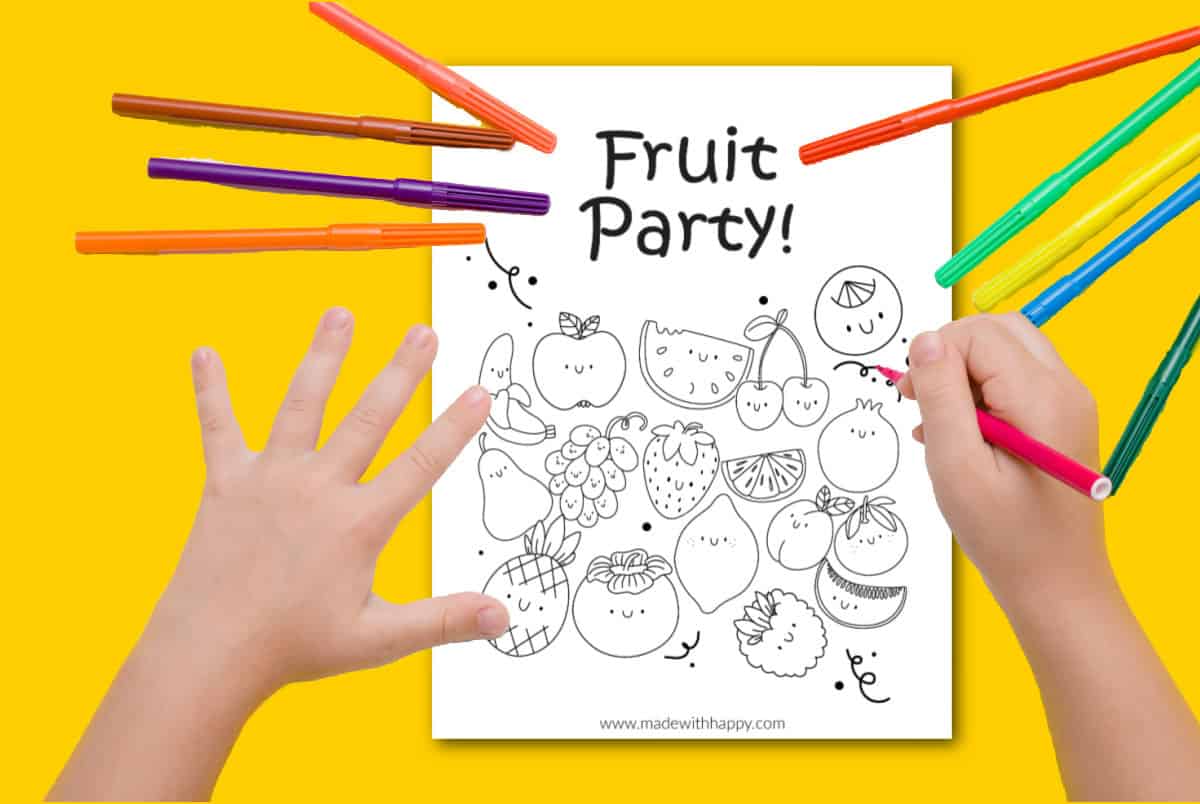 How Does a Fruit Coloring Sheet Benefit Me as a Parent?
Most parents see coloring pages as a fun activity for kids. But they can also be educational. You can help your kids learn about different types of fruits and vegetables and the different colors.
For instance, you can ask your kiddos to identify which fruit or vegetable they are coloring. You can also get creative with your lesson plans and have them draw pictures of the fruits or vegetables in their natural habitats.
Best of all? Tell them the nutritional benefits of the fruit they are coloring and encourage them to eat it.
Check out these other Fruit Crafts!
Coloring Pages for Kids Coloring
If you want to keep your little ones entertained over summer vacation, the holidays, or during a long car trip, download these free fruit coloring pages and turn them into a coloring book. You can make a file to keep everything in one place. Trust me; it's fun!
We highlighted this Summer Coloring Page along with some other fun kid's crafts in our Summer Crafts along with our 101+ Easy Kids Crafts.
You also do not want to miss our 101+ Coloring Pages For Kids and 101+ Printables For Kids full of Crafts and Coloring Pages.
Other Free Fruit Coloring Pages You'll Enjoy
Download Free Coloring Pages of Fruit
Enter your email address in the form below and you'll be taken to the free fruit coloring page pdf file.
*For Personal Use Only
CONNECT WITH MADE WITH HAPPY!
Be sure to follow me on social media, so you never miss a post!
Facebook | Twitter | Youtube | Pinterest | Instagram
Looking for crafts to keep your child busy? Sign up for my 5 Ridiculous HAPPY Activities in under 30 minutes for your kids delivered directly to your inbox!
Find and shop my favorite products on my Amazon storefront here!
FRUIT COLORING PAGE
PIN IT TO YOUR DIY BOARD ON PINTEREST!
FOLLOW MADE WITH HAPPY ON PINTEREST FOR ALL THINGS HAPPY!