Get creative with October Coloring Pages! Fun printables for fall, Halloween, and more. Perfect for kids of all ages.
October is here, and you know what that means - it's time for some cute October Coloring Pages! Get ready to dive into a world of creativity and imagination as we explore this month's exciting coloring adventures.
As the leaves turn brilliant shades of orange and the air becomes crisp, we find ourselves in the wonderful month of October. And what better way to embrace the cozy vibes of fall than by diving into some delightful October Coloring Pages? This is your invitation to join us on a creative journey through this fantastic month, where you'll discover a treasure trove of coloring pages that capture the essence of October's charm.
In this enchanting collection of free October coloring pages, we've curated a wide array of designs that pay homage to the unique beauty of October. From spooky Halloween scenes to picturesque autumn landscapes, you'll find plenty of opportunities to let your creativity run wild.
Get ready to grab your favorite coloring tools, whether they be crayons, colored pencils, or markers, and start adding your personal touch to these pages. And remember, there are no limits to your imagination!
Check out these other October Fun!
Coloring Pages of October
These Free Printable October Coloring Pages are not just for kids – they're for everyone who loves to unleash their creativity through coloring. Whether you are increasing a youngster's fine motor skills or your older kids are seeking a relaxing and enjoyable pastime, there's something for everyone in this collection.
As you dive into these October-themed coloring pages, you'll find a world of possibilities awaiting your colored pencils, crayons, or markers. Get ready to explore the enchanting beauty of autumn with pages filled with falling leaves, charming scarecrows, and friendly pumpkins. And of course, it wouldn't be October without some spooky Halloween-themed pages that will let your imagination run wild. No matter your age, these coloring pages offer a chance to express yourself and bring these festive scenes to life in your own unique way.
So, whether you're a kid, a teenager, or a grown-up kid at heart, grab your coloring tools and get ready to celebrate the wonders of October. Spend some quality time relaxing and coloring with friends and family or enjoy some peaceful solitary moments.
These October Coloring Pages are a delightful way to embrace the spirit of the season and create colorful memories that will last a lifetime. Let your creativity flow and have a blast coloring your way through the magic of October!
October Color Pages
Check out this fantastic roundup of Printable October Coloring Sheets, packed with spooky Halloween scenes, cozy autumn landscapes, and more creative coloring fun for the Fall months (September, October, and November)!
Get ready to color an awesome October-themed sheet featuring pumpkins, leaves, and all the autumn vibes! A so much fun addition to our Months of the Year Coloring Pages.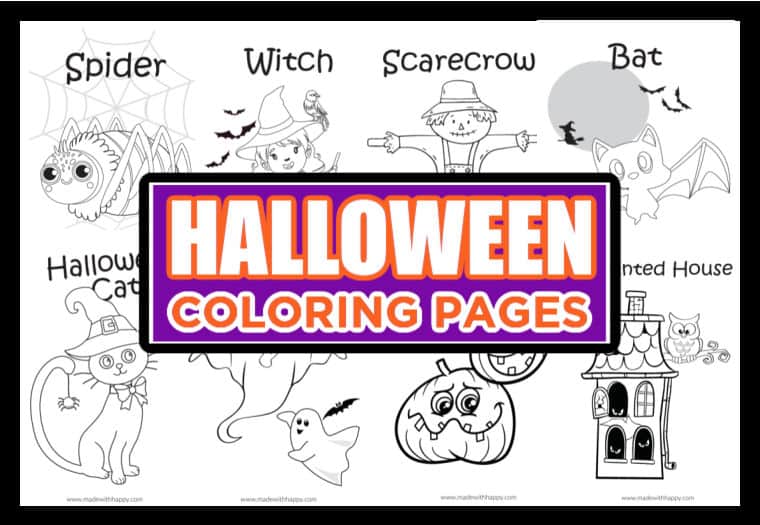 Get spooky and creative with our Halloween Coloring Pages! Our fun coloring pages feature ghosts, witches, and all things eerie to celebrate the spookiest time of the year!
Celebrate Halloween with our "Happy Halloween" coloring page. You can add your favorite colors to create a festive and cheerful spooky masterpiece!
Dive into the Halloween Coloring Book, filled with eerie and exciting pages. They let you bring the spooky season to life with your imagination and colors! It's a great way to have some Halloween fun. With 20 different pages, there is sure to be a favorite coloring page or more included.
Get in the Halloween spirit with our Halloween Printable Coloring Pages. These feature a variety of spooky and fun designs that you can print and color to your heart's content!
Have a blast with Halloween Color By Number Pages, unveiling spooky pictures using number clues in a fun, creative manner!
Enhance Halloween festivities with our interactive Coloring Halloween Tablecloth, turning your table into a masterpiece alongside friends and family! The tablecloth is filled with October pictures and tons of different designs.
Dive into Halloween fun with our Bat Coloring Page, adding your twist to cute or spooky bat designs!
Celebrate Halloween with our Halloween Cat Coloring Page, where you can give a mischievous feline some spooktacular colors and style!
Revive the friendly or spooky ghost using your colors in our Ghost Coloring Page, ideal for embracing the Halloween vibe!
Prepare to add eerie colors to our Haunted House Coloring Page, crafting your spooky masterpiece just in time for Halloween!
Join the pumpkin carving tradition with our Jack O' Lantern Coloring Page, designing your spooky or silly Halloween pumpkin face!
Embark on a coloring voyage with our Pirate Coloring Page, infusing daring swashbuckling colors into a treasure-filled pirate world!
Spin some web-tastic creativity with our Spider Coloring Page, where you can give these eight-legged critters your own colorful flair for a Halloween-themed masterpiece!
Get ready to brew up some magical fun with our Witch Coloring Page, where you can give a witchy character a splash of vibrant colors for a spellbinding masterpiece!
Don't forget to bookmark your favorite October Coloring Pages with our Printable Halloween Bookmarks, adding a spooky touch to your reading adventures!
Dive into October Coloring Pages with our Bat Drawing, where you can add vibrant colors to a captivating and mysterious bat.
Embrace Halloween vibes with our Spider Drawing, letting you design and color your own spooky arachnids.
Explore intricate patterns in our Spider Web Drawing, part of October Coloring Pages, where you can craft detailed spider webs.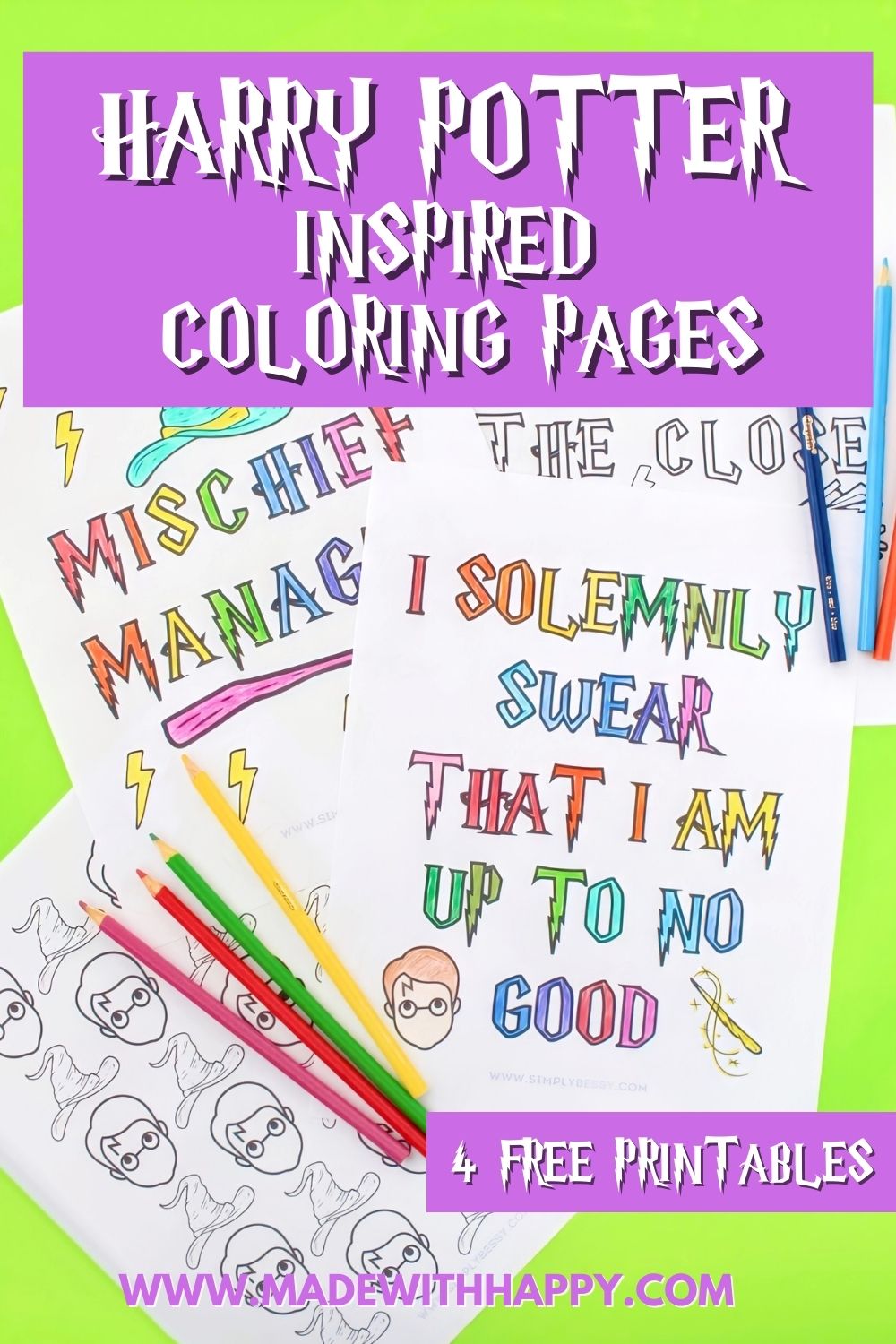 Embark on a magical journey with our Harry Potter Free Printable Coloring Pages, where you can bring your favorite wizarding world characters and scenes to life with your own enchanting colors!
Join the vibrant and colorful world of "Coco" with our Coco Coloring Pages, where you can bring the magic of Dia de los Muertos to life with your own artistic touch!
Fall Coloring Pages
Embrace the cozy spirit of October with our Autumn coloring sheets, capturing the warmth and beauty of the Fall season through creative coloring and Fall Printables! Whether is fun fall leaves, a pumpkin coloring page, or intricate designs of the autumn harvest, there are lots of free coloring pages to fill up the Autumn season.
Spread the joy of the season with our 'Happy Fall' Coloring Pages that celebrate autumn's arrival! These free printable fall coloring pages are a fun activity for both young kids and big kids along with a free download fall word search!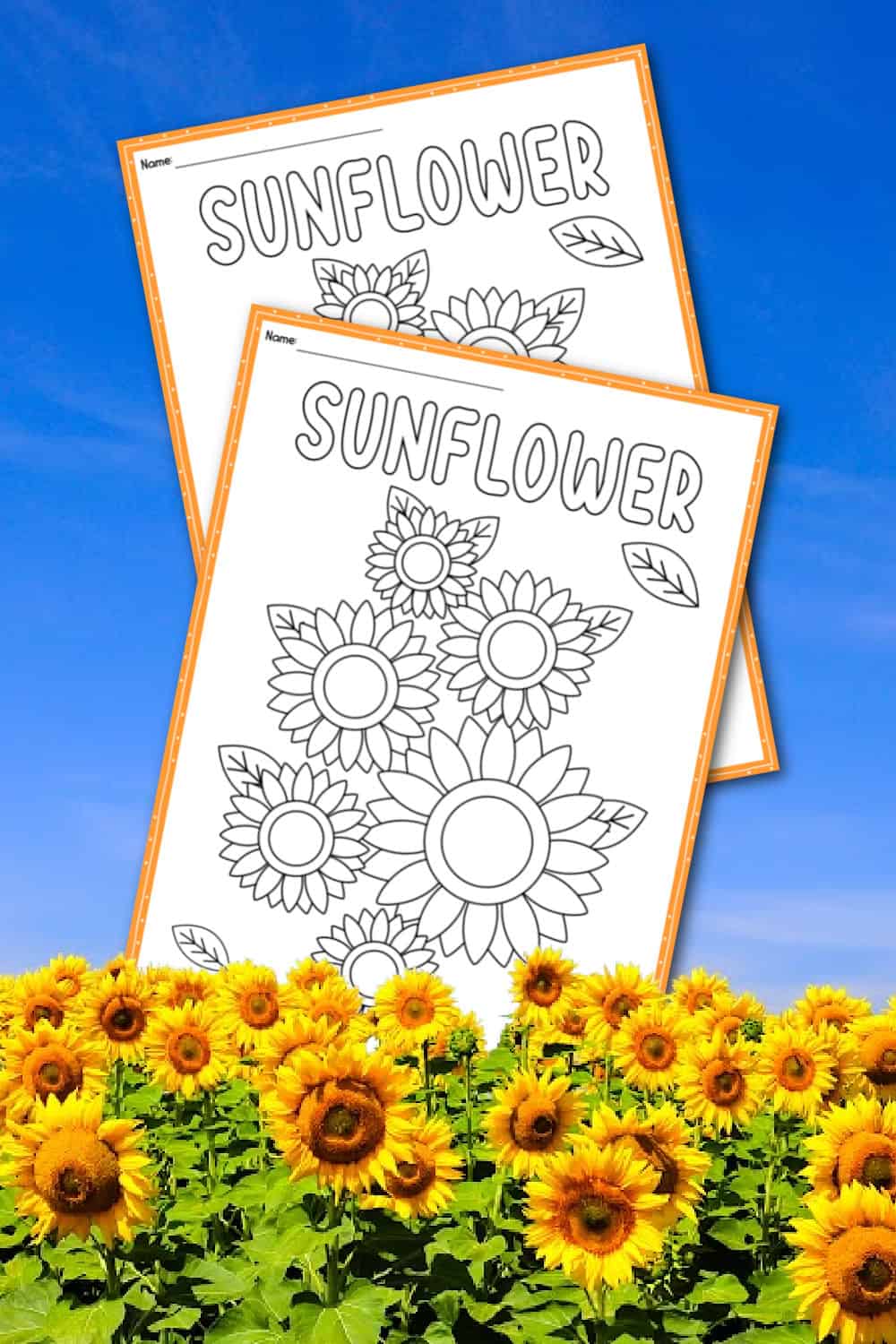 Brighten up your October coloring adventures with our Sunflower Coloring Page, capturing the vibrant beauty of these sunny blooms!
Add a touch of rustic charm to your October coloring with our Scarecrow Coloring Page, capturing the essence of the fall harvest season and creativity!
Elevate your coloring fun with our Fall Color By Number Free printables, combining creativity and numbers for a colorful seasonal activity! With six different designs, there is sure to be a fall coloring sheet that brings the warmth and comfort of the season!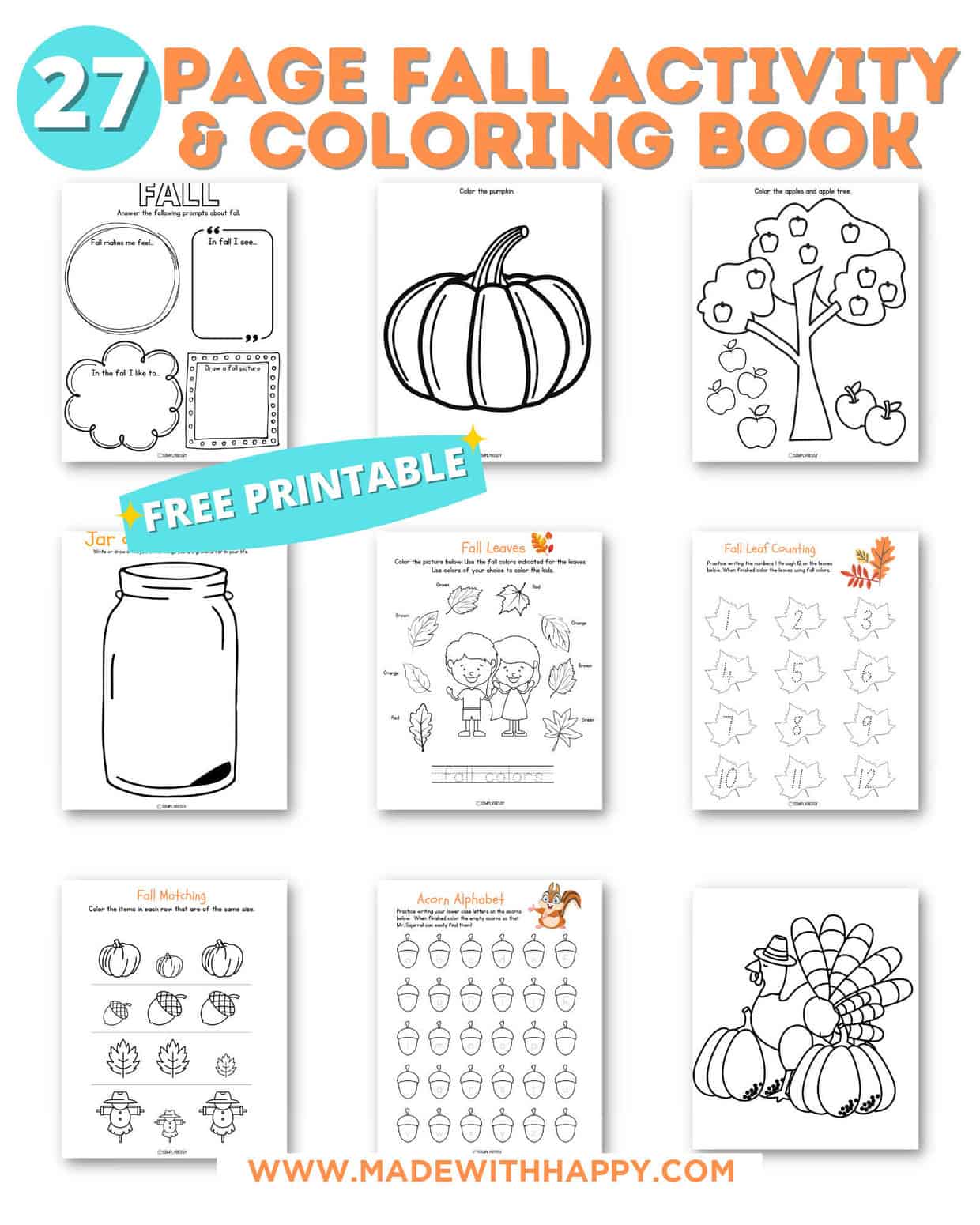 Engage in the spirit of autumn with our Fall activity sheets and coloring book, offering a variety of fun and educational activities for all ages to enjoy!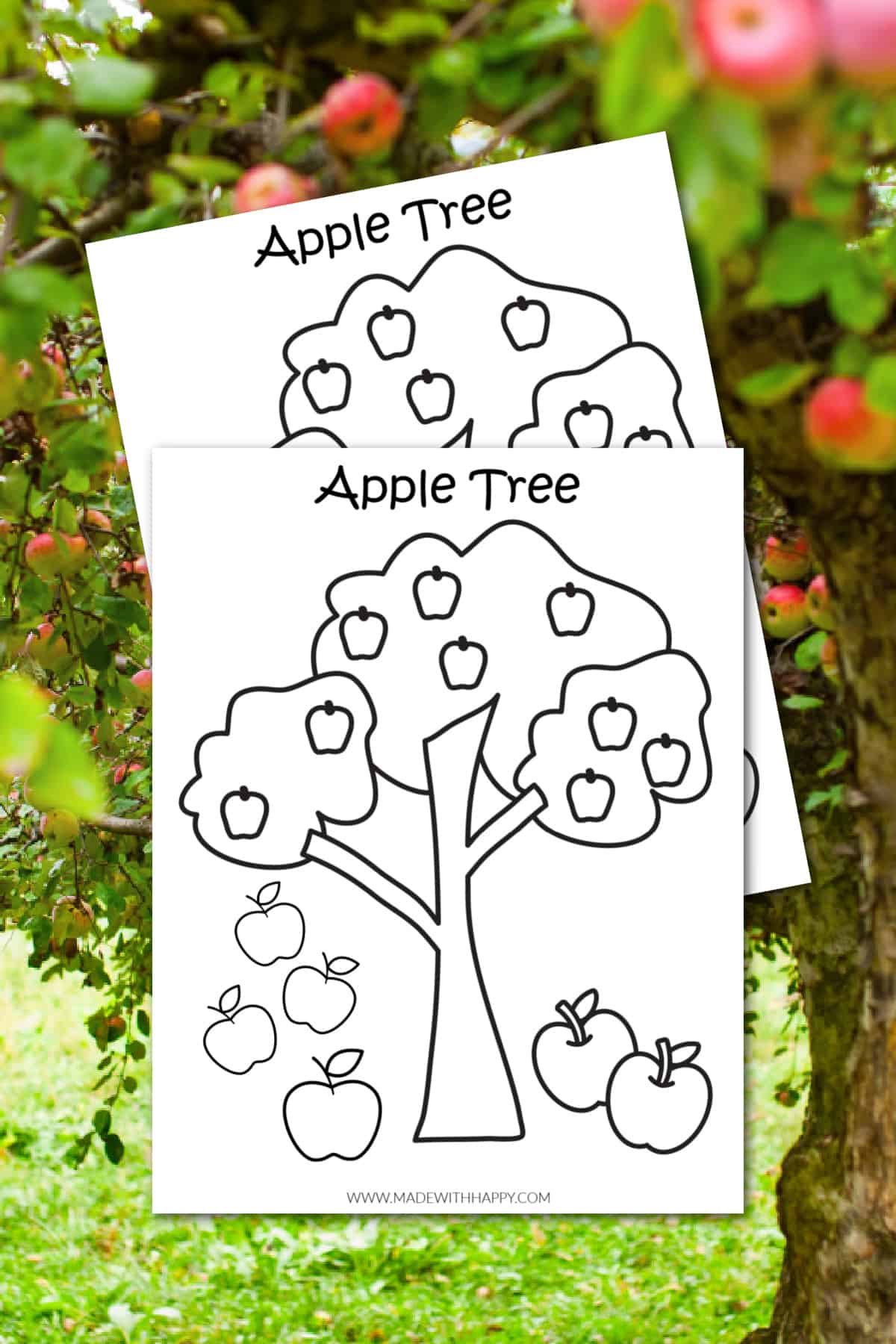 Color the beauty of fall with our Apple Tree Coloring Page, featuring ripe apples and vibrant leaves waiting for your creative touch!
Bring the fall spirit to life with your own scarecrow drawing, a delightful way to capture the essence of the season!
Unleash your creativity by sketching a juicy apple, a simple yet satisfying artistic endeavor!
Explore the vibrant colors of October with a delightful corn-themed coloring page, perfect for celebrating the changing seasons!
Other October Holidays Coloring Pages
October 4th - National Taco Day
Celebrate National Taco Day in October with our Taco Coloring Page, where you can add all your favorite taco toppings and colors to create a delicious work of art!
October 8th - World Octopus Day Day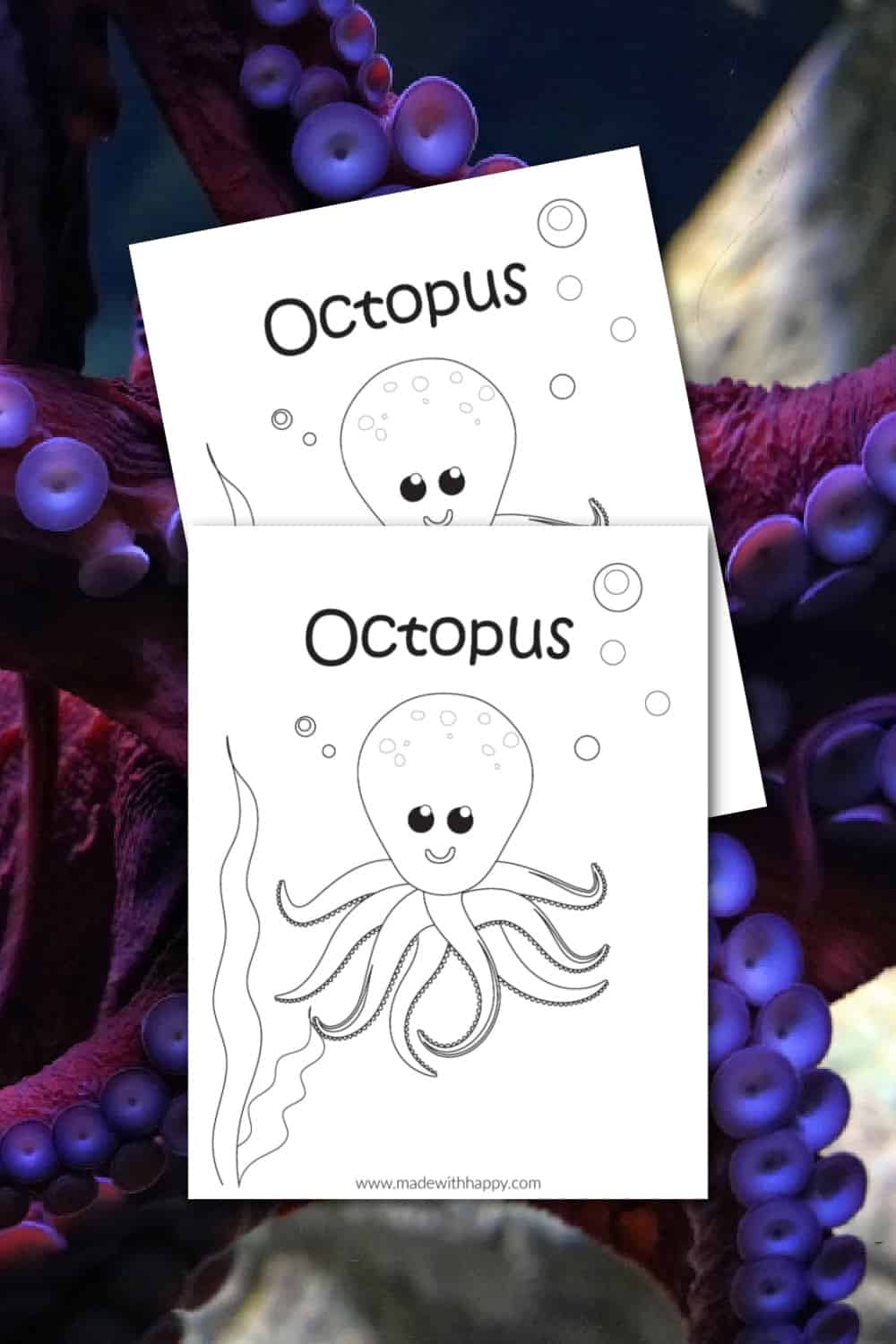 Celebrate World Octopus Day with our Octopus Coloring Page, where you can give these incredible creatures a colorful tribute while learning more about these fascinating underwater animals!
World Space Week
Dive into the cosmos with our Earth Coloring Page, celebrating World Space Week in October, where you can add your own unique colors to our beautiful blue planet.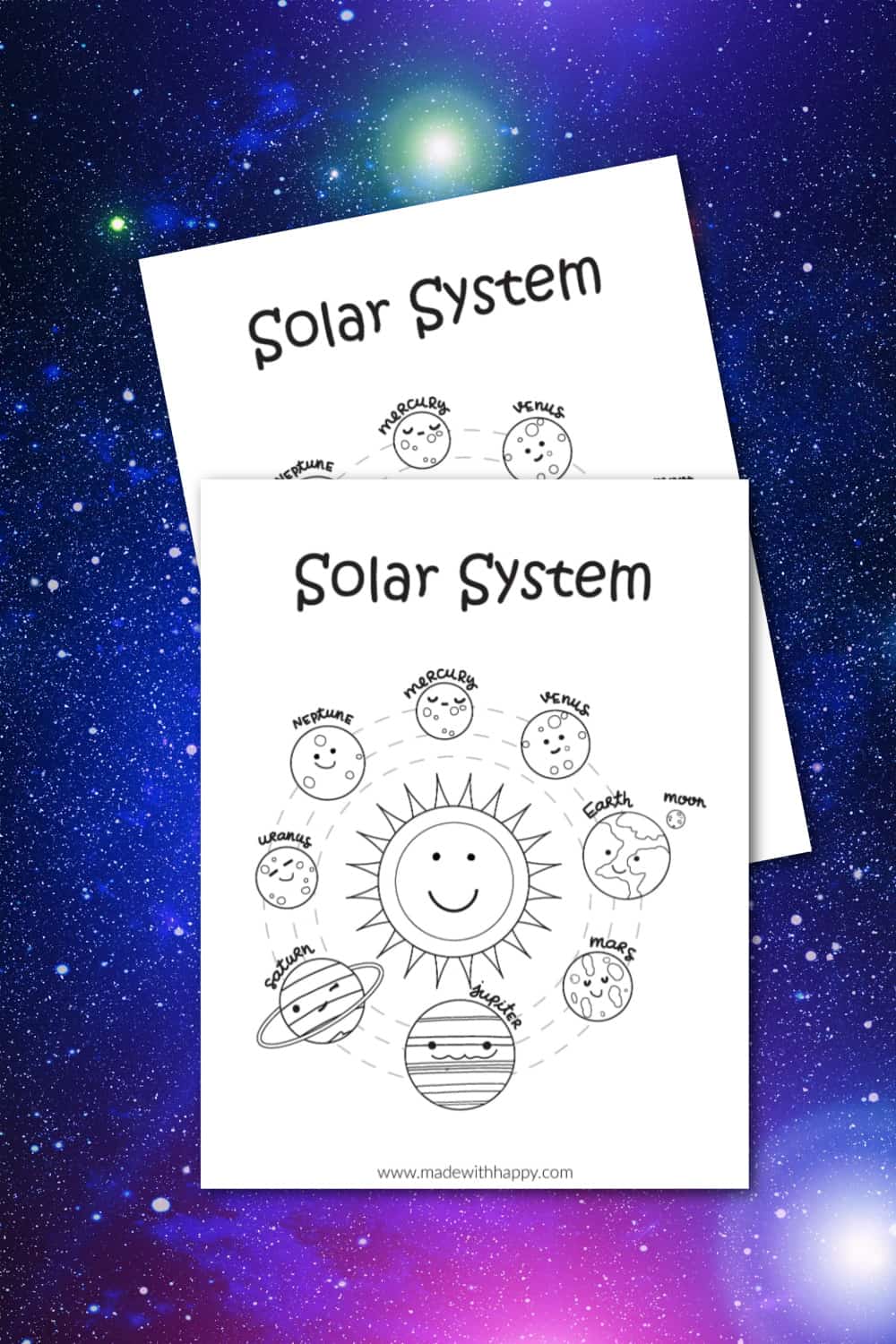 Discover the mysteries of our universe with our Solar System Coloring Page, part of our October Coloring Pages collection, and learn about the planets that orbit around our Sun.
Explore the stunning beauty of Saturn with our Saturn Coloring Page, a perfect way to celebrate World Space Week in October while adding your artistic touch to its iconic rings.
Sharpen your math skills and your love for space with our Space Color By Number Multiplication page, a fun way to combine learning and creativity during October's World Space Week.
Mark your cosmic adventures with our Space Coloring Bookmarks, part of our October Coloring Pages, perfect for all space enthusiasts celebrating World Space Week and beyond!
National Pizza Month
Celebrate National Pizza Month in October with a fun Pizza coloring page that lets you add your favorite toppings and colors to create your very own delicious masterpiece!
Happy Coloring this 10th Month of the Year!
Other October Coloring Sheets You'll Enjoy
CONNECT WITH MADE WITH HAPPY!
Be sure to follow me on social media, so you never miss a post!
Facebook | Twitter | Youtube | Pinterest | Instagram
Looking for crafts to keep your child busy? Sign up for my 5 Ridiculous HAPPY Activities in under 30 minutes for your kids delivered directly to your inbox!
Find and shop my favorite products on my Amazon storefront here!
October Coloring Pages
PIN IT TO YOUR DIY BOARD ON PINTEREST!
FOLLOW MADE WITH HAPPY ON PINTEREST FOR ALL THINGS HAPPY!