Celebrate Valentines Day with friends and family with this free printable Valentine's Bingo. Included are 10 Unique Bingo Cards and Calling Cards.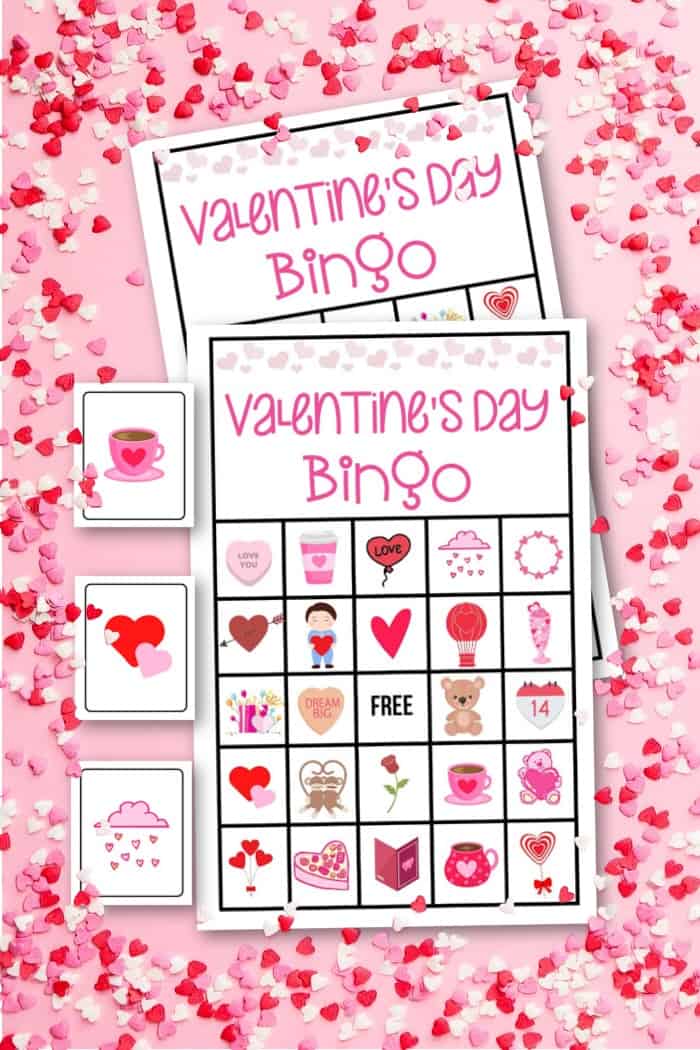 These fun Valentine's Bingo cards are great for Valentine's Day parties in person or a small group over the internet.
Having fun with friends and family celebrating Valentine's Day is all kinds of fun whether you are together or celebrating from afar. Filling the day with Valentines Games is always fun.
Printable Valentines Day games are always fun. Be sure to check out some of our other fun Valentine's printables Valentines Word Search, Happy Valentines Coloring Sheets, Valentines Tags, February Word Search, and Free Valentine's Day Printables For Kids.
We highlighted this Bingo Game along with some other fun kid's crafts in our February Crafts for Kids along with our 101+ Easy Craft Ideas for kids.
You also do not want to miss our 101+ Fun Coloring Pages For Kids and 101+ Free Kids Printables full of Crafts & Coloring Pages.
Valentine's Day Party Games
While Valentine's classroom parties might not look the same as they have in the past, they can certainly be just as fun. Class parties are a great way to have some
If your kids and their friends are having to celebrate Valentine's Day socially distance, you can still simply print out these Valentine's Day themed Bingo cards and calling cards and play digitally.
That is the beauty of printable Valentine's bingo games. You can download the free Valentine's Day party game boards below and either send each of the unique bingo cards to the participants for virtual bingo or hand them out to a large group.
Supplies For Valentine's Day Bingo
This is similar to a traditional bingo game in that you'll need:
Bingo cards – Download the free printables at the bottom. Remember one per person.
Calling sheet – Included in the download, cut them out and mark as you call each item.
Bingo markers – I recommend using something small like Conversation Hearts, Heart Erasers or Hershey Kisses.
Prizes – I have put together a list of fun New Years Eve prizes, also at the bottom of this post to get you started.
How Do You Play Valentine Bingo?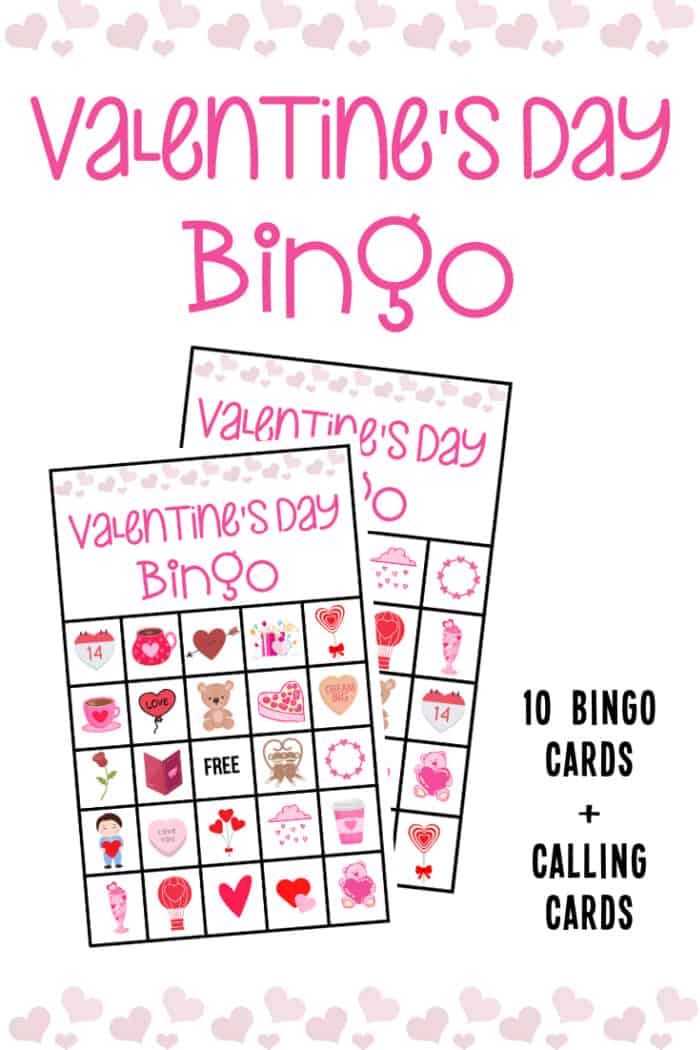 Playing bingo is a fun game all year long. We store our bingo games with our game bingo boards and pull them out each Valentine's Day and play often leading up to Valentine.
You First start by downloading your Valentine's Day free printable bingo cards. Once you have downloaded them, print them out. One for each person.
Cut out bingo cards as well as all the calling cards. Pass out the bingo cards and place calling cards into a bowl or hat and mix them up.
Set the rules for each game.
Hand out candies, coins, or small items as a game marker to mark the item that has been called. The middle space on each board named "Free" is each person's first space they are given for free. Pull a calling card out and describe to the player the item. Teddy Bears, Heart Pizza, Candy Heart, etc.
Once the player has completed the set pattern, they yell "Bingo" and they win! Have some real Valentine's Day fun.
Alternative Bingo Games
Few Types of Bingo Games
Classic Game Bingo Pattern – Five spots in a row horizontally, vertically, or diagonally. A complet row wins.
Blackout – Fill all spots on your bingo card
Patterns – Set a specific pattern (shapes, letters, or specific rows or columns)
Valentine's Day Bingo Prizes
Having prizes for Bingo is always a great idea because everyone likes rewards. And since you are playing this game for Valentine's Day there are so many fun ideas to include
Some of our favorite Valentines game prizes are:
Valentines Activities and Crafts
It never hurts to have some other fun crafts and activities on hand, especially when celebrating Valentine's Day. We have a ton of fun Valentine's crafts including 21+ Heart Craft Projects For Kids and 21+ Easy Paper Crafts For Kids For Valentines Day.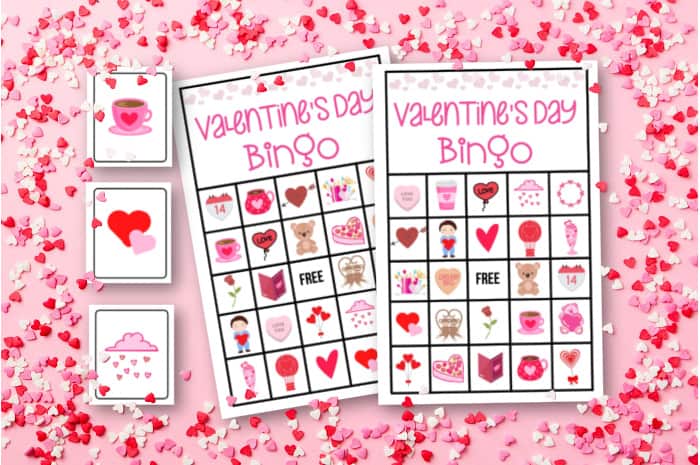 Additional Valentines Bingo Questions
Now that you are ready to play Valentines Bingo, here are a few questions you might have.
How do you print bingo cards?
In order to print your bingo cards, you simply enter your email below. It will then take you directly to the pdf of the bingo cards and calling cards. Hit print and then print out using cardstock.
How long does a game of bingo usually last?
Each game typically takes about 10 minutes. This can vary slightly depending on the number of people participating and how quickly you call the items.
How many do you need to get bingo?
For the classic bingo, it could be reached in as few as four calling cards. That would be in the case the FREE space is utilized. Otherwise, the other rows require 5 in a row.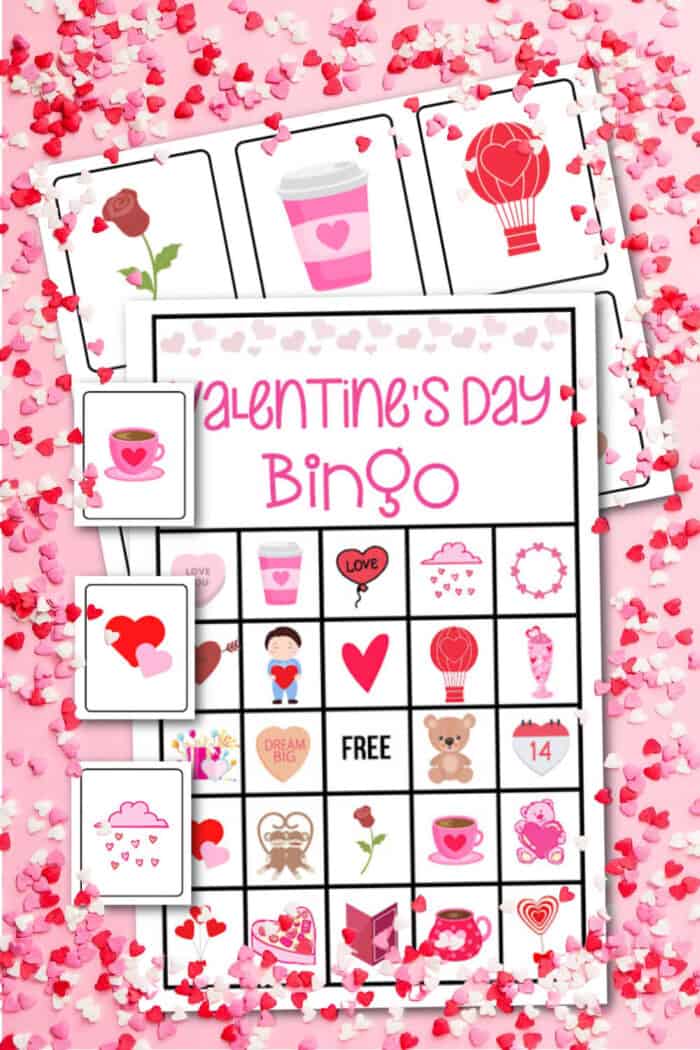 Grab Your Free Download Valentines Day Bingo Game
Enter your name and email in the form below. When you hit enter, you will be taken directly to the free download Valentine's Day Bingo game pdf file. If you do not feel comfortable with entering your email, you can grab our Valentine's Day Bingo Cards in our shop here.
Please note that these are for personal use only.
Other Set of Valentines Ideas You'll Love
Other Bingo Games For Kids You Might Enjoy
CONNECT WITH MADE WITH HAPPY!
Be sure to follow me on social media, so you never miss a post!
Facebook | Twitter | Youtube
Pinterest | Instagram
Looking for crafts to keep your child busy? Sign up for my 5 Ridiculous HAPPY Activities in under 30 minutes for your kids delivered direct to your inbox!
Find and shop my favorite products in my Amazon storefront here!
VALENTINES BINGO
PIN IT TO YOUR FAVORITE BOARD ON PINTEREST!
FOLLOW MADE WITH HAPPY ON PINTEREST FOR ALL THINGS HAPPY!