Get ready to celebrate Independence Day with patriotic fun! Enjoy our FREE printable 4th of July Mad Libs for kids of all ages!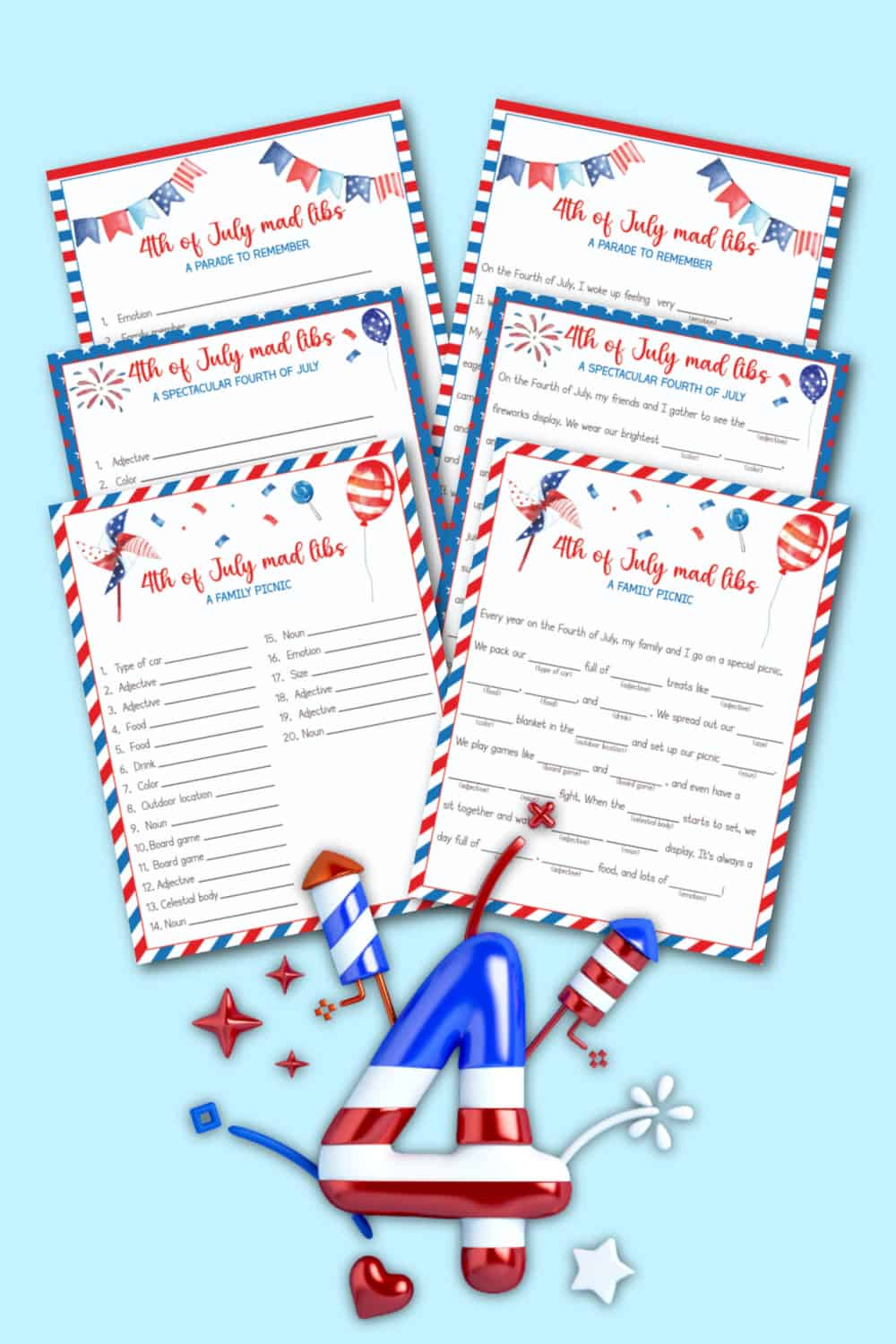 These 4th of July Mad Libs are a fun game for the whole family.
If you're looking for a great way to celebrate Independence Day with your kids that also keeps them engaged and learning? I've got just the thing for you: 4th of July Mad Libs! This fun, educational activity can be enjoyed by kids of all ages (and adults too!) and is perfect for those warm summer break days leading up to the Fourth of July.
Mad Libs is often considered the world's greatest word game and for a good reason! It encourages creativity, helps improve language arts skills, and causes a lot of laughter along the way. Isn't the best way to learn vocabulary when it's fun? Kids can improve their grammar skills while having fun and creating hilarious short stories. And if we're being honest, they help me to remember the parts of speech too!
Independence Day is a significant holiday in the United States. It's when we gained our independence after all! What better way to celebrate it than with patriotic stories that the whole family can enjoy? So let's dive right into these free printable Mad Libs that will surely be a big hit at your Fourth of July celebration for the Red, White, and Blue!
The 4th of July Holiday
The Fourth of July is a day filled with barbecues, fireworks, and the iconic American flag waving in the breeze. It's the day when we celebrate our independence and remember those brave American colonies. With our Fourth of July Mad Libs, we can celebrate this day with a fun activity incorporating American history.
Each Mad Libs story is all about Independence Day themes. From parades to picnics to the first president, your kids can create their own short stories, making the celebration even more memorable. The best part is, these fun activities are perfect for children of pretty much any grade level.
Let your imagination run wild and the giggles begin with these silly stories. Who knows, maybe your child will want to act out their story as part of your 4th of July celebration and you'll get some double learning and fun!
Check Out These Other Games For 4th of July!
Easy and Fun Word Games
Word games like Mad Libs are easy game to play and set up. In Mad Libs, you have a story filled with blank spaces. Each space is labeled with a part of speech (noun, verb, adjective, etc.). Players come up with words that fit those parts of speech and fill in the blank spaces. The result is often a hilarious story. And it's a great way to help kids remember the parts of speech in the middle of summer.
With our free printable Mad Libs, you get not just one, but multiple stories that the kids can work on. To play, you simply download the printable PDF, print it out, and start filling in the blanks. You'll be laughing at the hilarious and unexpected stories that your children create. They may even ask you to fill it out so they can enjoy your stories!
Even if you have young children who may not fully grasp the concept of parts of speech, they can still participate. Simplify the game by asking them for first names, colors, or animals instead of the parts of speech. It's a game that adapts to different ages and learning levels, making it a must-have for your Fourth of July festivities.
So, why wait? Get those creative juices flowing and the laughter started with these Fourth of July Mad Libs. Download the free printables, grab a pen or pencil, and let the fun begin! Remember, these are not just for kids. The whole family can join in, making this not only a learning activity but a bonding one as well.
Enjoy a new easy Independence Day tradition and happy Fourth of July!
We highlighted this 4th of July Printable along with some other fun kid's crafts in our Easy Summer Crafts along with our 101+ Easy Craft Ideas for kids.
You also do not want to miss our 101+ Printable Coloring Pages For Kids and 101+ Printables For Kids full of Crafts and Coloring Pages.
Other Games For July 4th
Download Free Printable 4th of July Mad Libs
Enter your name and email address in the form below and you'll be taken directly to the Fourth of July mad libs free printable pdf file. If you do not wish to enter your information, you can always find the 4th of July funny Mad Libs in our shop.
*For personal use only
CONNECT WITH MADE WITH HAPPY!
Be sure to follow me on social media, so you never miss a post!
Facebook | Twitter | Youtube | Pinterest | Instagram
Looking for crafts to keep your child busy? Sign up for my 5 Ridiculous HAPPY Activities in under 30 minutes for your kids delivered directly to your inbox!
Find and shop my favorite products on my Amazon storefront here!
4TH OF JULY MAD LIBS
PIN IT TO YOUR DIY BOARD ON PINTEREST!
FOLLOW MADE WITH HAPPY ON PINTEREST FOR ALL THINGS HAPPY!