Observe all the fun and winter wonder with this free printable January word search. Find the words in our free printable word searches.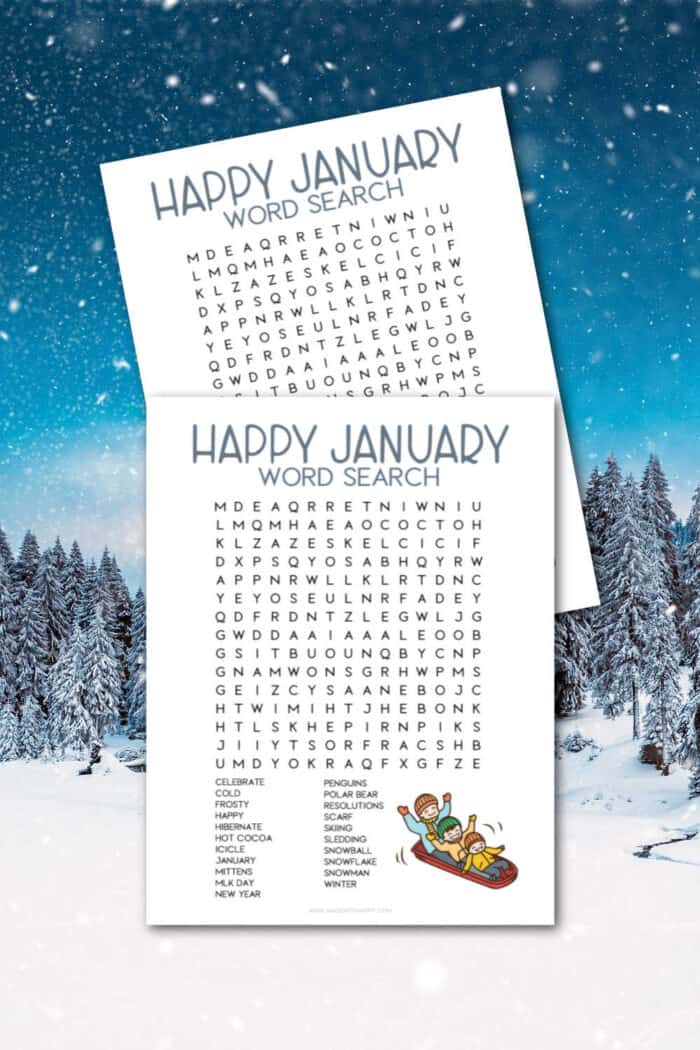 This printable January word search is a fun way to perfect the winter word search puzzle for kids of all ages. Winter word search puzzles are a great way to keep the kids busy and not bored this January.
Easy word search puzzles are a fun activity for kids especially during winter months when they are spending more time indoors. Printable games, indoor scavenger hunts, word games, and coloring pages are always great ideas to have on hand.
During the winter months, the kids are typically on winter break and there are lots of downtimes indoors. One of my favorite mom hacks is to print out a bunch of different coloring pages, like our January Coloring Page, lots of printable puzzles, like our Winter Word Search, and printable games, like our Winter Bingo.
Have those on hand along with a bin full of markers and crayons and set them on their way. These are all sure to keep them occupied for hours on end.
What are Word Search Puzzles?
If you are unfamiliar with word search puzzles, they are single-word games typically based on a theme. January is a winter month and so the word list is winter-themed. It also contains holiday words such as Martin Luther King Jr. and Chinese New Year.
The puzzle itself is a block of letters with hidden words located inside the puzzle. The trick is to find the words. The words are hidden side to side, up and down, and diagonally.
The easy medium puzzles are geared toward young learners. Those puzzles only make the word search set either up and down or diagonally.
Levels of Difficulty of Word Searches
Harder versions will make them up, down, forward, backward and both directions diagonally. For the harder words (longer words), word search puzzles can be helpful in teaching vocabulary words and spelling words. Even in high school.
Word searches are similar to a crossword puzzle in that you are looking for the words to solve the puzzle. Word searches are different from crosswords because the word list is given and in crossword puzzles, the word needs to figure out.
Do not miss our 50+ Free Printable Word Searches For Kids!
Solving Word Search
The key to solving word search puzzles, regardless of the difficulty, is to find all the words in the word box from your word list.
Many word search puzzles, like this January word search, will have an answer key along with the puzzle in case you or your little one get stuck.
Easy Word Search Printable
We have put together a fun easy word search printable that can be done by most elementary school kids. There are fun January-themed words that are great for kids to both learn how to spell as well as have some fun while finding them.
You also do not want to miss last month's word search, December Word Search as well as next month's word search, February Word Search.
Above are some of our other popular winter printables loaded with lots of fun activities. While you are printing this out, make sure to visit those as well and load up on all the winter activities.
We highlighted this Winter Printable Activities along with some other fun kid's crafts in our January Crafts along with our 101+ Craft For Kids.
You also do not want to miss our 101+ Coloring Sheets For Kids and 101+ Printables For Kids full of Crafts & Coloring Pages.
Check out these other Winter Printables!
Other Winter Posts You'll Love
Grab the Full Year Word Search Printable Set
Download The Free January Word Search pdf
Simply grab this free download by entering your name and email address in the form below. Once enter is hit, you will be taken directly to the downloadable January word search pdf file. If you do not feel comfortable entering your email, you can grab the word game at my shop here.
CONNECT WITH MADE WITH HAPPY!
Be sure to follow me on social media, so you never miss a post!
Facebook | Twitter | Youtube | Pinterest | Instagram
Looking for crafts to keep your child busy? Sign up for my 5 Ridiculous HAPPY Activities in under 30 minutes for your kids delivered directly to your inbox!
Find and shop my favorite products in my Amazon storefront here!
JANUARY WORD SEARCH
PIN IT TO YOUR DIY BOARD ON PINTEREST!
FOLLOW MADE WITH HAPPY ON PINTEREST FOR ALL THINGS HAPPY!