Kids can make their own Valentine Card Craft using the FREE printable in this post. With the word I Love You To Pieces, it's perfect for kids to make for family members and friends. It's so easy and you only need a few materials you probably already own!
Easy Valentine Card Craft For Kids
I love making cards with my kids for the holidays. It's a great way to send a truly personalized card to family and friends. When I can turn it into a fun craft it's even better!
Years ago when I taught preschool I did an "I Love You To Pieces" Valentine art piece and it's always stuck with me. I knew I had to recreate it and turn it into a quick DIY card activity for Valentine's Day.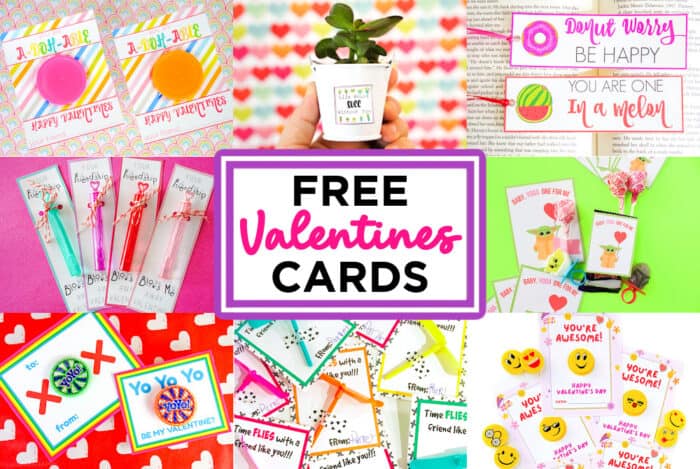 I Love You To Pieces Valentine Craft
For this craft, you'll only need glue, construction paper in any colors you like, a crayon or color pencil, and the free card template. It's easy, quick to put together and kids will love making it!
Don't miss our other Valentine's Cards For Kids that we know you'll love.
How to make the Valentine Card Craft
Print and fold the card template in half.
Let your child color in words "I Love You To Pieces" on the front of the card.
Open the card, and encourage your child to write any special message they want for the person they're making the card for. It can be a simple Happy Valentine's Day as shown in the photo below.
Apply glue to the heart on the front and spread evenly.
Give your child different color papers and let them rip them into small pieces. Ripping is excellent for building fine motor skills and working those little finger muscles. It's also fun!
Let your child add the small pieces of paper where they like on the heart.
Set aside to dry.
Now you can mail or deliver the card and it will make someone so happy! I love this for family and close friends. It works great to give to teachers too!
You can still do this activity if you don't want to send a card. Print out the template and just cut it in half. Only use the piece with the heart and continue the rest of the steps. Then, glue it to a sturdy piece of card stock and now you have a neat piece of art your child made. You can also put it in a frame for display!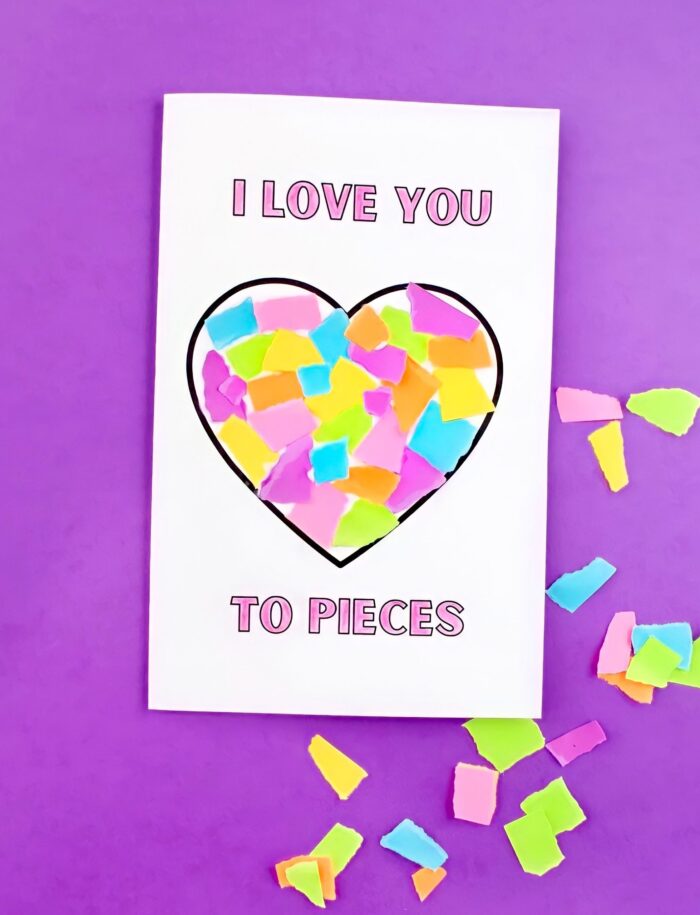 Download Free I Love You To Pieces Template
For personal use only.
Looking for more easy Valentine ideas for kids? Check out these posts:
CONNECT WITH MADE WITH HAPPY!
Be sure to follow me on social media, so you never miss a post!
Facebook | Twitter | Youtube | Pinterest | Instagram
Looking for crafts to keep your child busy? Sign up for my 5 Ridiculous HAPPY Activities in under 30 minutes for your kids delivered directly to your inbox!
Find and shop my favorite products in my Amazon storefront here!
I LOVE YOU TO PIECES FREE PRINTABLE
PIN IT TO YOUR DIY BOARD ON PINTEREST!
FOLLOW MADE WITH HAPPY ON PINTEREST FOR ALL THINGS HAPPY!