Grab this year's printable coloring calendar with each month as a separate page. These fun free coloring pages are great for kids of all ages!
Grab the latest in our printable color calendars and start the year off right! This cute calendar is a great way for kids of all ages to color in each of the monthly calendar pages.
We love starting the year off with a new clean blank calendar and kicking off the New Year organized. Download these printable calendars and each child can make kids calendar their own calendar!
New Year, New Possibilities
The end of one year and the start of another is an exciting (and exhausting time). We love this time when you can reflect on all the things you did and learned in the past 365 days. But we especially love looking ahead to all the new possibilities of the new year.
The New Year is a chance to hit reset and to think about setting goals. It's all about the promise and hope of what could be. If this sounds a bit abstract or intangible for your kids to appreciate, think again.
Getting your kids to reflect on the last year and consider some goals for the next one is worthwhile. Even if their answers are somewhat superficial, the act of consciously considering goals will help them as they continue to grow and mature.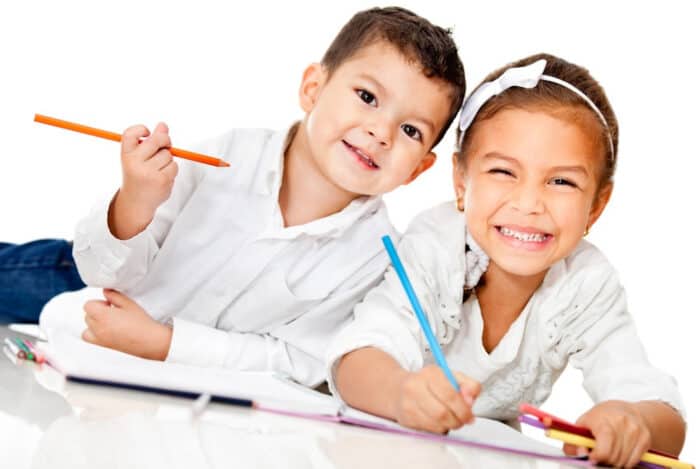 Coloring Pages For Kids
These calendar pages can be printed, colored, and given to a friend or loved one. Grandparents love to be surprised by homemade gifts. Make theirs even more special by adding special dates and calendar time items like, "Facetime with grandma day," or "write a letter to grandpa" day.
This coloring calendar is a fun way to get started. Welcome to the new year with this printable calendar that kids can hang on a wall or keep on their desks.
Each month has fun and unique designs related to the month or season. Kids will love coloring each month and the big block letters that spell out each month.
Fun Facts About Calendars
While they are busy adding red, blues, and greens to the current month, they'll likely be surprised to know that our modern-day calendar dates to 45 B.C. – when Julius Cesar was emperor of the Roman Empire.
Astronomers at that time recommended 30 and 31 days as the best way to sync the months with the seasons and farming schedules. They also added more months which accounts for the 12 we use today.
Ask your kids if they can guess the month named after Cesar or his successor,
Augustus. Encourage your kids to ask their own questions. (Just be prepared to do some Googling to find the answers!)
Curious kids will love learning the origin of the names of other months as well. Some of them, like January, March, May, and June were named for gods and goddesses. September, October, November, and December all got their names from the numbers used on ancient calendars (7, 8, 9, and 10).
Meanwhile, April comes from the Latin word aperio meaning "to open." Then see if they can figure out what opens in April. In fact, the word calendar comes from the Latin word for "account book; register." Ask your kids why this makes sense!
Learning the Months
This coloring calendar is the perfect opportunity to learn more about the 12 months of the year, why each month has 30 or 31 days, and why February has 28.
We love how our printable calendar pages help kiddos learn the order of months and the days of the week. You can quickly see their progress as winter turns to spring and spring to summer.
Stretch this calendar activity out across the whole year by coloring one month in at a time. If your kids are super eager (or you want to get in on the fun), print out several copies. You can do some kid and adult coloring and switch the design mid-month.
Introduce them to the idea of days, weeks, and months as units of measure (just like centimeters and inches). For older kids, you can even try to get them to convert hours to days, days to weeks, weeks to months, and vice versa.
Calendars can also be a fun way to reinforce math skills. Asking questions like, "how many days will it be Saturday?" or "how many more Sundays until the next month?" will get kids practicing math.
For younger kids, simply having them count off days is helpful. They will get to become more familiar with the order of numbers, building a strong math foundation.
This coloring calendar is also great for helping kids keep better track of their schedules and important dates. They'll have fun writing on holidays, birthdays, and even special events at school. Instead of them asking you "how many days until…", you can ask them!
Printable Calendar For Kids
Using a monthly calendar is an excellent way to keep kids focused on looking forward and instilling a positive attitude. The passage of time can be a tricky concept for many kids to grasp. Having a visual reminder can help them better understand terms like before, after, and in a few weeks' time.
Like if of our MWH printables, this calendar is completely free. You can print with some of our other favorite seasonal coloring pages to make an awesome combo gift. Put together a Made with Happy coloring book and calendar gift set. Everyone loves a DIY gift. If it's one that also keeps the kids busy – even better!
This coloring calendar is the perfect school calendar for elementary school and homeschool teachers. You can easily add this to your curriculum and combine it with other lessons on weather, numbers, or writing. Print one for the whole class or each individual student!
Benefits of Coloring Pages Calendar
Coloring has been proven to help relieve stress. It is a calming yet highly engaging activity that you can return to again and again. We love how bright and colorful coloring pages can make a room.
Our coloring calendar is a gift that will last the entire year. Your kids are going to love it. You're going to love it. It's cute, and engaging, and will provide invaluable lessons for kids who love to learn.
Months in a Season
Be sure to check out all our other printables and holiday activities. We have plenty to keep you busy through each of the months in each of the seasons!
Winter Season (December, January, February)
Spring Season (March, April, May)
Summer Season (June, July, August)
Fall Season (September, October, November)
You'll find coloring pages, games, and crafts galore. Full of free printables.
Other Coloring Pages You'll Enjoy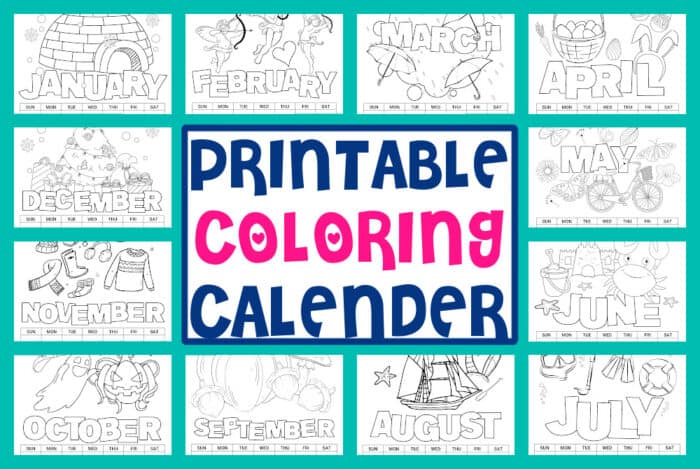 Download Your Coloring Calendar
Simply enter your name and email in the form below to be directed to the free printable calendar pdf file with each month of the year. Included in our free downloads include January Calendar, February Calendar, March Calendar, April Calendar, May Calendar, June Calendar, July Calendar, August Calendar, September Calendar, October Calendar, November Calendar, and December Calendar.
*For personal use only
CONNECT WITH MADE WITH HAPPY!
Be sure to follow me on social media, so you never miss a post!
Facebook | Twitter | Youtube | Pinterest | Instagram
Looking for crafts to keep your child busy? Sign up for my 5 Ridiculous HAPPY Activities in under 30 minutes for your kids delivered directly to your inbox!
Find and shop my favorite products in my Amazon storefront here!
PRINTABLE COLORING CALENDAR
PIN IT TO YOUR DIY BOARD ON PINTEREST!
FOLLOW MADE WITH HAPPY ON PINTEREST FOR ALL THINGS HAPPY!