Learn some New Years' Fun Facts For Kids of all ages! We're sharing the holiday's history along with some other fun trivia questions and interesting facts.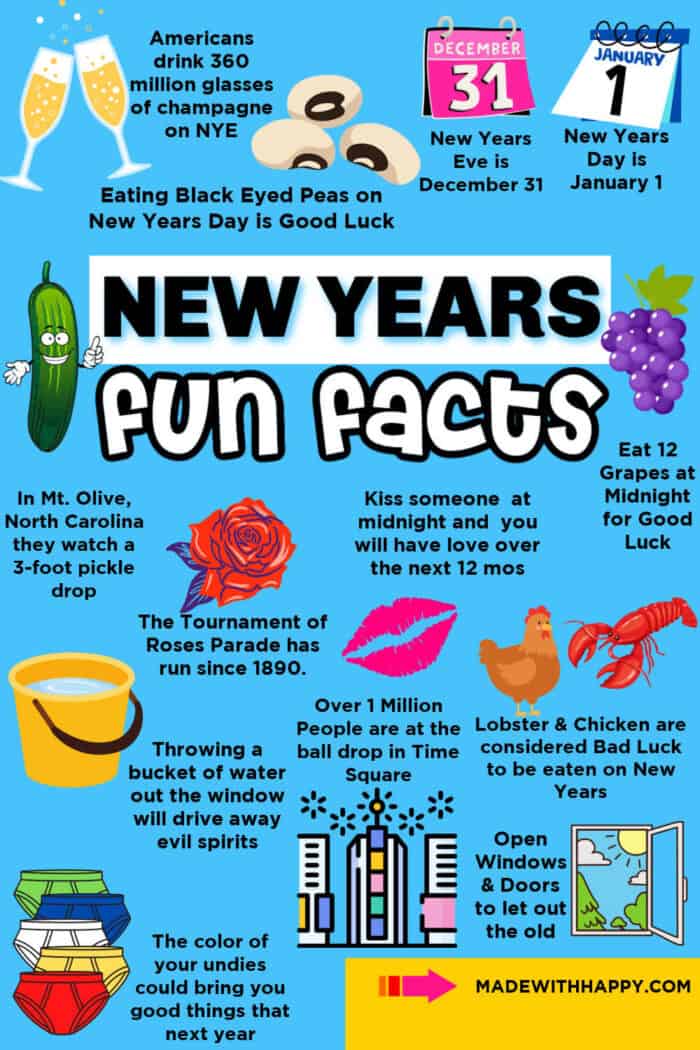 These New Years' fun facts are a great way to understand the history of New Year as well as share some great New Years' traditions and trivia with friends and family over the holiday!
New Years
The word new year is directly tied to a calendar and the ending of one year and the beginning of the new year.
There are a number of calendars that are used around the world today. A few of the more commonly used calendars around the world are the Gregorian Calendar, the Jewish Calendar, Islamic Calendar, Hindu Calendar, Buddhist Calendar, the Chinese Calendar, and the Julian Calendar.
Many modern countries around the world use the Gregorian Calendar which has 12 months and 365 Days with an extra day every four years, called a leap year.
Before we jump right in, you will not want to miss our December Fun Facts and January Fun Facts!
When is New Years?
Based on the Gregorian Calendar, midnight on New Year is on January 1st. It marks the first day of the new year and the start of the new year.
The first day of the Chinese New Year occurred with the second new moon after the winter solstice.
When is New Year's Eve?
This marks the end of the year. New Year's Eve is celebrated marking the end of the current year. This is celebrated on December 31st.
New Years History
Celebrating the New Year dates back some 4,000 years to the ancient Babylonians. Today, New Year's celebrations start on New Year's Eve through to New Year's Day. Many celebrations include parties, countdowns to the stroke of midnight, traditional food, watching a fireworks display, and setting resolutions for the coming year.
Calendar History
History shows that there have been a number of different calendars used over the years. Calendars mark a length of time. Throughout history, there have been a number of different calendars, but generally, there are three types of calendars
Solar Calendar (Gregorian Calendar)
Lunar Calendar (Jewish Calendar, Chinese Calendar)
Luni-Solar Calendar
Solar calendars are based on how the Earth revolves around the Sun. The word solar means relating to the sun. Therefore the solar calendar measures the time between vernal equinoxes.
Lunar Calendars are based on the different phases of the moon. The word lunar means relating to the moon. Therefore the lunar calendar measures the times between a new moon and the next.
Luni-Solar Calendars use the lunar months and the solar years.
The International Date Line is the boundary where each calendar day starts and is also known as the "Line of Demarcation" because it separates two calendar dates: The line is located at 180 degrees longitude and on the exact opposite side of the Earth of the prime meridian. The new day starts at that line moving west.
Don't miss our Free Printable Coloring Calendar!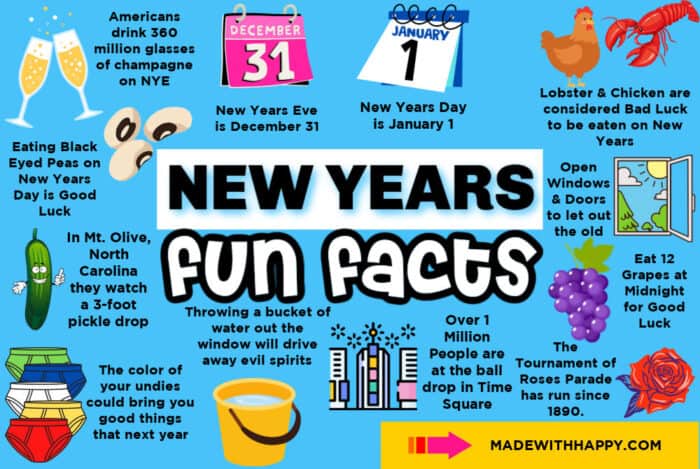 New Years Traditions
There are many traditions around the world to bring good luck to the start of the new year. There are lots of traditions around the food you eat, the clothes you wear, resolutions for the new year, what you are watching when the clock strikes midnight, and who you're with, as well as some fun activities like breaking things!
Here are some common traditions and some not-so-common that are believed to bring good fortune and prosperity in the new year.
New Year's Food Traditions
There are many different foods people eat on New Years or that are part of New Year's Eve feasts that are thought to bestow good luck for the coming year!
Black-Eyed Peas - Many eat the dish called Hoppin' John which is made of black-eyed peas, pork, and rice. The black-eyed peas resemble coins. It is often accompanied by collard greens as they resemble money. Eating black-eyed peas and collard greens new year's tradition in the United States. In Italy, they eat lentils with the same belief that they look like coins.
Round Food - Eating round food symbolizes that the year has come full circle.
Round Fruit - For many countries eating twelve round fruit represents good luck for each of the 12 months. Many will eat 12 grapes at midnight too. It seems easier than eating 12 watermelons.
Pork- Eating Pork is believed to be good luck. Some have speculated that pigs place their snout on the ground and move forward. Moving forward into the new year is a good thing!
Fish - Like pigs, fish are a lucky New Year dish because they swim in one direction, forward!
Noodles - Long noodles represent longevity (long life). In Japan, they eat Toshikoshi Soba Noodles. In addition to longevity, the buckwheat represents resilience.
Tamales - Tamales are a Mexican dish of corn dough stuffed with meat, cheese, and deliciousness wrapped in a corn husk. They are special dishes throughout the holiday season.
Make a Toast - The act of raising a glass to good health has been around for centuries. Toasting on December 31 at midnight will bring good health in the new year.
Don't Eat
Don't Eat Lobster - It is considered bad luck to eat lobster on New Year's Eve. Lobsters walk backward and your year will be full of setbacks. You may want to stay away from any food that walks backward (like crabs too!)
Don't Eat Chicken - Chicken and Turkeys peck and scratch backward and have wings that could fly away with your luck this holiday season.
Other New Year's Traditions
Countdown to Midnight - One of the most common traditions is to count down the last 10 seconds before midnight. Whether it's at a party, at home, or if you watching the ball drop in New York Time Square.
Kiss at Midnight - It is a tradition to kiss someone you love at midnight and then you will have love over the next 12 months. If you don't have anyone to kiss, the Irish believe that putting a sprig of mistletoe under your pillow will give you sweet dreams of future romance.
Make Noise - The tradition of noise makers, banging on pots and pans, and even fireworks are believed to scare away evil spirits. In Ireland, the bang of bread against the wall not only scares away evil spirits but welcomes good luck!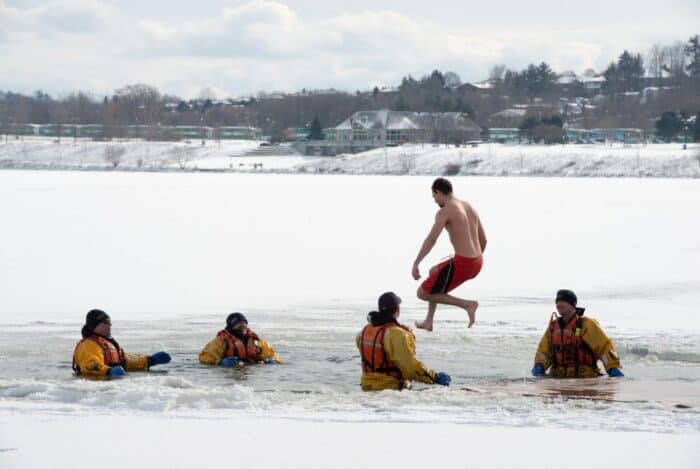 Listen to 'Auld Lang Syne' - Listen or Sing 'Auld Lang Syne', The song is traditionally sung at the end of New Year's parties. Auld lang syne means "times long past."
Polar Bear Plunge - This tradition was started in Vancouver Canada in 1920 by a swimming group that called themselves the Polar Bear Club. The tradition of submerging yourself in freezing cold water either in a lake, ocean,
Open Your Doors and Window - Opening your doors and windows right before midnight is believed to let out the old.
New Years Traditions Around the World
Hang Onions - The Greeks believe that hanging an onion on your front door will welcome prosperity into your home in the new year. They are also believed to gently bonk the onion on their children's foreheads on New Years' morning to kick it off!
Break a Dish - Another Danish tradition is to break a plate or glass cup against your friend's front door for good luck for the coming year.
Carry an Empty Suitcase - This tradition is believed to set you up for adventure in the New Year.
Leap in the Air - In Denmark, they have a tradition of leaping in the air off a chair for good luck and to banish bad spirits.
Throw Water out the Window - In Puerto Rico, they believe that throwing a bucket of water out the window will drive away evil spirits.
What to Wear For Good Luck
No Empty Pockets or Cupboards - In order to ensure prosperity and wealth in the New Year, some believe you should make sure you have food in your cupboards and money in your pockets and wallet
Wear Lucky Underwear - The color of your undies could bring you good things that next year. wearing red underwear on New Years brings romance and luck. Blue Underwear brings good health and white underwear brings peace.
Wear White - Brazilians have the tradition of wearing white will bring peace and good luck.
New Year's Resolutions
Make a List of New Year's Resolutions - Some groups believe this is a time to give up bad habits, and others list things they would like to achieve in the upcoming year. Common New Year's resolutions Ideas include (reducing stress, lose weight, and spending more time with family and friends)
Fun Facts About New Years
There are many fun new years facts that are sure to be a hit.
Pope Gregory XIII founded the Gregorian calendar in 1582
Julius Caesar, the emperor of Rome, was the first to declare January 1st as a national holiday
The first Tournament of Roses Parade was in 1890.
Americans drink approximately 360 million glasses of sparkling wine
The song Auld Lang Syne was written by the Scottish poet Robert Burns in 1788.
80% of New Year's Resolutions have failed by February.
The island of Kiribati, otherwise known as Christmas Island, is one of the first places to ring in the new year each year and American Samoa and Baker and Howland Islands are among the last.
Fun Facts About New Year's Eve In Times Square
New York City Time Square's first New Years' Eve celebration was in 1904. Over 200,000 people attended the party! The party was to celebrate the opening of the New York Times building.
The first ball to drop was in 1907.
That first ball was 5 feet wide, made of metal and wood and was lit with 100 25-watt light bulbs, and weighed 700 pounds.
The ball today is 12 feet wide and contains more than 32,000 LED lights and it is weighing in at nearly 12,000 pounds. It is coved in Waterford Crystal triangles that vary in size. Over 2,600 Crystals!
The only two years the ball hasn't dropped since 1907 were 1942 and 1943 because of World War II.
More than 2,00 pounds/1 ton of confetti drops in Times Square during the celebrations each year.
About 1 million people gather in Time Square to watch the ball drop.
Other New Years Ball Drop
While New York City's Ball Drop is the most popular of countdowns to midnight, there are some other fun celebrations around the United States.
Mount Olive, North Carolina a 3.5 foot glowing pickle drops from a fire truck tower at midnight.
In Miami, Florida, they raise a 35-foot metal orange called Mr. Neon.
In Mobile, Alabama a 12-foot, 600-pound electric Moon Pie drops at midnight.
Hershey, Pennsylvania raises a 300-pound, seven-foot-tall Hershey's Kiss up three stories.
Music City otherwise known as Nashville, Tennesse drops a giant music note at midnight, followed by a concert!
Eastover, North Carolina was once known as flea hill because of a flea infestation drops a 3 foot 30-pound ceramic flea at midnight.
Vail, Colorado has skiers that form a glow train skiing down Golden Peak creating a Torchlight Parade
Is New Year Capitalized
A question frequently asked by kids, especially before the Winter break. The distinction between new year and New Year depends on whether you are talking about the year or the holiday!
You do not need to capitalize the letter if you are talking about the year and the happenings in the new year.
If you are talking about the holiday, then you should capitalize New Year.
Does New Year's Have an Apostrophe
Another confusing question you might have around the New Year is whether or not to use an apostrophe (Happy New Year or Happy New Year's?)
The easiest way to remember is that if you are talking about the actual day, then use the apostrophe. Meaning, if you are talking about December 31st, then you would say Happy New Year's Eve. If you are talking about January 1st, then you would say Happy New Year's Day!
It gets super confusing when the word Day or Eve is dropped. Is it Happy New Years or Happy New Year's? In that case, both are acceptable.
Things To Do On New Year's Eve
New Year is a fun time to spend with family and friends and celebrate the season. We have many different activities that will be fun for the whole family this New Year but especially for kids. Check out these New Year activities!
New Years Crafts
We have a number of different crafts that are great for New Years.
New Years Printables
We highlighted these Holiday Facts along with some other fun kid's crafts in our December Crafts and January Crafts along with our 101+ Easy Craft Ideas for kids.
Download Free New Years Facts Infographic
Enter your first name and email address to download the free New Years Facts pdf file.
Happy New Years!
CONNECT WITH MADE WITH HAPPY!
Be sure to follow me on social media, so you never miss a post!
Facebook | Twitter | Youtube | Pinterest | Instagram
Looking for crafts to keep your child busy? Sign up for my 5 Ridiculous HAPPY Activities in under 30 minutes for your kids delivered directly to your inbox!
Find and shop my favorite products in my Amazon storefront here!
NEW YEARS FUN FACTS
PIN IT TO YOUR DIY BOARD ON PINTEREST!
FOLLOW MADE WITH HAPPY ON PINTEREST FOR ALL THINGS HAPPY!