Vision Board Printables Free Inspirational Words and Phrases you can use to personalize your boards and visualize your goals this year.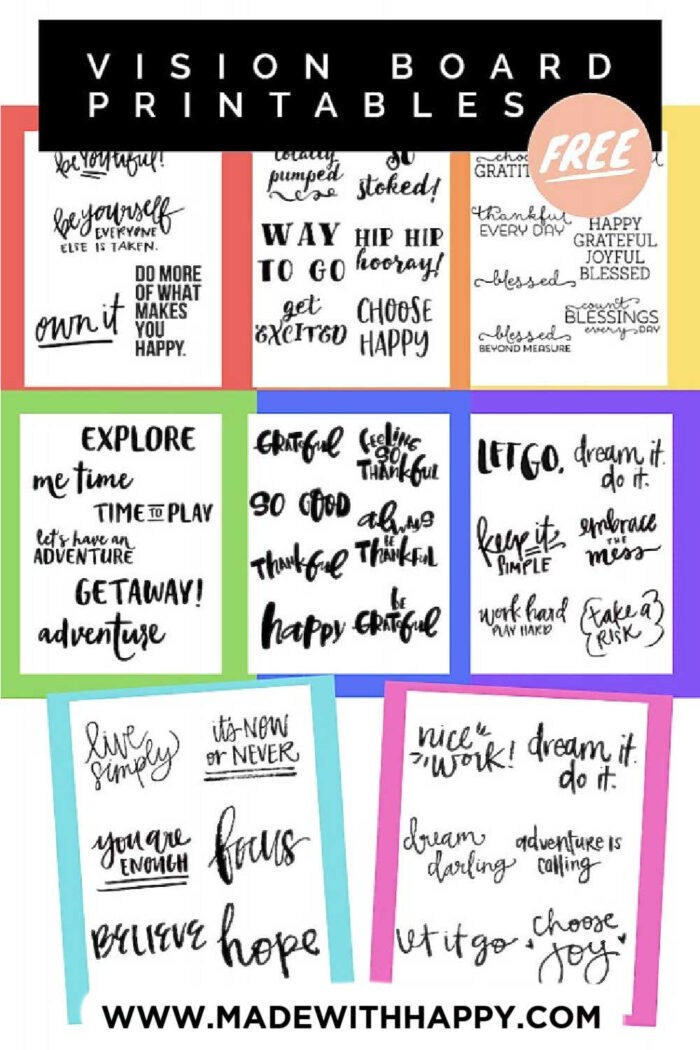 A new year brings a clean slate and a chance to start fresh. I love setting goals and visualizing the year ahead early on so I can be inspired. Every year I make a vision board help me with this.
It's fun and really makes me focus on what I want to accomplish during the year. I like it better than just writing down goals because I'm such a visual person. If you're making one too, you'll love my FREE vision board printables.
I put together 8 pages of inspirational words and phrases you can cut out and use on your vision boards. I'm using them on mine!
How to Make a Vision Board
If you've never made a vision board and don't know where to start, let me help. It's pretty easy and you can make your board as simple or deluxe as you like.
All you need are pictures, magazines, newspapers, stickers, cut-outs, and basically, any crafting materials that you want. Use images, words, and any embellishments you choose to create a visual representation of your yearly goals. It's like scrapbooking!
The idea is to take your goals and turn them into a clear picture you can look at every day and feel inspired.
Here is mine from 2020:
Here is mine from 2021:
I used a small poster board for mine but you can make a vision board on anything. I've seen them on planters, inside planners, on big poster boards, and on cork boards, you can get as creative as you want!
For me, it was easier to just grab magazines and rip or cut out images as I saw them but you can plan ahead if that's more your style. This year I'm going to do it a little differently and write down my goals first.
Then, I'll search images and clippings in order so I'm more organized. I'm also making mine in my planner this year since I'll be carrying it around everywhere. Check out my how-to video reel over on my Instagram page.
Did you know? January 11th is National Vision Board Day!
Free Printables - Inspirational Words & Phrases
Now that you know how easy it is to make a vision board, you can get started! I love adding inspirational words and phrases to mine that really resonate with me. Every time I look at my board the words pop out at me and truly inspire me to reach for my goals.
I put together 8 pages of words and phrases perfect for any vision board. Print them out in the sizes you need and cut them out to fit your board. There are over 40 to choose from!
Download Free Printable Vision Board Quotes
For personal use only.
Other Happy Printables You Might Enjoy
CONNECT WITH MADE WITH HAPPY!
Be sure to follow me on social media, so you never miss a post!
Facebook | Twitter | Youtube | Pinterest | Instagram
Looking for crafts to keep your child busy? Sign up for my 5 Ridiculous HAPPY Activities in under 30 minutes for your kids delivered directly to your inbox!
Find and shop my favorite products in my Amazon storefront here!
VISION BOARD PRINTABLES
PIN IT TO YOUR DIY BOARD ON PINTEREST!
FOLLOW MADE WITH HAPPY ON PINTEREST FOR ALL THINGS HAPPY!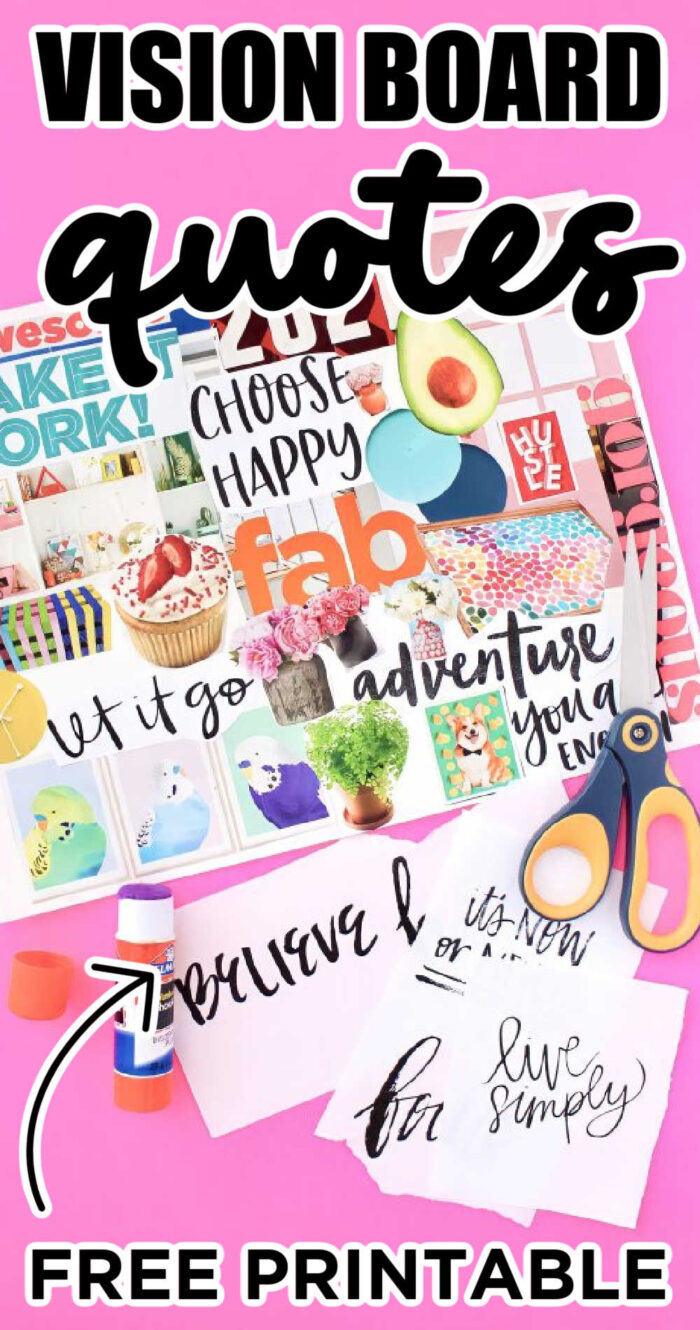 Tag me on Facebook, Instagram, and Twitter. It really makes me so happy to see families using my ideas and having fun with their kids.
xo,
Alli