Sharing Football fun with the whole family makes for a great family day full of fun football games to play while watching the big game.
Looking for some fun football games to play, then look no further.
I don't know about you, but we're having a whole lot of football fun with our family lately.
As the season is coming to an end, we're having a great time sharing the love of the game and all the fun that comes with cheering on sports.
I personally have some great memories growing up and watching football with my family and learning the rules and who to cheer for and when. It is great to see the same sort of love for a fun sport, whether college or NFL, being past on to the kids.
We love the idea of having some of the kids favorite snacks, like Goldfish crackers, there to add to the HAPPINESS of the game!
With the Super bowl coming up at the end of the month, we've put together some super fun games to get the kids more involved all the while still partaking in the football fun! The three games we've created for you and your family are:
Be sure to check out the 100 more printables for kids like this HAPPY one.
Printable Kids Football Games
Part of the fun of American football games is having some fun during the commercials or throughout the game. Some of the games including football bingo, football tic tac to, and flick paper football.
Football Bingo
You can download the printable versions of Football Bingo for yourself.
We love using Goldfish crackers for some extra fun as they can snack and play all at the same time!
Football TIC TAC TOE
You can download the printable versions of Football TIC TAC TOE HERE.
TIC-TAC-TOE is definitely a kid favorite and so having these sitting near by gives them enough fun for a commercial break.
Football Flick Game with Paper Football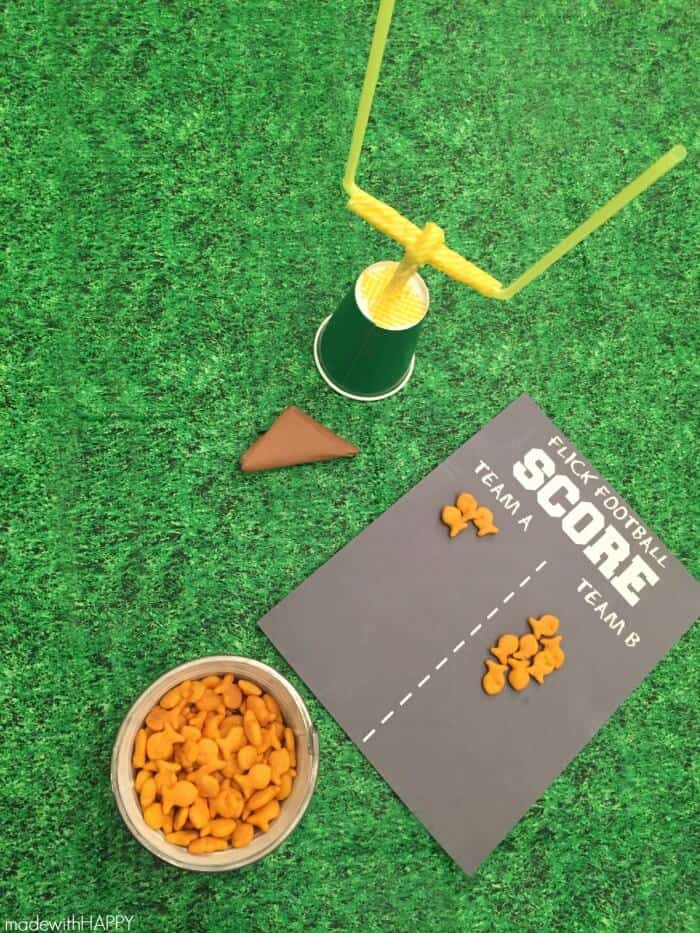 To download the fun Flick Football Scoreboard, click HERE!
We're sharing the full how to make a paper football and straw goal post HERE. This one is the biggest hit in our house all times of the year, but especially during football season.
There are lots of fun to be had with just a few printable games and your favorite halftime snack!
Did you know Goldfish snacks has a #GoldfishTalesPromotion going on? Now through 1/31 you can create a photo or video that shows off Goldfish crackers in a Big Game theme via Twitter or Instagram with the hashtag #GoldfishTalesPromotion to enter. Posts using #GoldfishTalesPromotion may appear in the gallery on GoldfishSmiles.com. No Purchase Necessary. Open only to 50 US/DC residents 18+. Ends 1/31/16. Official rules and more at www.GoldfishSmiles.com. Void where prohibited.
HAPPY FAMILY FOOTBALL FUN!!!
Other Printable Games
CONNECT WITH MADE WITH HAPPY!
Be sure to follow me on social media, so you never miss a post!
Facebook | Twitter | Youtube | Pinterest | Instagram
Looking for crafts to keep your child busy? Sign up for my 5 Ridiculous HAPPY Activities in under 30 minutes for your kids delivered directly to your inbox!
Find and shop my favorite products in my Amazon storefront here!
FUN FOOTBALL GAMES TO PLAY
PIN IT TO YOUR FAVORITE BOARD ON PINTEREST!
FOLLOW MADE WITH HAPPY ON PINTEREST FOR ALL THINGS HAPPY!