Hit the open road with these printable road trip activities and keep the whole family busy without relying on electronics.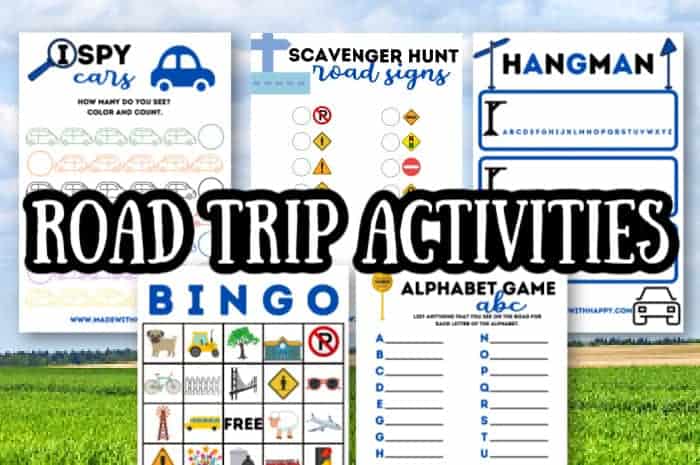 Gearing up for a road trip and looking for activities for the kids? With these simple ideas to help pass the time, going on a road trip with kids no longer has to be something that you dread!
Not only will the kids love these fun road trip activities but you'll love how playing games are a great way to help keep the kids busy as well!
When planning out your car trips, don't forget to print and take along with a fun road trip activity pack! These printable road trip games are ready to go for any Summer trips you have planned for Summer break.
Family Road Trips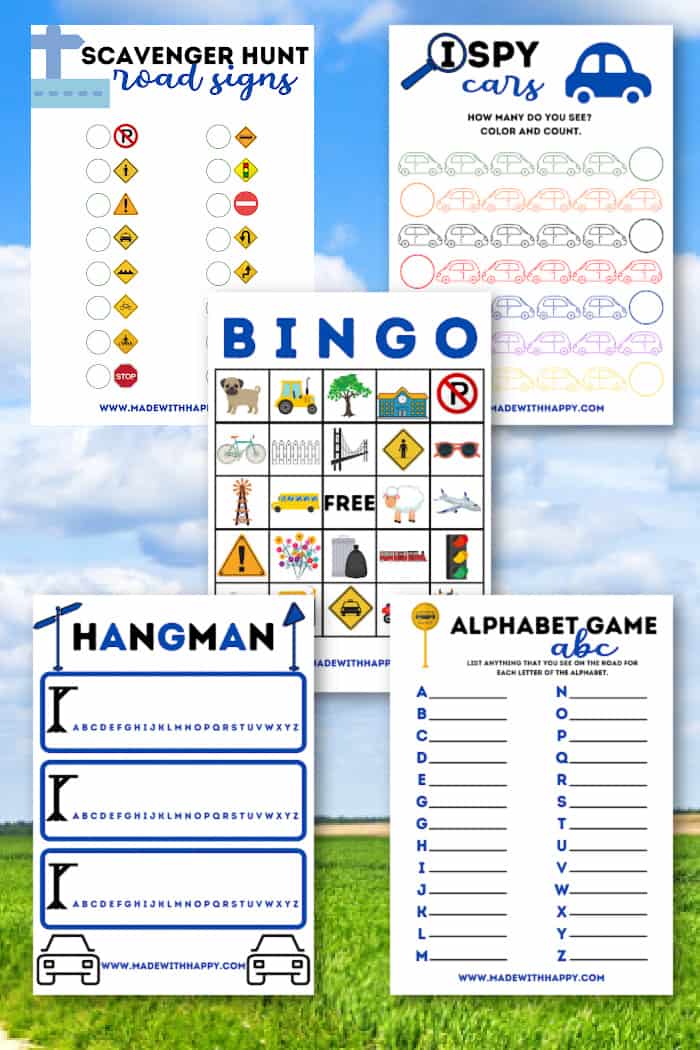 The best part about taking family road trips is the end destination but there have to be things to do along the way to keep the kids entertained. (and the adults, too!) Because the truth is told, it's just not very entertaining to load up in the car and drive from point A to point B without fun things to do along the way.
And if making pit stops on your journey isn't part of your traveling plans, then that means that you have to have fun things to pass the long car ride from inside the car. You can always pack up fun coloring books, games like tic tac toe, and other fun travel games that you can buy from the dollar store but there is really only so much room in the car to store those items.
This is why this road trip activity pack is just such a great idea! With fun games like learning the letter of the alphabet, road trip bingo, road trip I-Spy cars, and scavenger hunt road signs, this printable pack is certain to be a hit. You can easily laminate some of the pages as well so that your child can use a dry-erase marker to use these printable sheets over and over again.
Fun Ways to Use These Travel Games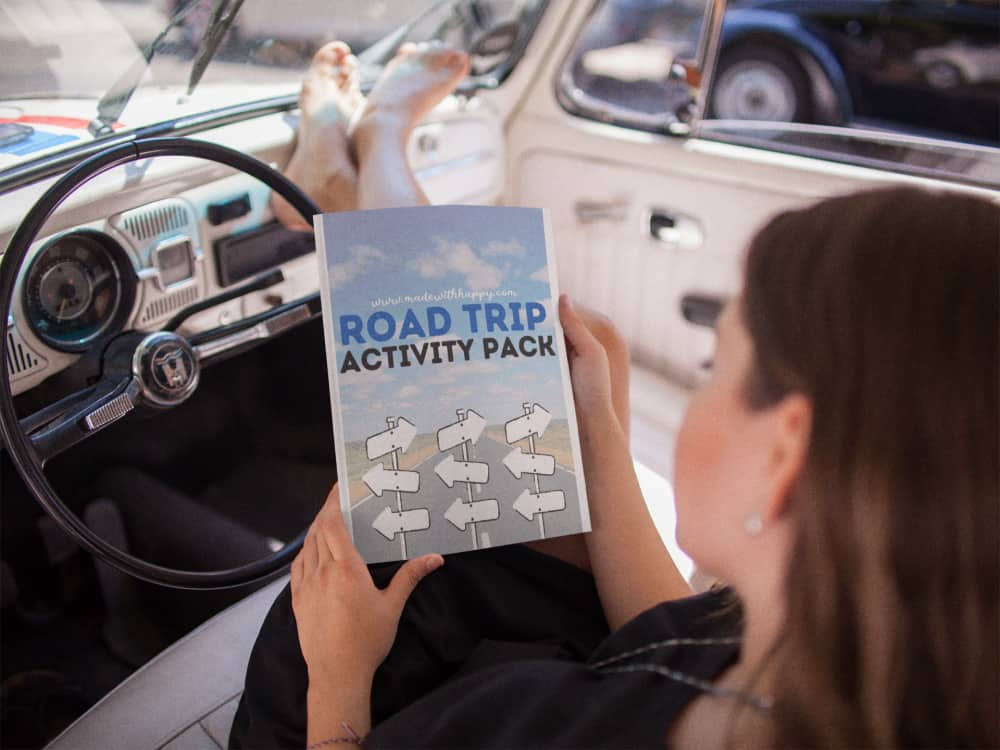 There are so many fun ways that you can use these road trip activities. We like to have them in the car for long stops at the gas station, long trips to visit family, or just as a way to distract and pass the time. Even if you have multiple kids that like to do different things in the car, these printables can help!
While one kid is resting, the other can be playing these games. Or everyone as a family can join in on the fun. The great part about using these printables is that they're simple and fun!
And instead of just sitting and reading off the sheets, have fun with these activities.
Have a fun challenge between the parents and the kids or kid versus kid or however you want to break it up. The more that want to join in on the fun, the wilder and crazy it will be! If you're looking for a super simple way to pass the time while you're in the car on your road trip, you really can't go wrong with these fun travel games. It's a simple solution for long car rides, long appointments, or just an easy way to pass the time when everyone is just plain burnt out of being in the car!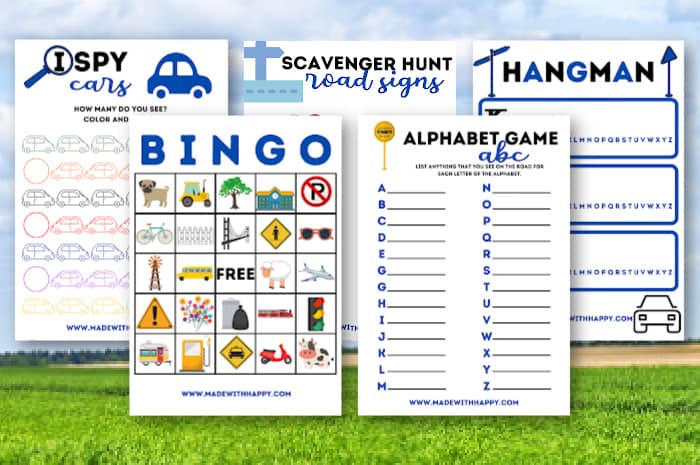 Other Travel Posts You Might Enjoy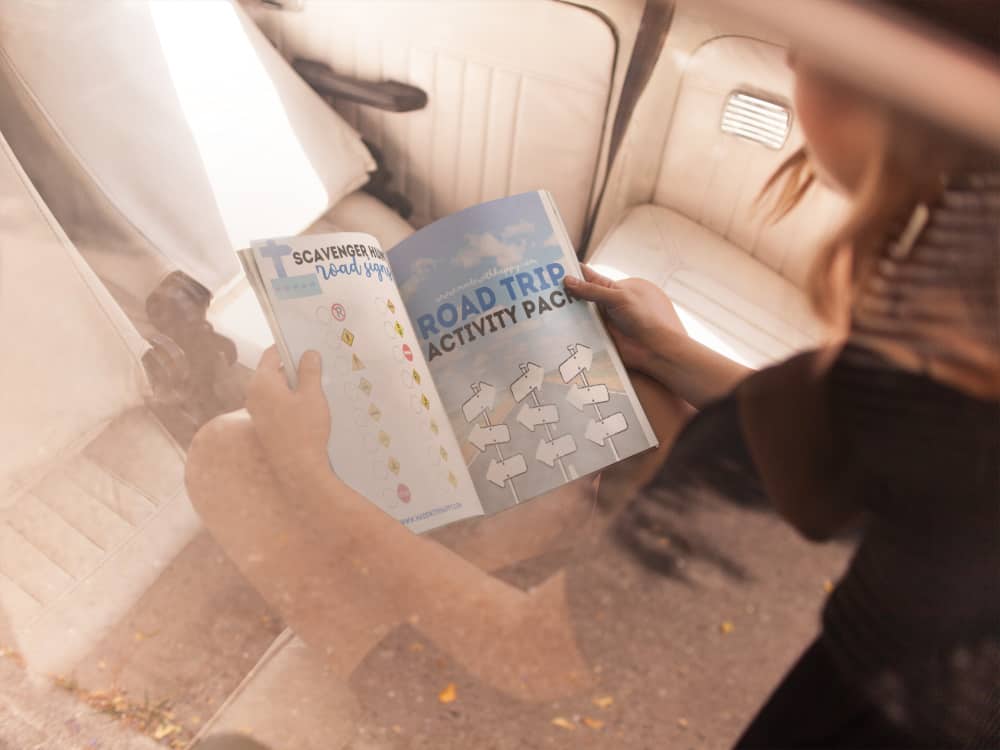 Grab You Printable Road Trip Activities
*For personal use only
CONNECT WITH MADE WITH HAPPY!
Be sure to follow me on social media, so you never miss a post!
Facebook | Twitter | Youtube | Pinterest | Instagram
Looking for crafts to keep your child busy? Sign up for my 5 Ridiculous HAPPY Activities in under 30 minutes for your kids delivered directly to your inbox!
Find and shop my favorite products on my Amazon storefront here!
PRINTABLE ROAD TRIP GAMES
PIN IT TO YOUR FAVORITE BOARD ON PINTEREST!
FOLLOW MADEWITHHAPPY ON PINTEREST FOR ALL THINGS HAPPY!