Alright Mom's… anyone else so excited that school is almost out for Summer? I am so ready. I absolutely can't wait. My family has a number of different trips planned including a few road trips. While I was thinking about the road trip the other day, I started thinking about all the fun games we used to play on road trips as a kid and how I want to make sure I have plenty of games and fun ready for my kids on our trip. Which brought me to the fun game of I-Spy. Ding, ding, ding… I need to make a modern DIY version for the car!!!!! I came up with this super easy, super fun version of
DIY I-Spy Bag
Here's how I made it!
Supplies: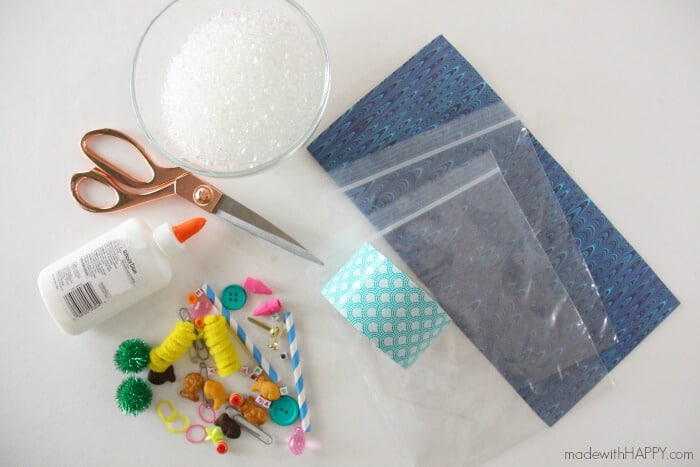 Directions:
Start by filling one of the bags with your pellet fillers. I used a bowl to hold the baggie open and steady.
Then add one of each of the items to the bag as well and then seal the bag making sure to remove all the air from the bag.
Measure and cut your piece of paper to the size of the second bag.
Using your glue, glue each of your items to one side of your paper, or back side if you're using patterned paper. Let the items dry completely.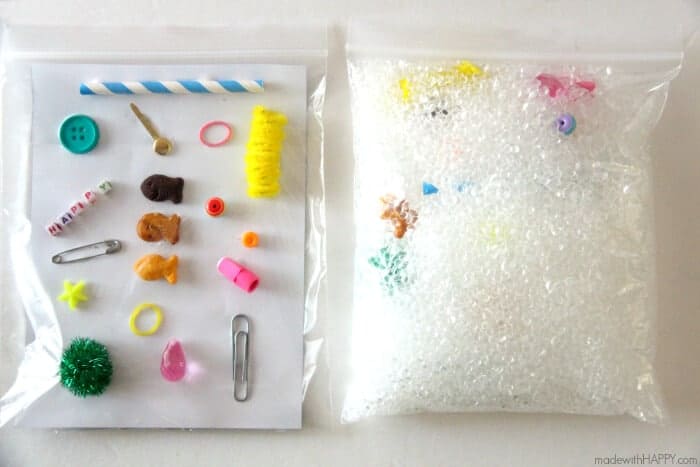 Next slip the items into the second bag and remove as much air from the bag before sealing.
The last step is to cut two pieces of duct tape the width of the bags. Lay both bags to where the zipper ends are touching. Attach the first piece of tape with one half on the bag one and the other half on bag too. Flip the bags over and tape the other side of the zippers.
NOTE: Make sure to have extra Goldfish on hand for the kids to snack on in the car. Children should not eat the goldfish from the bag.
Viola! You have yourself a super fun, DIY I-Spy Bag!!!
HAPPY ROAD-TRIPPING!!!
Did you know Goldfish snacks has a #GoldfishTalesPromotion going on? Now through 6/30 you can create a photo or video that shows off Goldfish crackers in a Great Outdoors theme via Twitter or Instagram with the hashtag #GoldfishTalesPromotion to enter. Posts using #GoldfishTalesPromotion may appear in the gallery on GoldfishSmiles.com. No Purchase Necessary. Open only to 50 US/DC residents 18+. Ends 6/30/16. Official rules and more at www.GoldfishSmiles.com. Void where prohibited.
Like it? Pin it!