Looking for a fun tourist place to go when visiting Southern California? The Hollywood Wax Museum on Hollywood Boulevard is just the place.
The Hollywood Wax Museum is a fun place to visit when in Los Angeles.
Recently, my Mom and I have been discussing some of the fun adventures her and my Grandma used to take when my Mom was a little girl. It was fun to see her eyes light up as I mentioned the Hollywood Wax Museum as she remembered a great time she had visiting the wax museum with her Mom and some friends. How awesome is that?
Did you know the Hollywood Wax Museum is the longest-running wax museum in the United States? It has been the most visited indoor attraction in Hollywood since 1965.
I knew right then I wanted to take my Mom up to see the wax museum with me so that we could make our own memories.
What a great day we had. We had a little hiccup on a previous day trying to get up to LA due to a freeway shutdown, so we tried again the next day. The drive was not hard at all, and were able to get there in less than two hours.
We are both pretty excited when it comes to tourist attractions, and we both loved checking them out.
Hollywood Boulevard
Hollywood Boulevard is so iconic and so was the Hollywood Wax Museum. Our eyes were wide open as as we entered with was like walking the red carpet into another world. A star studded pop culture world.
It was so much fun seeing so many of our favorite stars.
We loved how we were able to interact, get close and personal and in some cases play with the stars. It was also really fun that the figures were placed within the settings of their popular film or in the case of musicians in their musical settings.
Hollywood Wax Museum Entertainment Center
They even showed us how each of the figures are made.
Each wax figure is considered a piece of art. Over time and currently, the Hollywood Wax Museum has worked with numerous sculptors, mold makers, and finishers to create life-like wax figures.
Stylistic differences occur depending on which artists crafted the figures.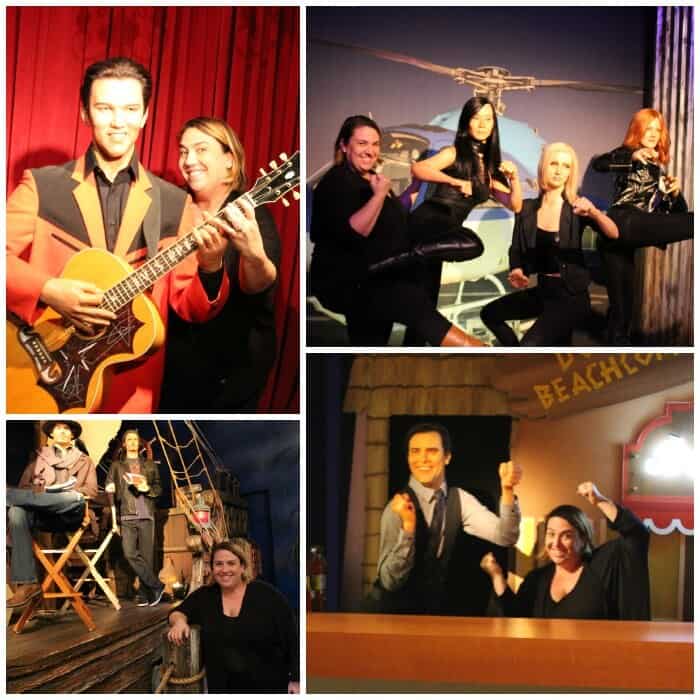 It was so fun posing and interacting with each of the figures.
We laughed and talked about each of the movies and what our favorite parts of the movies were. The amount of giggling as the other showed off their best pose was too funny.
I even got to pose with the King of Pop! What a great adventure we both had. We truly had the best time walking through and seeing all the star.
There is something to be said about letting yourself play tourist and have fun. Of course these are not your real stars, but reminiscing about the movies and talking about your favorite movies can be all kinds of fun.
Wax Museum Prices
I would recommend whether you are in Hollywood California, Branson Missouri, Pigeon Forge Tennessee, or Myrtle Beach South Carolina, I would start with the Hollywood Wax Museum website. They may be running deals and offers.
Second, I would check groupon or another coupon site within the respected area you are visiting. They most likely will have something that will fit just what you are looking for.
Whatever the case may be, I encourage anyone looking for some fun to do in Hollywood, try out Hollywood Wax Museum .
Other Southern California Destinations you might enjoy!
Some of our favorite all time travels
CONNECT WITH MADE WITH HAPPY!
Be sure to follow me on social media, so you never miss a post!
Facebook | Twitter | Youtube
Pinterest | Instagram
Looking for crafts to keep your child busy? Sign up for my 5 Ridiculous HAPPY Activities in under 30 minutes for your kids delivered direct to your inbox!
Find and shop my favorite products in my Amazon storefront here!
VISITING HOLLYWOOD WAX MUSEUM
PIN IT TO YOUR DIY BOARD ON PINTEREST!
FOLLOW MADEWITHHAPPY ON PINTEREST FOR ALL THINGS HAPPY!