Hi friends and Happy Monday! We all know I'm a San Diegan. Born and raised. And although I LOVE to travel, there is something pretty spectacular about where I live. Well to celebrate that, I've teamed up with a few of some pretty fabulous California Kid Bloggers (Sunshine Kids) and we all decided to each write about Staycations. I know, pretty awesome right?
First... You do know what a staycation is right? When you vacation at home or close to home.
Second... You do know the Go-Go's Song Vacation right?

Ahh man, I love that song and may sing it every sing time I'm headed down to the airport. I may have also many moons ago have thought I was Belinda Carlise, but I digress.
A few months ago, I told you all about Carlsbad, where I live and all the great things to do around my town. Its a great town and just a hop, skip and jump away Downtown San Diego. What I haven't shared with you all yet is about the Staycation the Made with HAPPY family and I took for MWH Girl's birthday!
My daughter is pretty funny when it comes to travel. Both my kids are great travelers and each have been traveling since they were itty bitty and so plane ride, taxis, boats, they do it and most of the time get to and from our destinations smoothly. MWH Girl in particular LOVES, I mean talks about it all the time even when we aren't traveling, LOVES spending the night at a hotel. She loves the beds and baths and the towels and the pools and just everything about it. She's definitely her parents daughter. In any case, for her birthday we decided to take her to the Grand Pacific Palisades Resort & Hotel. Its right here in Carlsbad and right across the street from Legoland California.
After check in, we (and by we, I mean the kids and MWH Girl specifically) spent a good 30 minutes running around telling her Dad and I how excited she was to be at a hotel and how much she loved it and was excited about sleeping there tonight. Can you tell the happiness from the this is my castle pose? 🙂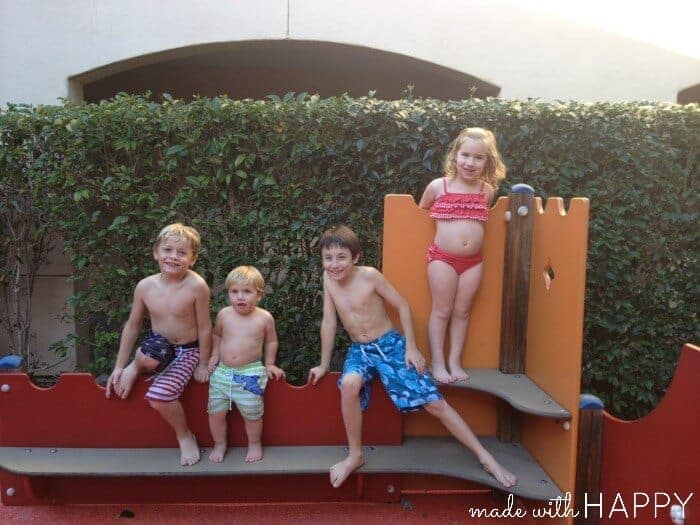 Then it was down to the family pool. There is an adult pool that looked nice as well, but we were here for my girl and so the family pool it was. What I love about staycations is that they aren't too far for family and friends to visit. We were excited because MWH Girl's cousins came to swim and have a pool day with her. SO MUCH FUN! They have a great splash park area and the pools is nice and large. Right next to the pool was a great playground where the kids could slide and climb. It broke up the afternoon for when the kids were a little pooped from swimming. The hotel even had a fun activity center with face painting (MWH Girls favorite) and lots of other activities for the kids.
From there, it was back to the room to change our clothes and head down to the restaurant for dinner. The restaurant for the hotel is a Karl Strauss which is a delicious restaurant and San Diego local brewery. Their food is fabulous and they easily accommodated the larger family party. We ate and celebrated and had smiles the entire night.
After saying good bye to the family, we took a stroll around the back patios of the hotel. They had a few bonfires going and we did overhear a possibility of smores, but we were pretty full from the dinner, so we enjoyed the fire for a bit and then up to the room. It wasn't long after getting our jammies on, did we get the super duper birthday surprise... FIREWORKS. Legoland was having fireworks and can I tell you it was such a treat. We had a front row seat and watched from our balcony in awww. What made this staycation so HAPPY was that we could have been halfway across the planet for all we knew and yet we were only 10 minutes from our house. So much fun. If you have a chance to come down to Carlsbad and are looking for a place to stay that was pretty reasonable priced (and right across the street from LEGOLAND), I highly recommend the Grand Pacific Palisades Resort & Hotel. I know they treated our sweet girl so sweet for her birthday and I can't thank them enough for all the fun.
Now for some other great ideas on staycation, California style.