After a crazy weather cancellation in Yosemite, we had to pivot our Spring Break road trip from up the California coast to heading east to Phoenix Arizona.
We initially booked Yosemite Valley for our Spring Break vacation over 6 months ago. As luck would have it, at about 7:00 pm the night before we were scheduled to leave, my sister was watching the news and saw a blurb about flash flood warnings in Yosemite and park closures. A few calls later, we found that in fact the park was closing and they were evacuating campers. Eeeeek..
For us, it was still Spring Break, Mom and Dad had the time off, and this incredible SUV to test out, so where shall we go? Most of California was expecting rain, so we decided to head East and Phoenix seemed like a fabulous alternative.
There are so many fun things to do in Phoenix Arizona
Here is a fun video of our adventures.

First off, you can't have a HAPPY road trip without a HAPPY car. And what a HAPPY car we had. GMC was incredible in loaning us this Acadia SUV for the week.
This 2018 GMC Acadia is a mid-size SUV that seats up to 7. It was a perfect size for our family of four to road trip with all our luggage, coolers, and our mermaid fin even tagged along 🙂 The versatility of the seats was perfect for our added family members once we got there, and we were able to accommodate everyone.
The GMC Acadia was a dream to drive with all these bells and whistles
Keyless Entry and Start (which is super helpful to be able to leave your keys in your purse as someone I know has been known to lose their keys often --- it's me. :))
Blind Spot Indicators on the side mirrors - Added safety... yes, please
The advanced rear-vision camera that helps with not only backing up but has dynamic guides to help line you us with any towing you have to do or when you have a bike rack on (like we initially did when heading up to Yosemite)
Seat warmer - which I totally had on most of the time.
The technology in this baby is state of the art too.

It has Apple CarPlayTM and Android AutoTM compatibility3
Touch screen capabilities
Wifi
Navigation
USB enabled
Bluetooth
OnStar

The sleek design is RAD
So basically, getting there and back and everywhere in between was all kinds of awesome. We are seriously considering the Acadia as our next vehicle for the Ward fleet for sure!
Now onto what we did on our epic road trip.
Road Trip From San Diego To Phoenix
Our first pit stop outside of San Diego is at a random place called Salvation Mountain.
It is about 45 minutes off the main path and quite the site to see.
It was built by a man over the course of 20-30 years and is an incredibly visual Christian-based sculpture. Definitely all kinds of Made with HAPPY.
Where to stay in Phoenix
We stayed at the pretty centrally located Point Hilton Squaw Peak. It has an incredible pool and activities area including a lazy river, mini-golf, tennis, and waterslides
This was great in that it gave us the ability to beat the Spring heat in Arizona in addition to other activities for those with active families. *** hand raised***
Fun things to do in Phoenix Arizona
While the pool and mini golf were great, we wanted to make sure we got out and explored more of the Phoenix area and man am I glad we did.
Hiking in Arizona
There are great hiking trails all over Phoenix, and there happened to be a fabulous peak/trail right by our hotel and actually what it was named after.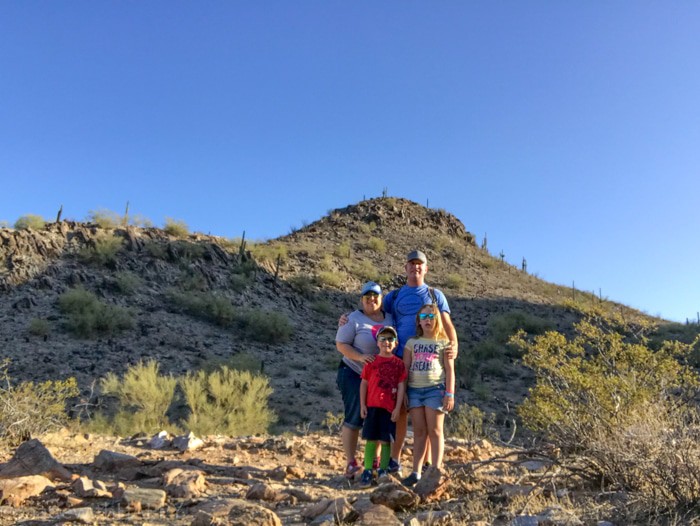 Squaw Peak or Piestewa Peak as it is now named was about 5 minutes from our hotel. Waking up a little earlier than normal and heading out for a hike was awesome. The weather was amazing and we were able to hike to the top of one of the peaks that was non-strenuous and perfect for the kids. We all enjoyed the hike a lot.
TopGolf in Phoenix
Next, we found ourselves at this golf-loving family's new favorite place, Top Golf Scottsdale. If you haven't been to Top Golf, think of it as a golfer's bowling alley.
There is a bays setup for groups (like bowling). The balls have a microchip and so they can track your hit and score based on where on the course and the large targets you were able to hit.
There are different games on the computer you can play as well making it hours of fun!
MacDonald's Ranch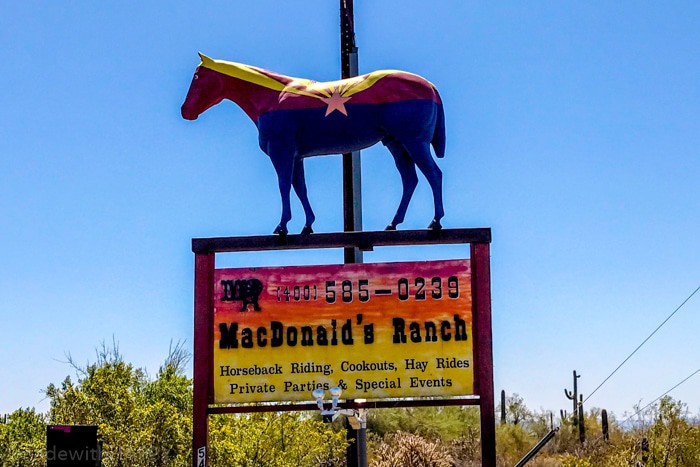 Next we headed about 15 minutes away to MacDonald's Ranch. This gem of a place is free for all those that come to visit.
It is set up with an old west theme with its buildings fun activities like lassoing, corn hole, washer toss, and more.
It has a fun petting zoo portion where we met lots of great animals.
They even provide free pony rides for the kids 12 and younger. You can arrange trail rides for those that would be interested in longer rides. The grounds have lots of room for cookouts or private events. It was a fabulous place and we were so glad we got to visit.
All-in-all it was a fun-filled Spring Break vacation in Phoenix. We got to visit our family, we were able to explore, we had a magnificent car to get us around town in style, and we made memories that will last a lifetime. It's what family road trips are made of!
Thanks, GMC for all the FUN!
Some Southern California Destinations you might enjoy!
Some of our favorite all time travels
PHOENIX ARIZONA ATTRACTIONS
PIN IT TO YOUR FAMILY TRAVEL BOARD ON PINTEREST!
FOLLOW MADEWITHHAPPY ON PINTEREST FOR ALL THINGS TRAVEL!
Some other fun places to visit: