Looking for a special family vacation over the holidays? We're sharing our Top 10 Reason to visit the Great Wolf Lodge Southern California during the holidays.

We recently got a chance to visit the Great Wolf Lodge Southern California for the day. It was a day for the record books that if for sure. We have spent many a nights at The Great Wolf Lodge Kansas City, so it was treat to get to see and experience The Great Wolf Southern California just up the freeway from us in Garden Grove.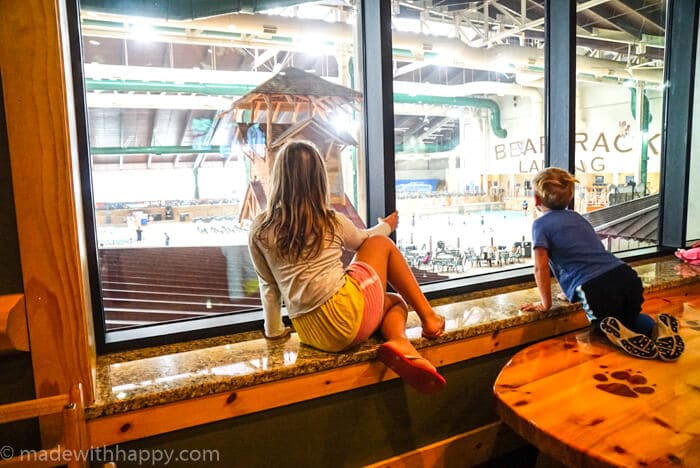 We spent the entire day cramming as many activities as possible. To say we were beat at the end of the day would be an understatement. It was definitely a good tired, but tired nonetheless. Our goal was to check it all out all for the name of HAPPY. We get questions all the time from readers about The Great Wolf Southern California and so we figured it was time to check it out and let you know our thoughts. We were fortunate enough to head up during the holidays and so we've put together a list of why we think its a definitely something you and your family will want to experience.
VISIT THE GREAT WOLF LODGE SOUTHERN CALIFORNIA DURING THE HOLIDAYS
Snowland Festive Rooms During the holiday season, decorates approximately 10 rooms into winter wonderlands (for no extra cost). The rooms come with a Christmas tree, decorations and cookies and milk delivered by one of the Great Wolf Kids Characters. What a special treat to wake up to.
Snow 'n' Glow Dance Party The lobby is transformed with a gigantic Christmas tree, decorations, and even the complimentary ears they hand out turn to white and blue. Each evening the lobby turns into a glow in the dark snow party with "snow falling" and dancing and a whole lot of fun!
Giant Gingerbread House They have built a life size gingerbread house. In speaking with the chef, he made 216 rectangles of gingerbread to make the outside of the house. Each rectangle weighs approximately two pounds. That's over 400 pounds of gingerbread just on the walls of this magnificent house! Its definitely a sight to see. The best part of the house (in my opinion) is that you can reserve special dinners inside the gingerbread house where a portion of the proceeds go to Ronald McDonald house.
Cookies with Mrs. Claus - Inside the Gingerbread house during the day, the kids can decorate cookies with Mrs. Claus. Cookies and crafts inside a real gingerbread house with the big guy's main squeeze? HELLO! Can I come?
Hot Cocoa with a Great Wolf Kid While we maybe in sunny Southern California, we are just as capable of pretending its snowing outside and warming up with a cup of hot cocoa any time of year. P.s. There are so many yummy goodies at the Great Wolf in addition to hot chocolate including s'mores pizza, lucky charm pops, and tasty milkshakes.
Festive Family Movies - Each evening you can come down in your pjs and enjoy a festive family movie for a few minutes of relaxation after a busy day running around the hotel.
Water park in Winter Even when its cold and dreary outside, there is always a 83 degree indoor water park for the family to enjoy. There are slides, waves, obstacles, basketball and so much more to do in the water park. For those that haven't been to the waterpark, there are activities for all ages. There are splash pads and water fun for the babes and daredevil water slides for the olders. Lots and lots of water fun for all ages.
Visits from Santa Claus - Each weekend, you can look forward to a visit from the man in red. There are opportunities for your kids to sit with Santa and give him the run down of whats on their list.
North Pole University - Fun kids holiday activities and assignments where the kids can run around the resort and earn themselves a Snowploma
All Other Resort Games and Activities We cannot forget all the other resort games and activities that are all year long. The fun of MagiQuest which is an interactive game throughout the hotel. There are kids clubs, Ten Paw Alley ( bowling), Howl at the Moon Glow Golf, Arcade, Howly Wood XD Theater (4D interactive game), Storytimes, Lazer tag, Shows, and so much more.
We had so much fun, we are headed there this month for Made with HAPPY girl's birthday celebration. We can't wait to share all the fun we're going to have with that.
Let me know if you have any questions as I feel like we can answer many questions about The Great Wolf Lodge Southern California now, and if not, I am happy to ask on our next visit!
TOP 10 REASONS TO VISIT THE GREAT WOLF LODGE SOUTHERN CALIFORNIA DURING THE HOLIDAYS
PIN IT TO YOUR TRAVEL BOARD ON PINTEREST!
FOLLOW MADEWITHHAPPY ON PINTEREST FOR MORE GREAT FAMILY TRAVEL IDEAS!
Other California Travel Destinations You Might Enjoy