Have some August fun with this August Word Search Printable. This free word puzzle for August is great for kids of all ages.
This August word search puzzle is a great way to spend time together with kids and families before they go back to school. We love the idea of having puzzles and games for the kids to work their minds while on a road trip or vacation.
Having some printable fun set aside for the kids while on a plane to vacation or in the car at road trips is always a great idea. Giving kids some downtime in the shade to relax and flex that brain muscle is always a good thing.
The month of August is a month finishing up Summer vacation for some and holiday month for those in Europe. In August there is Back to School, Llama Day, and Be Kind to Humankind Week. Soaking up the last fun in the sun with BBQs, pool time, and camping days.
There is so much fun and celebration in August, which makes everything that much more HAPPY.
Check Out These Other August Printables!
We highlighted this Monthly Word Search For Kids along with some other fun kid's crafts in our Summer Craft Ideas along with our 101+ Easy Kids Craft.
You also do not want to miss our 101+ Printable Coloring Pages For Kids and 101+ Printables For Kids full of Crafts and Coloring Pages.
All About Word Search Games
A word search game is a great tool for both younger children and older ones. They are great for increasing word recognition and vocabulary. Not to mention they are full of fun!
For those that may not be familiar with word search puzzles, they are puzzles of hidden words that are based around a theme, like August. Each new puzzle contains a box of letters and a word list that are all based on the subject. The object of the puzzle is to find each of the hidden words inside the box of letters. Based on the difficulty of the puzzle and the words, they could be hidden from side to side, up and down, or diagonally.
Once the word is found, it's important to cross out the word, highlight it, or make a mark through it. The puzzle is complete once all the words are found.
Don't miss our last month's word search puzzle, July Word Search, and next month's September Word Search.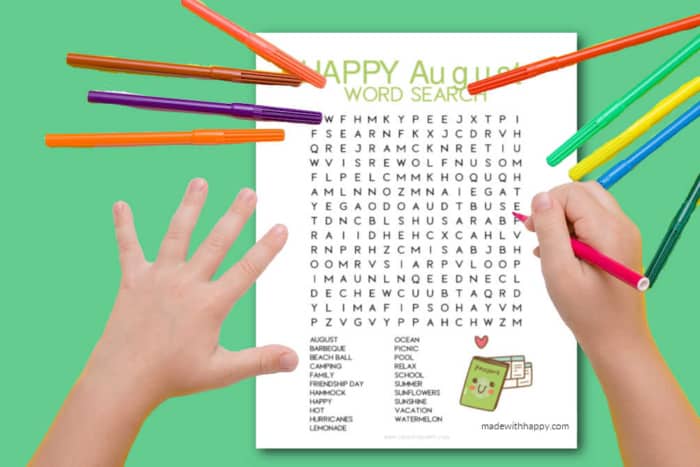 Download This Free Printable August Puzzle
Simply enter your name and email address in the form below. Once you hit enter, you will be taken directly to the downloadable July puzzle. In the case you do not want to enter your email address, you can always find the August puzzle in our shop.
Grab the Full Year of Word Searches
Other Summer Printable You'll Love