Celebrate the holiday season with these free printable Merry Christmas Coloring Pages. Christmas season coloring page for kids of all ages.
These Merry Christmas Coloring Pages are guaranteed to bring a Happy Holiday and a very Merry Christmas!
Merry Christmas Coloring
The holiday season is in full swing! And do you know what that means? Winter break and Christmas festivities!!!
Christmas is a festive occasion that requires loads of preparation, buying gifts, decorations, meals, and everything else that comes with it. And while I usually let the older kids help me with most of the tasks, mostly I need to get things done myself.
And that's when my Christmas coloring sheets come to the rescue!
You see I have created these amazing free Christmas coloring pages for kids of all ages to keep them busy during the winter break, while I can get my work done. And, these printable coloring pages are just not your regular coloring pages, they are Christmas-themed! This means all the more fun for kiddos!!!
They are the perfect set of holiday coloring pages to awaken the Christmas spirit, especially for toddlers and preschoolers who are just learning about the holiday season. It is a great way to make them aware of the Christmas season, Santa Claus, candy canes, Rudolph the red-nosed reindeer, and everything that spreads cheer and joy during this festive season.
Why Go for Printable Christmas Coloring Pages?
While you can get many merry Christmas coloring pages and books, I suggest going for these free printable Christmas coloring sheets.
Why you may ask?
Because, for starters, they are totally free! You can get an unlimited number of festive coloring pages for your personal use or classroom use. It is the perfect activity to help your preschoolers with color recognition and develop fine motor skills in a fun way.
And if you have older kids, you can give them these free printable coloring pages to create a cute Christmas card for all family members!
Fun Christmas Coloring Pages for Kids
These free printable Christmas coloring pages have detailed designs including Christmas tree coloring pages, complete with festive ornaments and a cute candy cane, which the kids can decorate with different colors and let their creativity flow.
Other than this, there are also free coloring pages with nativity scenes, Christmas angels, and snow globes. Your kids can go all out making different patterns using their favorite colors.
Free Christmas Coloring Pages for Adults
While kids love coloring pages, it is also a great activity for adults who want to spend their December leisure time in a better way!
Imagine snuggling up in a warm blanket or sipping on a cup of hot cocoa. Or enjoy some sweet treats, and spend the afternoon coloring away on these free printables! Sounds fun, doesn't it?
So, if you're someone who loves colors, or if you know someone who loves coloring as much as you do, there's no better Christmas gift than these simple coloring pages and activity sheets!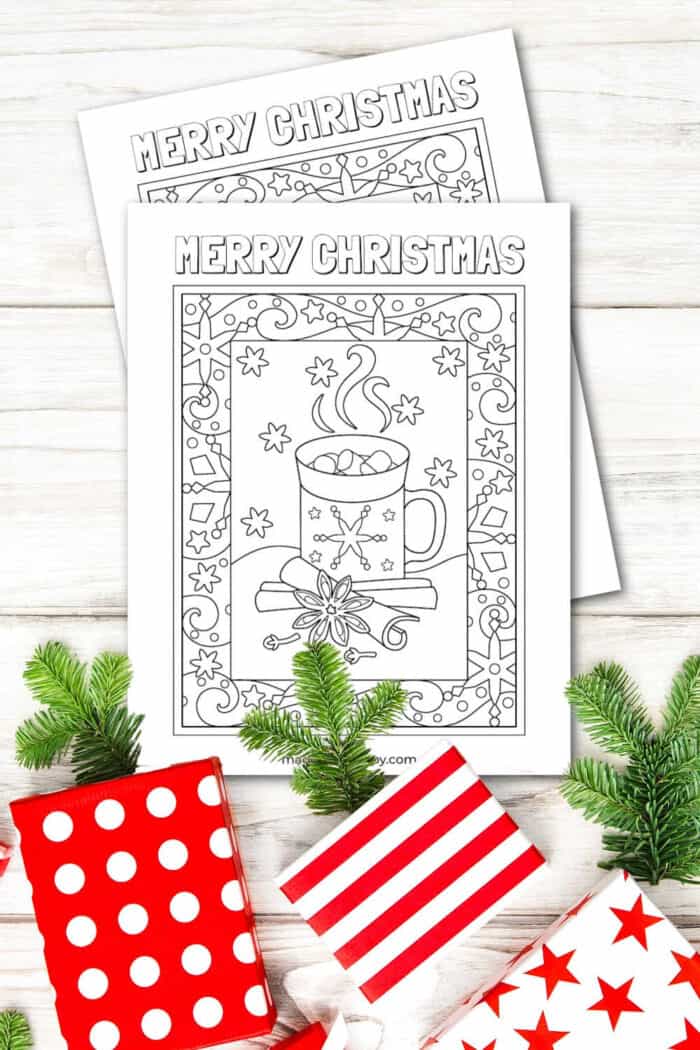 Spreading Holiday Cheer with Our Free Resources!
Some of the items included in our free Merry Christmas coloring pages include
Christmas lights
Christmas bells
Christmas ornaments
Santa's sleigh
Gingerbread man
And every other Christmas decoration you can think of!
For all of those who are looking to keep their kids busy during their winter break, want to include a fun kids activity during your holiday party, or want to spend Christmas eve doing something Christmas-sy, you are at the right place!
These fun, festive, and free Christmas coloring pages are the perfect activity for everyone on a chilly winter day!
We highlighted these Free Christmas Coloring Pages for kids along with some other fun kid's crafts in our December Crafts along with our 101+ Easy Craft Ideas for kids.
You also do not want to miss our 101+ Printable Coloring Pages For Kids and 101+ Printables For Kids full of Crafts and Coloring Pages.
Happy Holiday
Check out these other Christmas Coloring Sheets!
Download Free Printable Merry Christmas Color Page
Enter your name and email address in the form below to be taken directly to the free downloadable pdf file. If you do not wish to enter your information, you can always find the Merry Christmas Coloring Sheets in our shop.
*For personal use only
CONNECT WITH MADE WITH HAPPY!
Be sure to follow me on social media, so you never miss a post!
Facebook | Twitter | Youtube | Pinterest | Instagram
Looking for crafts to keep your child busy? Sign up for my 5 Ridiculous HAPPY Activities in under 30 minutes for your kids delivered directly to your inbox!
Find and shop my favorite products in my Amazon storefront here!
MERRY CHRISTMAS COLORING PAGES
PIN IT TO YOUR DIY BOARD ON PINTEREST!
FOLLOW MADE WITH HAPPY ON PINTEREST FOR ALL THINGS HAPPY!