We're sharing the cutest Valentines Succulent with a fun "Life would SUCC without you" free printable to go along with this perfect gift!
These Valentines Succulents Printables are all kinds of cute and a great non-candy option as a Valentine's Day gift.
We love the idea of creating fun gifts and love spending the month of February planning and creating. This sweet succulent is giving us all kinds of HAPPY feels.
Printable Valentine's cards are some of our favorite things! Some of our most popular include Bubble Valentines, Birdseed Heart Valentines, DIY Gumball Valentines, and our Valentine's Card with Pencil.
Valentines Day Gift
I've mentioned this in the past, but our kid's school has a crackdown on celebrating holidays and birthdays at school with sweet treats. The kids are able to celebrate of course, but they ask that we don't bring in cupcakes or sweet treats, rather a non-candy treat for celebrations is preferred. This in turn has us looking for non-candy Valentine's Day ideas for each of the kids.
Looking for some Valentine's Day crafts for kids? Check out our 21 Easy Paper Crafts for Kids for Valentine's Day and 21 Heart Crafts Projects For Kids.
Supplies:
My older babe recently asked me if she could give each of her classmates a flower or plant of some sort. Realizing this could give a bit pricey with succulent plants being $5 each at the big box hardware stores, I was on the hunt for an alternative. We stopped by the 99 cent store, and low and behold, they carry tiny succulents.
Plus the succulent trend from a couple of years ago does not seem to be going away. So I say go for whatever plant is having special deals.
Of course, these sweet printables are good all year long. February and Early spring grab the colorful succulents and it's a great way to give a gift.
We also bought a few slightly larger glass vases for her teacher too. Simply print out the Valentine's Day Succulent Printable below and you have a succulent gift perfect for succulent lovers.
You of course could use a sweet little cactus as well. Nothing wrong with Valentine's Day Cactus to say I love you! 🙂
Don't miss our other Valentine's Cards For Kids that we know you'll love.
How to Make These Succulent Gifts
These little beauties are simple to put together. Simply replant your succulent into the pails or the glass vases.
Place your rocks around the succulent and along the top. Using the crafting tape, tape the printable along the side of the vase, and voila! A start to a cute succulent garden.
The receiver of the plant gift does not even need to have a green thumb with an adorable succulent. A little succulent needs very maintenance.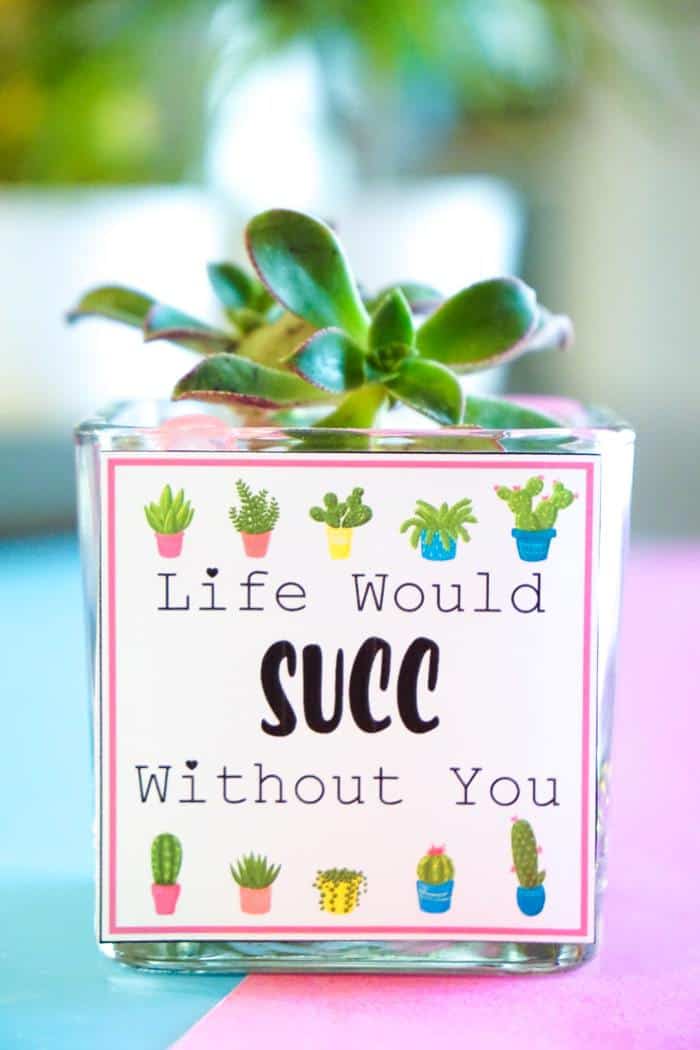 I also want to point out one of the things that I mentioned above about giving your teacher Valentine's Day Card. I realize that it may not be where you want to give your kid's teacher the same Valentine's Day card as you would a child, ie. Bubble Valentines, or Play Doh Valentines, but we absolutely cannot forget to give our teachers something.
I really like the idea of the sweetheart flower pot to give to the teacher or these Valentine's Day Succulents, but please, please, please do not forget to make something for your kid's teacher!
Happy Valentine's Day!
Do not miss our full list of Free Valentines Printables as well as our 101+ Free Printables for Kids.
We highlighted this Valentine's Printable along with some other fun kid's crafts in our February Craft Ideas along with our 101+ Craft Ideas for kids.
Additional Valentines Succulent Questions
Now that you are ready to put together your Valentine's Succulents, here are a few questions you might have.
What does it mean when someone gives you a succulent?
Succulents are a sweet plant known for their strength, resiliency and known as the symbol of unconditional love.
Is a succulent a good gift?
Succulents make terrific gifts. They are hardy strong plants that do not need a ton of water or maintenance. This makes them great for lots of different people.
How do you take care of small succulents?
Small succulents and succulents, in general, do well with a good amount of light in a window and being watered as often as the soil needs water.
We have some really fun non-candy Valentine's Day Printables.
Other free printable valentine's cards
Download Your Free Succulent Valentine
Yield: 12 Small Succulents
Valentines Day Succulents
Life would SUCC without you! We're sharing the cutest Valentines Day Succulent with this printable.
Tools
Instructions
Start by simply replant your succulent into the pails or the glass vases.
Place your rocks around the succulent and along the top.
Print you Life Would Succ printable
Cut the printable card out and tape to the pail or vase.
CONNECT WITH MADE WITH HAPPY!
Be sure to follow me on social media, so you never miss a post!
Facebook | Twitter | Youtube | Pinterest | Instagram
Looking for crafts to keep your child busy? Sign up for my 5 Ridiculous HAPPY Activities in under 30 minutes for your kids delivered directly to your inbox!
Find and shop my favorite products on my Amazon storefront here!
VALENTINES SUCCULENTS
PIN IT TO YOUR DIY BOARD ON PINTEREST!
FOLLOW MADE WITH HAPPY ON PINTEREST FOR ALL THINGS HAPPY!