Are the kids in need of Free Mother's Day Printables that showcases just how much they love and know about their mom?
This free Mother's Day Printable sheet is perfect!
Not only can they easily personalize this printable to show mom just how well they've been paying attention all these years, but it also gives them the chance to be creative and independent at the same time. (two very big deals in the minds of little kids!)
Be sure to check out our Free Mothers' and Father's Day Printables as well as the 100 more printables for kids like this one.
Mother's Day Card
All kids like to give something homemade and from the heart to say "Happy Mother's Day" to their mom but oftentimes lack the free options and capabilities to get it done. What this free Mother's Day printable does is put the ball in their court to print, fill out, and make it "all about mom" but in their own words.
They will be so pumped and excited to hand this over to mom on the big day.
If you're anything like me, the tears may start to flow. This printable is such a fun way for them to show everything that they know. Just be ready...the answers might just be downright hilarious! (especially the part where they get to fill in the things that mommy do not particularly like!)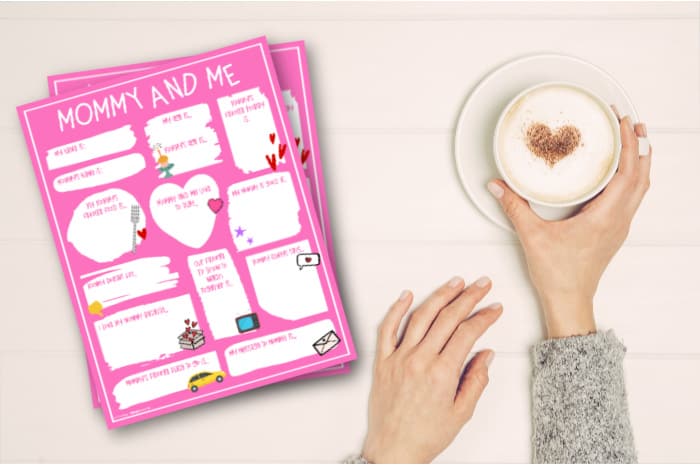 Make room in your keepsake box because this printable Mother's Day printable card design is going to be something that you're literally going to want to keep forever. (enjoy this phase when they're little because they're going to be writing and saying the cutest things, ever!)
In fact, you could easily bookmark this page and come back to it year and year for your child to fill out this printable sheet for Mother's Day. Then you can easily see how their answers will change about you as they age! (or maybe you don't want to know - LOL!)
Grab Your Free Mother's Day Gift Printable
Other Mother's Day Printables and Kids Crafts You Might Enjoy!
Some Father's Day Printables
CONNECT WITH MADE WITH HAPPY!
Be sure to follow me on social media, so you never miss a post!
Facebook | Twitter | Youtube
Pinterest | Instagram
Looking for crafts to keep your child busy? Sign up for my 5 Ridiculous HAPPY Activities in under 30 minutes for your kids delivered direct to your inbox!
Find and shop my favorite products in my Amazon storefront here!
FREE MOTHER'S DAY PRINTABLES
PIN IT TO YOUR KIDS BOARD ON PINTEREST!
FOLLOW MADEWITHHAPPY ON PINTEREST FOR ALL THINGS HAPPY!