Enjoy coloring a cute French Bulldog with our fun coloring page! Get creative and bring this adorable pup to life with your favorite colors.
It's time for dog lovers and coloring fans to gather around! Today's post is all about an adorable French bulldog coloring page that is sure to keep your kiddos (or you!) engaged and entertained.
So, grab your coloring pencils, markers, or crayons! This fun coloring adventure has a charming French bulldog as our muse!
Adorable Dogs for Kids
Dogs are known as man's best friend! And kids! Have you ever seen a kid with their dog? Love! But when it comes to cuteness, French Bulldogs are certainly hard to beat!
They've got a small size, bat-like ears, and cute little faces. Awww. That's why we decided to celebrate this adorable breed with a printable French bulldog coloring page!
And I should mention it here! I've found that for kids who have a fear of dogs, coloring them can be a way into their world. It's simple but it helps them get to know the dogs and love them in a way before coming into contact with them. Through coloring, they can learn about different breeds like the French Bulldog, Pit Bull, or even Bull Dog.
Whether your kiddo is a seasoned dog lover or you're just starting to introduce them to these lovable creatures, this coloring page is a fun and engaging way to bring their favorite animal to life. Plus, who can resist those baby puppies?
This French bulldog might be a drawing, but its charm is 100% real!
Check out these other Dog Activities!
Coloring pages are ideal for pretty much everyone. Quiet afternoons? Perfect for those! Bored kids? Perfect for that! Want to teach them something new or develop their fine motor skills? Perfect for those too! This dog coloring sheet is a part of our growing collection of delightful coloring pages that we've created with love.
The best part? It's so simple to use! Just download, print, and be done! Kids can make their French Bulldog any color they want - traditional brindle, classic fawn, or even a rainbow-colored pup! They'll have more fun if they get to design it however they want.
Use this fun page for a quiet afternoon at home, a fun activity at a dog-themed birthday party, or as a fun task for a rainy day at school.
Easy French Bulldog Drawing
What makes our French Bulldog coloring page unique is its simplicity and cuteness. There's no background or unnecessary details to allow the delightful French Bulldog to take center stage. This way the cute puppy becomes the focal point. This means kids can put all their attention and creativity on the adorable bulldog.
Encourage your kids to explore different color combinations and add their unique touch to this adorable dog drawing. If you print it on cardstock or another hardy paper they could even use watercolor paints on it!
Our printable French Bulldog coloring pages are here to bring a splash of color and joy to your day. So don't wait! Download the page, print it, and get to coloring this adorable French Bulldog. Please use this for non-commercial use only. That means it should not be sold or reproduced. Thanks and happy coloring!
We highlighted these Dog Activities along with some other fun kid's crafts in our January Crafts for National French Bulldog Day - January 13th, Summer Crafts for International Dog Day - August 26th as well along with our 101+ Kids Crafts.
You also do not want to miss our 101+ Printables For Kids full of Crafts and Coloring Pages.
Other Fun Coloring Pages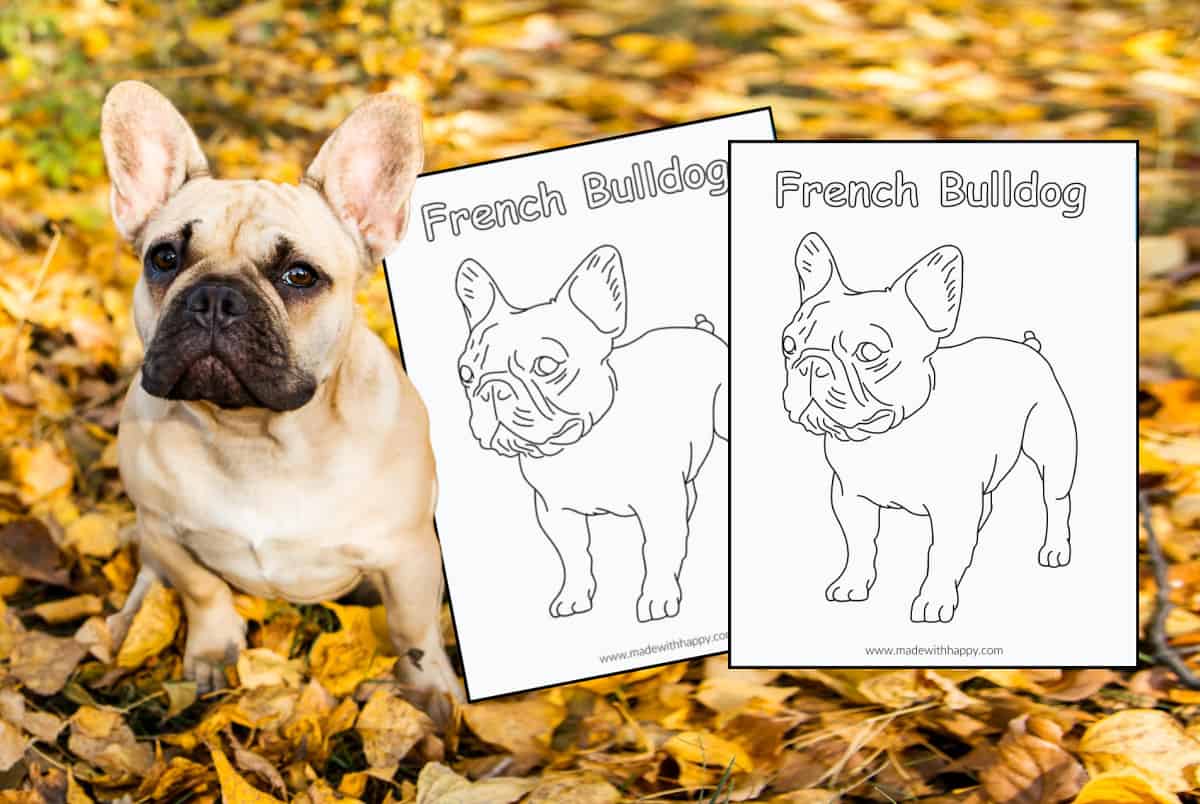 Download the Free French Bulldog Coloring Sheet
Enter your email address in the form below and you'll be taken directly to the free printable French bulldog coloring sheet pdf files.
*For personal use only
CONNECT WITH MADE WITH HAPPY!
Be sure to follow me on social media, so you never miss a post!
Facebook | Twitter | Youtube | Pinterest | Instagram
Looking for crafts to keep your child busy? Sign up for my 5 Ridiculous HAPPY Activities in under 30 minutes for your kids delivered directly to your inbox!
Find and shop my favorite products on my Amazon storefront here!
French Bulldog Coloring Page
PIN IT TO YOUR DIY BOARD ON PINTEREST!
FOLLOW MADE WITH HAPPY ON PINTEREST FOR ALL THINGS HAPPY!