Grab this free printable Cinco de Mayo Bingo game. Fiesta fun for the entire family. We have 10 cards and calling cards included.
These free printable Cinco de Mayo bingo cards are a fun way to spice up your Cinco de Mayo celebrations! Games and parties are some of our favorite things and these Cinco de Mayo Games are no different. It is a fun holiday to celebrate with kids of all ages.
Our Cinco de Mayo Bingo game cards are colorful cards and are a fun activity to play with the whole family. The bingo boards are great way to discuss the Mexican culture. The cards are the colors of the Mexican flag, so you can also talk about that.
It is a fun game but also a great way to lead to conversation. I would definitely recommend adding it to your Cinco de Mayo Activities.
Cinco De Mayo Celebrations
Cinco de Mayo translates to May 5th. The history of Cinco de Mayo is the celebration of the Mexican victory over the French empire at the Battle of Puebla. This battle was between the Mexican army and the French army in the city of Puebla and ultimately. It is celebrated in parts of Mexico and the United States.
Many popular Mexican festival celebrations include traditional food as well as bright colorful party decor. Our favorites include rainbow pinata, Cinco de Mayo coloring pages, and Making Papel Picado Garland. There are lots of fun ways to celebrate including this fun Mexican party game.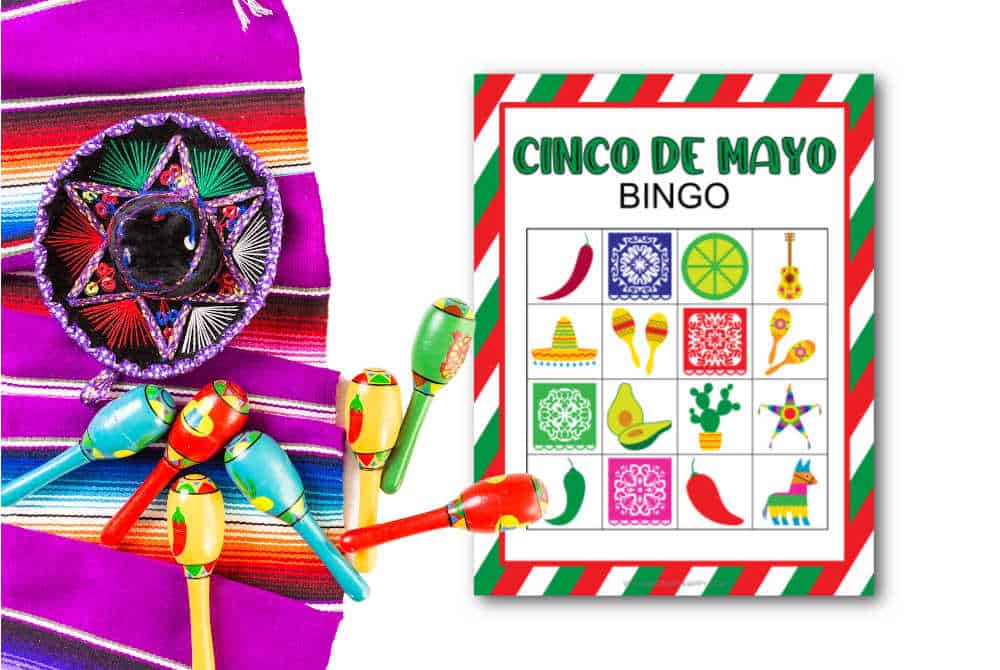 Supplies For Cinco Bingo
This is similar to a regular bingo game in that you'll need:
Bingo cards – Download the sets of bingo cards at the bottom of the post. Remember one per person.
Calling sheet – Included in the download, cut them out and mark as you call each item.
Bingo tokens or bingo markers– I recommend using something small like Hershey Kisses, Cactus Erasers, and Fiesta Stickers.
Prizes – I have put together a list of fun Spring Themed prizes, also at the bottom of this post to get you started.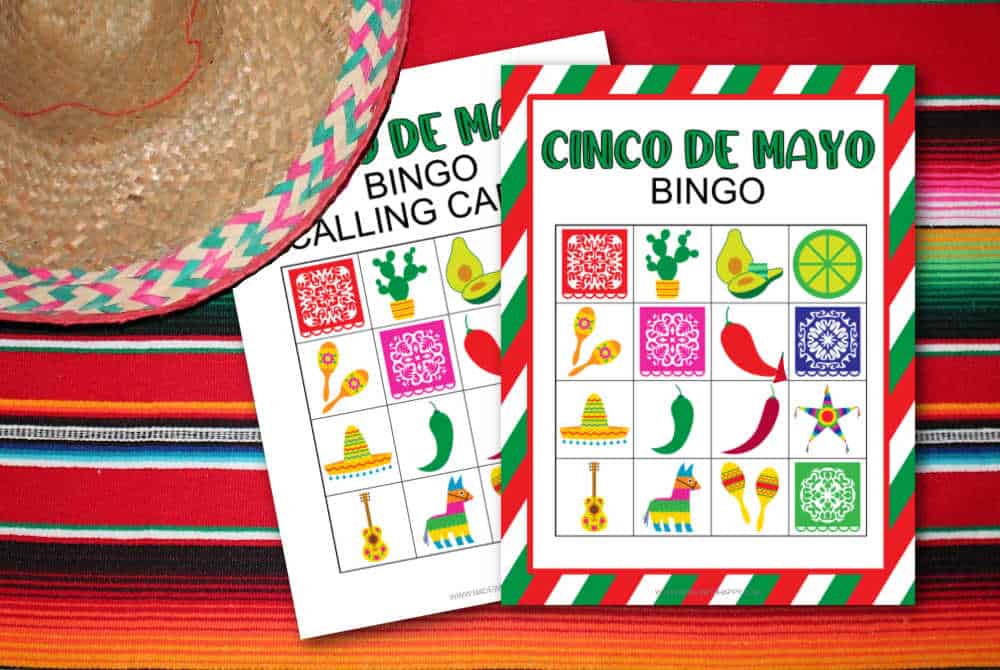 How to Play Cino de Mayo Bingo
It is no secret that we love playing bingo. What we love about the Cinco de Mayo Bingo is that while it's fun for your Cinco de Mayo party, it can be played anytime you are in the festive spirit.
In order to play Bingo for Cinco de Mayo, you must first download the Cinco de Mayo Bingo cards. Once you have the pdf file, print out each of the bingo cards and cut it. Remember one per person.
Cut out each of the calling card items and place them into a bowl or sombrero and mix them up.
Set the game instructions for each game.
Start by handing out candies, coins, or small items to mark the item that has been called. We spiced things up on these cards and eliminated the free space.
Once everyone is ready, pull out a calling card from the bowl and describe it to the players. For example, "Avocado", "Donkey Pinata", etc.
Once a player has a set pattern complete, they yell bingo for the win.
Alternative Bingo Games You Can Play with Cinco de Mayo Bingo
Classic Bingo Pattern – Five spots in a row horizontally, vertically, or diagonally.
Blackout – Fill in all spots on your bingo sheets. Note that we only have 16 calling card items and so every board will get a blackout with all cards.
Patterns – Set a specific pattern (shapes, letters, or specific rows or columns)
Cinco De Mayo Prizes
Having prizes for Bingo is always a great idea because everyone likes prizes. Here are some fun festive ideas that are some of our favorite Mexican-themed prizes.
Now it's time to play!
We highlighted this Bingo Game along with some other fun kid's crafts in our May Kids Crafts along with our 101+ Easy Craft Ideas for kids.
You also do not want to miss our 101+ Printable Coloring Pages For Kids and 101+ Printables For Kids full of Crafts and Coloring Pages.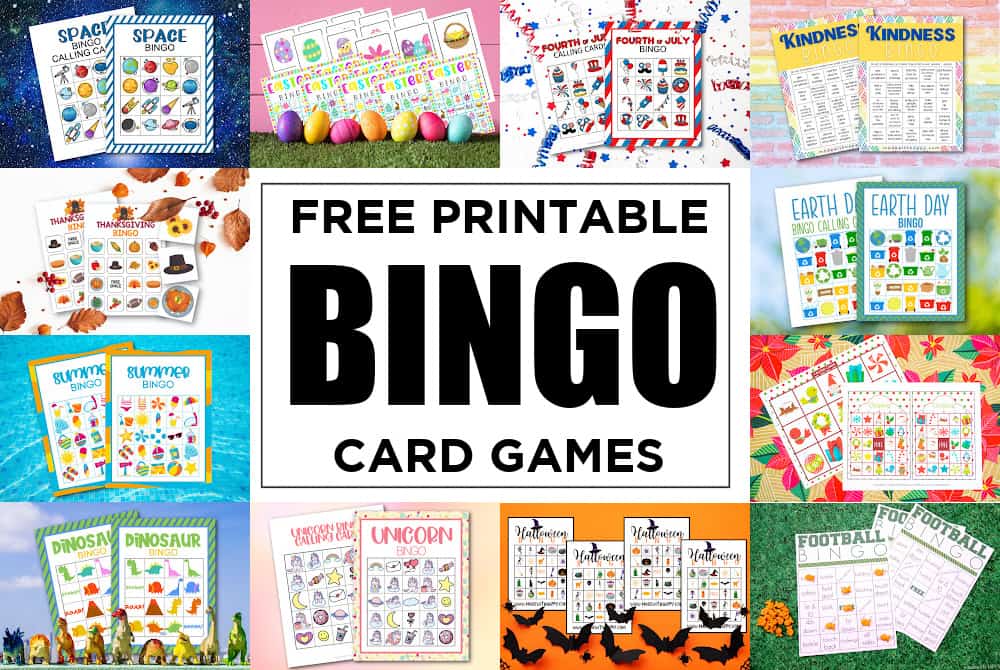 Other Bingo Games You Will Enjoy
Download Your Cinco de Mayo Themed Bingo Set
Enter your name and email in the form below. You will be taken to the instant download Cinco de Mayo bingo game digital files pdf file. If you do not feel comfortable entering your email, you can find the printable bingo game in our shop.
*Note: This is for personal use only.
CONNECT WITH MADE WITH HAPPY!
Be sure to follow me on social media, so you never miss a post!
Facebook | Twitter | Youtube | Pinterest | Instagram
Looking for crafts to keep your child busy? Sign up for my 5 Ridiculous HAPPY Activities in under 30 minutes for your kids delivered directly to your inbox!
Find and shop my favorite products in my Amazon storefront here!
CINCO DE MAYO BINGO
PIN IT TO YOUR DIY BOARD ON PINTEREST!
FOLLOW MADE WITH HAPPY ON PINTEREST FOR ALL THINGS HAPPY!