Have some cat-themed free printable valentines bingo game fun with these free printable Valentine's bingo cards and calling cards. A great game full of lots of fun this Valentine's Day.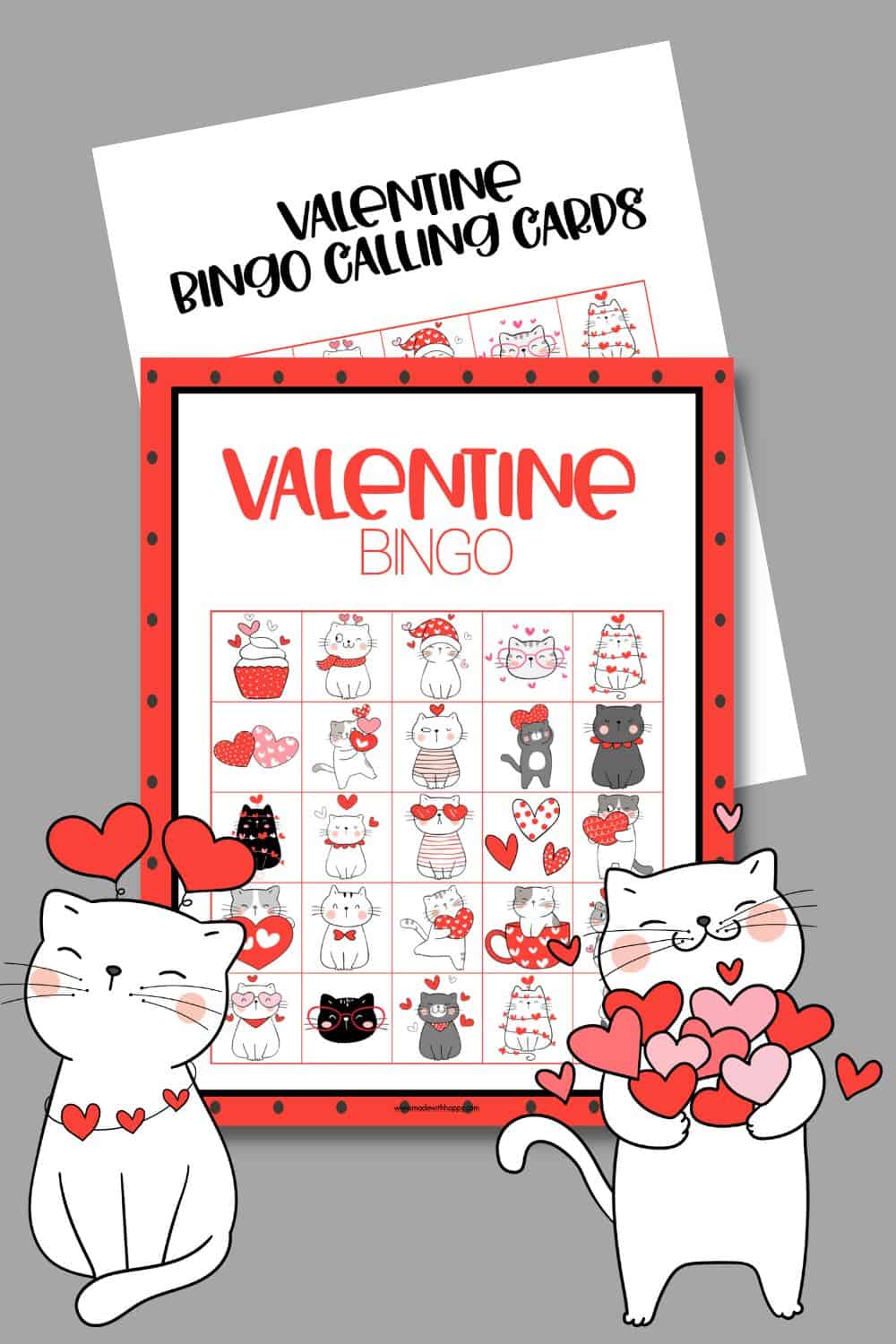 These free printable Valentine's Bingo cards are a fun game for small groups this Valentine's Day. Whether it's a classroom Valentine's activity or for Valentine's Day party games, these ten Valentine's Day Bingo Cards and calling cards are all kinds of fun!
This cute Valentine game is ready to print and play! While there aren't enough cards for a large group for classroom parties, the kids can definitely double up or work in teams to have some Valentine's day fun.
Grab our free printable valentine's day bingo game at the bottom of this post.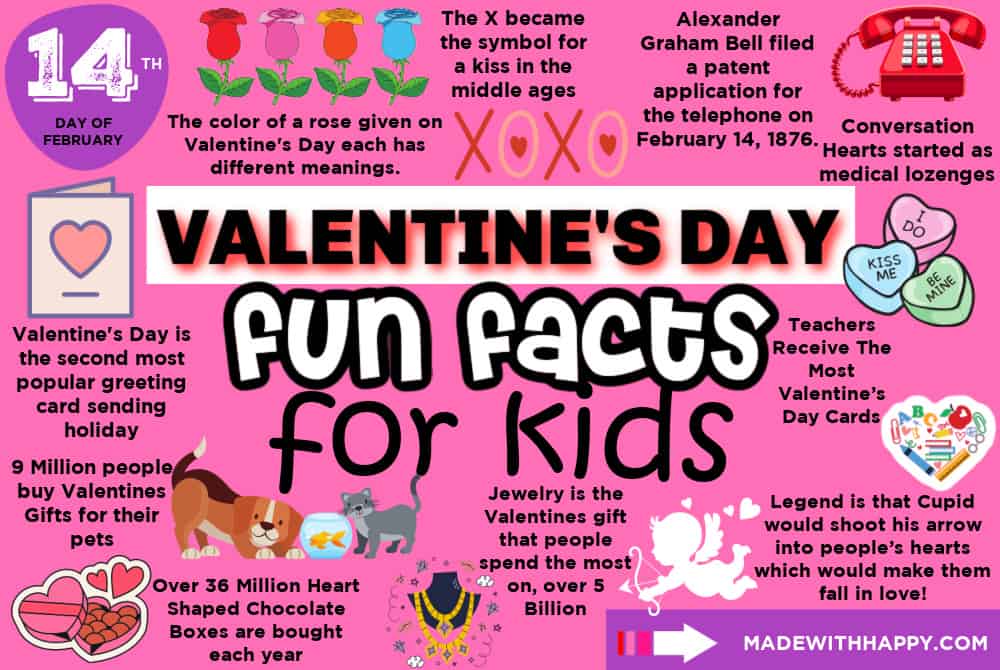 February is one of my favorite months! My hometown puts on a townwide event for Valentine's Day and why the people love living here. There are scavenger hunts, sharing fun facts about the town, and fabulous prizes to be won! Downtown usually has some big balloon displays to celebrate our town. It feels like such a lovely and happy time of year.
In the 1300s the holiday Valentine's Day became associated with love and around that same time, some towns would have the people draw a name from a hat. That would be their valentine and then they would pin the name to their sleeve, and that is (supposedly) where we get the saying "wearing your heart on your sleeve" from.
In some countries, while holding to the tradition of having one valentine, Latin American countries love to share their gratitude to their friends on this day also! In Japan, only women will give cards or gifts to the men in their lives, and share chocolate with one they really love. The men will share gifts back a month later on March 14, known as "white day".
Family Fun Activities
Now that I'm a parent, I love helping my kids pick out valentine's cards for their friends and adding more traditions to our family for special holidays like Valentine's Day.
One of the things we enjoy doing is making homemade pizzas (heart-shaped of course). We then give the kids their gifts and some candy. We like to play a board game of some kind and if you like having fun family game night this fun activity would be a great addition!
Bingo is an excellent game for almost any age. It can be played at home with siblings and parents, in a classroom setting, or in homeschool co-ops. Valentine's Day Bingo can be so much fun at any Valentine's party!
My kids like to find items around our backyard to use to play games like Bingo and tic-tac-toe and that may be a little tougher in winter, so a fun and edible substitute could be those little candy hearts, pink mini marshmallows, red and pink chocolate candies, etc.
If you don't want to use snacks, cutting out colored hearts as the bingo markers would be fun too! This printable bingo card can easily be suited to meet your needs.
Here is our full list of Free Printable Bingo Card Games
Check out these other Valentine's Day Printable Games!
Sharing Kindness
Some years I like to have creative and unique Valentine's Cards for my children to give out to their friends and this Cat-Themed Valentine's Day Bingo game would be perfect!
I would add heart-shaped or cat paw-shaped bingo markers to Valentine's Day-themed bags and then add candy to each bag. This is a perfect way to share some love in a preschool class.
If you're a teacher wanting to plan Valentine's Day party for your classroom, this bingo game can easily be added to the list of activities.
Share the love and kindness this year! Happy Valentine's Day!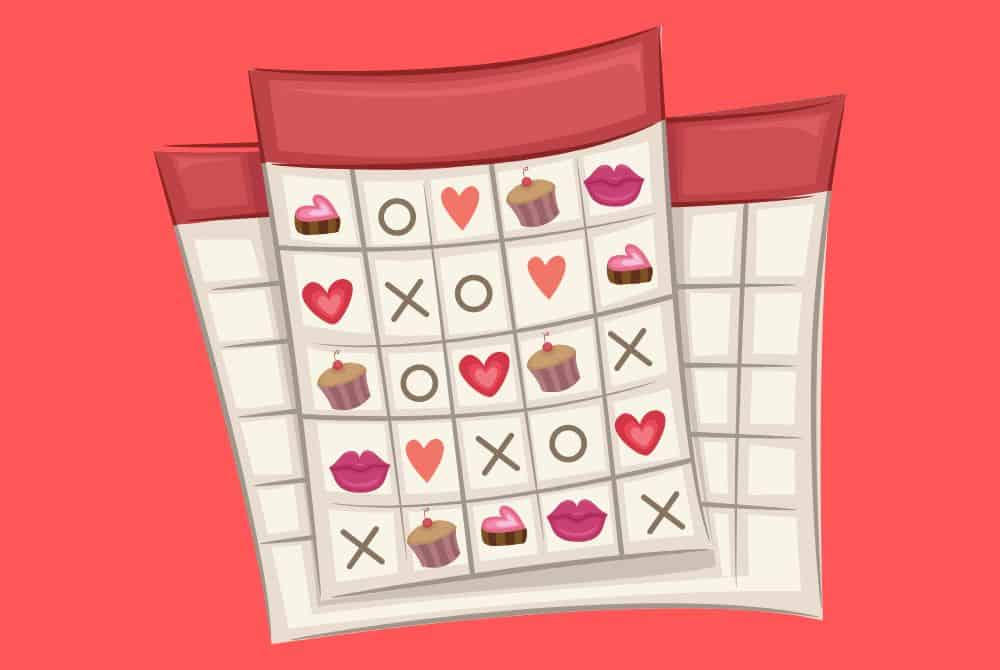 How To Play Valentine Bingo
Playing Cat Valentine Bingo is a fun game all year long. We store our bingo games with our game boards and pull them out to play often.
You first start by downloading your bingo cards. Once you have downloaded them, print them out. One game card for each person.
Cut out bingo cards as well as all the calling cards. Pass out the bingo cards and place calling cards into a bowl or hat or drawstring bag and mix them up. We also like to print the calling card sheet twice. One to cut up and one to use as a bingo caller card identifying which of the animals has been called.
Set the rules for each game.
Hand out game pieces including conversation hearts, bingo chips, or small items to mark the item that has been called. Pull a calling card out with a description of the cat like "Grey Cat with Glasses", "Cat in Mug", etc.
Once the first player has completed the set pattern, the first person to yell "Bingo" and win! One thing to note is that our game board does not have a free space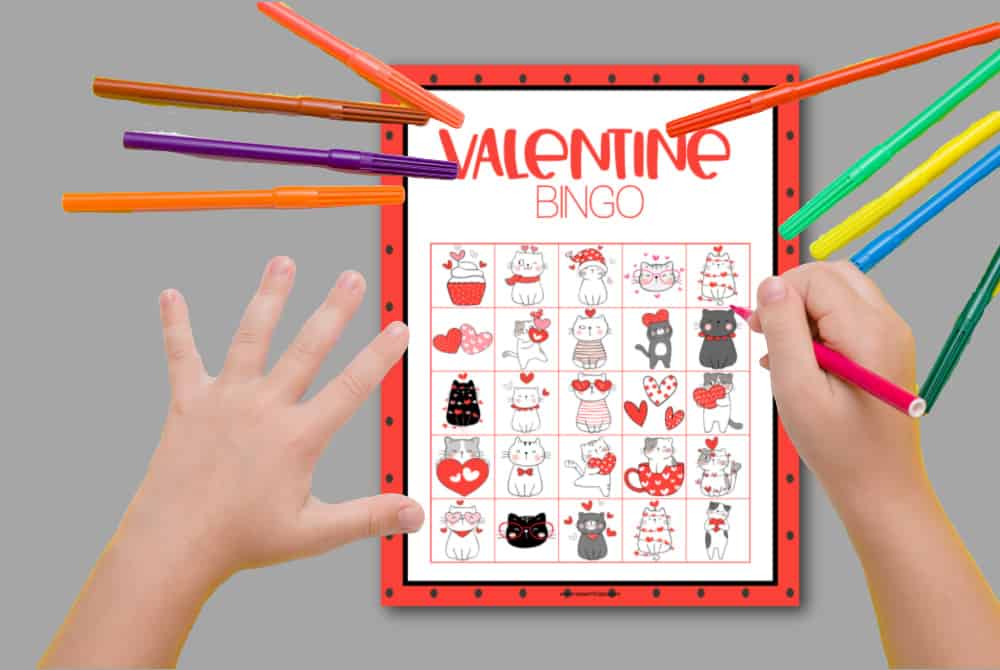 Types of Cat Bingo Games
Few Types of Bingo Games
Traditional Bingo Games Pattern – Five spots in a row (straight lines) horizontally, vertically, or diagonally.
Blackout – Fill all spots on your bingo card
Patterns – Set a specific pattern (shapes, letters, or specific rows or columns)
The key is to have fun. Our download has 10 different bingo cards and a call sheet where there are 25 different cards.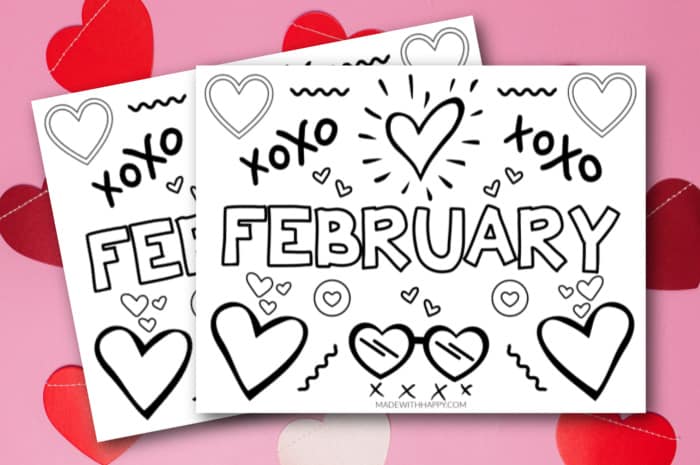 Other February Printables You'll Love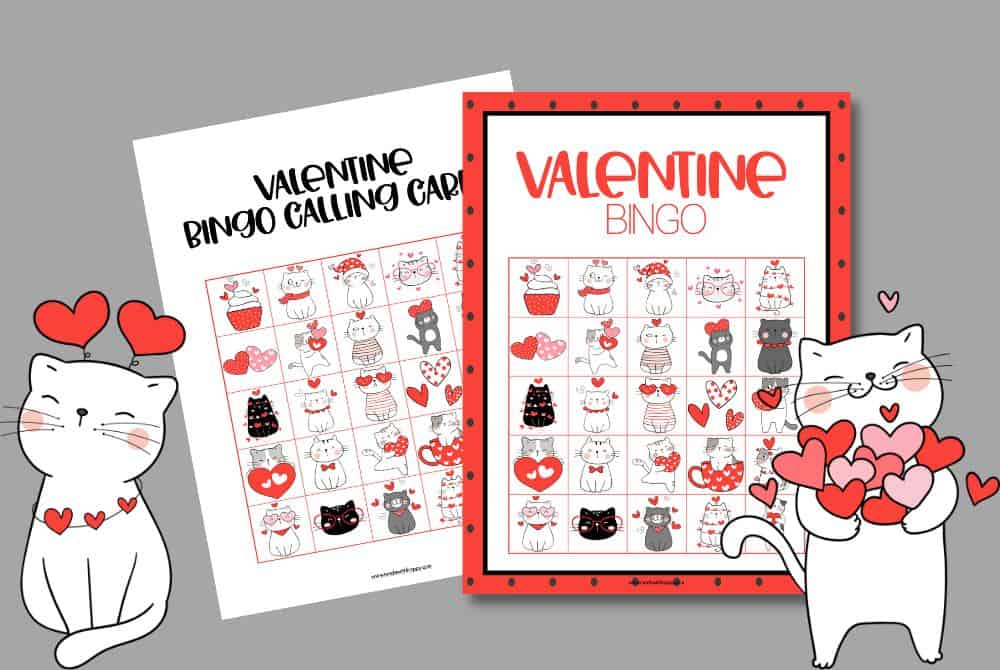 Download Free Printable Valentine Bingo Cards
Enter your name and email address in the form below to be taken directly to the 10 unique bingo cards and calling cards free download pdf file.
*For personal use only.
CONNECT WITH MADE WITH HAPPY!
Be sure to follow me on social media, so you never miss a post!
Facebook | Twitter | Youtube | Pinterest | Instagram
Looking for crafts to keep your child busy? Sign up for my 5 Ridiculous HAPPY Activities in under 30 minutes for your kids delivered directly to your inbox!
Find and shop my favorite products in my Amazon storefront here!
FREE PRINTABLE VALENTINES BINGO
PIN IT TO YOUR DIY BOARD ON PINTEREST!
FOLLOW MADE WITH HAPPY ON PINTEREST FOR ALL THINGS HAPPY!