Celebrate the Disney Soul Movie with fun free printable activity worksheets. Fun activities for the kids while they are watching the movie!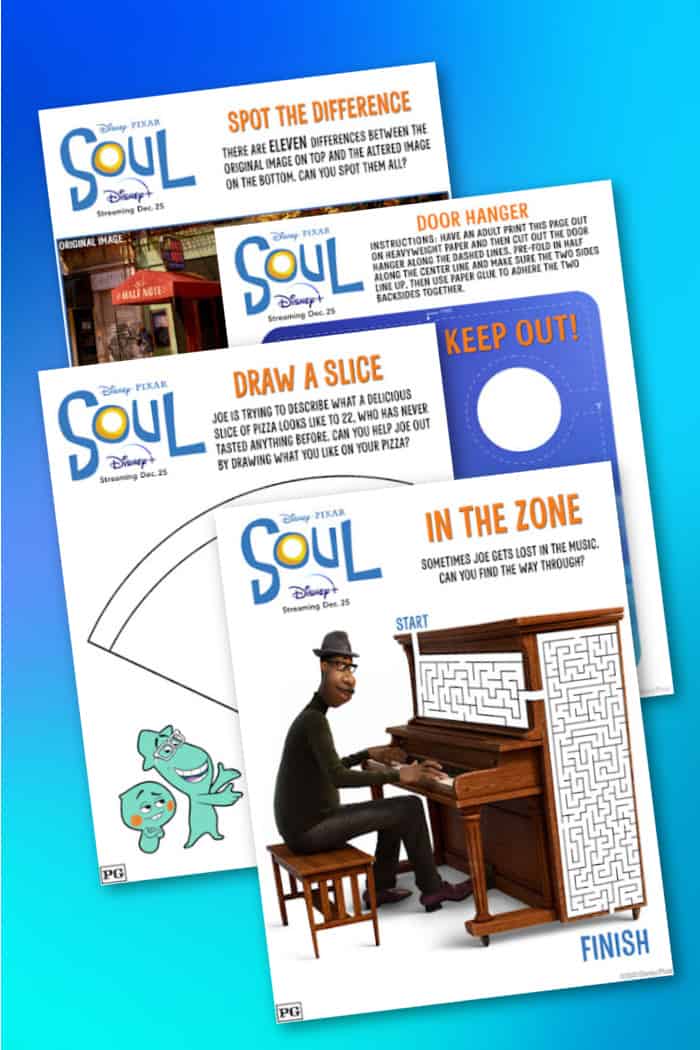 We are excited by these Disney Soul movie activities and can't wait follow along with the movie.
If your family is anything like us, then we are Disney movie OBSESSED. If you like these Disney Printables, then you will not want to miss our other popular Disney movie printables and coloring pages including: Disney Coco Coloring Pages, Christopher Robbin Movie Coloring Pages, and Moana Coloring Pages.
You also do not want to miss our 101+ Fun Coloring Pages For Kids and 101+ Free Kids Printables full of Crafts & Coloring Pages.
It's another one of our favorite days…we get to announce more Disney printables! Have we expressed enough our love for all things Disney? We're not sure how they do it, but Disney just keeps getting better. From new movies to new series to rebooting some of the classics, we're almost ready to ditch our other streaming services.
We also could not be more excited that their theme parks are opening back up. Have you booked your first trip? We're working on it! We sure have missed it.
We're super excited to share these printables from the award-winning, sure-to-be-a-classic movie from Disney and Pixar Animation Studios, Soul.
Disney Pixar Soul Movie
Written by Mike Jones, Soul stars Jamie Foxx as middle school band teacher and aspiring jazz musician, Joe Gardner. After landing a gig at a local jazz club, Joe accidentally falls down a manhole and ends up in the hospital in a coma. (A dark start for sure, but in true Disney fashion the movie manages to uplift.) Instead of heading for "The Great Beyond," Joe ends up in the "The Great Before." Here Joe finds himself in a kind of holding area for unborn souls before they go to life on Earth.
These unborn souls are mentored by counselors, all named Jerry, to complete a badge that lists their personality traits and their spark before they can be born. Joe meets 22 (Tina Fey), an unborn soul who can't seem to find her "spark" and is seemingly happy to exist in The Great Before. He sets out to assist 22 in finding her spark believing that when he does, 22 will give him her badge so that Joe can return to his body.
Joe and 22 set out a journey that takes them both to unexpected places and teaches them all about what passion, purpose, and friendship really mean. Like "Inside Out" (another of our Disney faves), Soul tackles some deep topics but does so while also filling you with joy. Kids will love the music and the characters while parents will love all the different messages and truths about the human experience it expresses.
Star Power in Soul
Soul is packed with star power from producer by Dana Murray to the breathtaking musical score and jazz compositions by Trent Reznor and Atticus Ross. Pete Docter directs a talented cast of award-winning actors, not to mention the artists and crew who all collaborated to create this film. In addition to the voices of Foxx and Fey, Phylicia Rashad voices the character Libba (Joe's no-nonsense mother) and Graham Norton lends his voice to Moonwind, a sign spinner who sets out to rescue lost souls. Questlove, Angela Bassett, Daveed Diggs and Alice Braga are some other voices you might recognize in the film.
Because we happen to love a bit of Disney trivia, we also found a few fun facts about Soul. In an early draft of the movie, 22 was the main character, not Joe, and the film only took place in an imaginary world. Director Pete Docter numbered the subway train Joe and Mr. Mittens ride 2319. He used this same number in a scene when a human sock enters the monster's world in Monsters, Inc. The first soul assigned is just over 108 billion, the current estimate (at time of the movie's release) of the number of people to have existed on Earth.
Soul is a celebration of music, life and what it means to be HAPPY so you know we have to promote that!
Disney Printables
We are celebrating this masterpiece with tons of printables to keep the kids busy and relive this movie again and again. Kids will love helping Joe find his way out of the zone with mazes. For kids who love to draw and color, there are cute printables. They will remind them of when Joe was trying to describe pizza to show 22. They get to draw and color their favorite slice.
Kids (and adults who are young at heart) will also love our Soul "spot the difference" printables showing a scene from the movie printed twice. One scene has been altered slightly. You must find the subtle differences between the two scenes. Or print out the fun door hanger for your kids' rooms. This is a great way to keep snooping siblings out and get some much-needed privacy (both you and the kids). Bonus!
Use these Disney printables to create a Soul-themed birthday party for any music lover in your life. Or go ahead and make it a massive Disney bash and print out any of our other Disney printables – we've got more than a few! Combine these Disney printables with some of the others on the MWH site and print them out for a super-cool and unique activity book to share with your friends.
If you haven't seen Soul yet…what are you waiting for?! Print out these free goodies, pop some popcorn and stream it now on Disney Plus.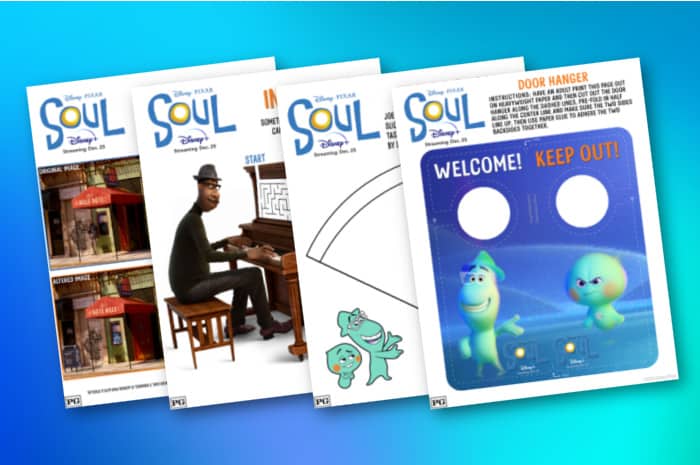 Download Your Free Disney Soul Printable Activities
Other Disney Printables You'll Love
CONNECT WITH MADE WITH HAPPY!
Be sure to follow me on social media, so you never miss a post!
Facebook | Twitter | Youtube | Pinterest | Instagram
Looking for crafts to keep your child busy? Sign up for my 5 Ridiculous HAPPY Activities in under 30 minutes for your kids delivered direct to your inbox!
Find and shop my favorite products in my Amazon storefront here!
DISNEY SOUL MOVIE
PIN IT TO YOUR DIY BOARD ON PINTEREST!
FOLLOW MADE WITH HAPPY ON PINTEREST FOR ALL THINGS HAPPY!