Use these free planner printables to start organizing your life right now! The beginning of a new year always brings out change, goal setting, and motivation. Now is the time to sit down and plan out your days, months, events, to-do lists, budget, and more. I put together 50 Free Planner Printables in one PDF you can download below. You'll be able to outline all aspects of your life with these and use them as needed.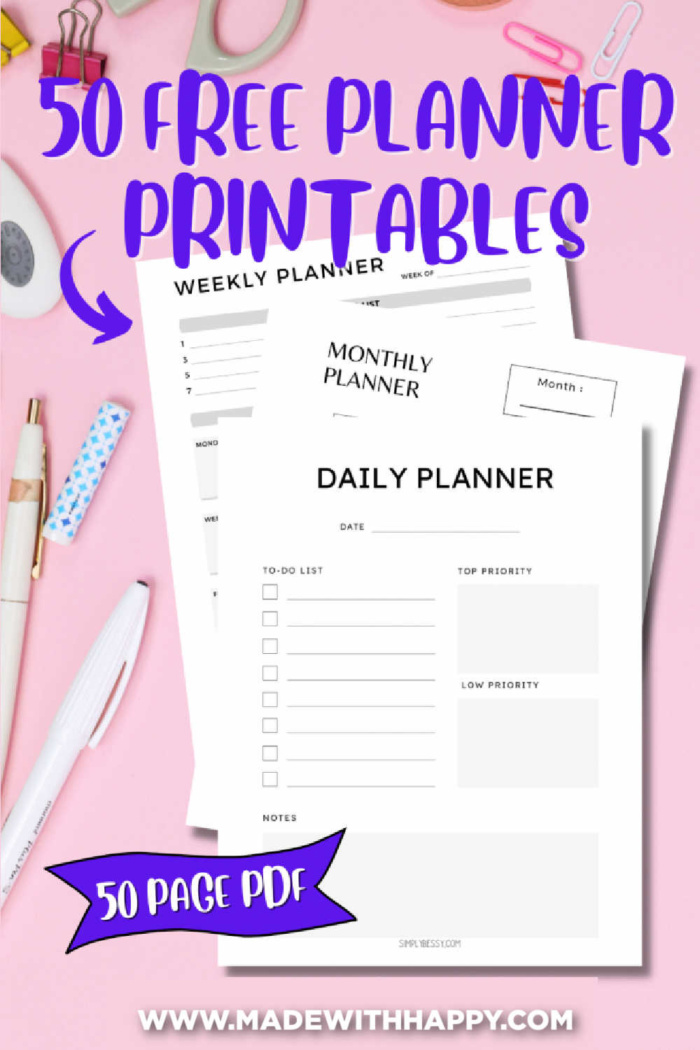 Planner Printables You Need to Organize Your Life
I love buying a new planner every year, especially if it's updated. It brings me so much joy! Lately, though, I have found myself using traditional planners less and less. I started making my own planner pages and using those at my desk where I can see them all the time. It somehow works best for me and helps to keep tabs of all the things I need to remember.
Since it worked so well for me, I put all the planner pages in one place to share here! These are the categories included in the 50-page PDF below:
Daily planner
Monthly planner
Weekly planner
Yearly Planner
Chore Chart
Habit Tracker
Grocery List
Meal Plan
Fitness
Budget
To-Do List
Goal Planner
Sleep Tracker
Water Tracker
How to Use the 50 Printable Planner Pages
Start by clicking the button below to download the Free 50 page PDF. You can decide to print all at once or go through and choose your favorites. There are multiple versions of many of the categories so you can pick the one you like best.
My favorite way to print these pages is 2 on one sheet. Then, I cut the paper in half and keep a stack of pages on my desk. For example, if I want to have a to-do list handy, I print 10-20 copies paper clipped together. This way I can use as needed daily or weekly. I do the same with any of the other categories. I've also printed these in full size (8.5 by 11 inches) punched holes in them and put them in a binder. It's a DIY plan book!
The best thing about these pages is you only need to download the PDF once and then print as needed. If you want to be super fancy, send to a local print shop and have them bind it together. You can even do different books for different categories. It's really all about what you need and works best for you.
However you choose to use these planner pages, they are sure to help you focus and organize your life. Whether you need to plan your year in advance, monthly budget, grocery trips, or just need a page to brain dump, I've got you covered.
Other Organizing Printables You'll Enjoy
CONNECT WITH MADE WITH HAPPY!
Be sure to follow me on social media, so you never miss a post!
Facebook | Twitter | Youtube | Pinterest | Instagram
Looking for crafts to keep your child busy? Sign up for my 5 Ridiculous HAPPY Activities in under 30 minutes for your kids delivered directly to your inbox!
Find and shop my favorite products in my Amazon storefront here!
FREE PLANNER PRINTABLES
PIN IT TO YOUR DIY BOARD ON PINTEREST!
FOLLOW MADE WITH HAPPY ON PINTEREST FOR ALL THINGS HAPPY!
Tag me on Facebook, Instagram, and Twitter. It really makes me so happy to see families using my ideas and having fun with their kids.
xo,
Alli