Try this Valentine Heart Symmetry Art craft with your toddler or preschooler! It's fun, low prep, and looks so pretty.
These hearts of symmetry art can even make beautiful Valentine's Day cards! If you're a teacher, this is the perfect art activity for your class to learn about symmetry.
Having fun with art and hearts, in this way, is a fun way to create an art project that is both educational and so much fun!
What is Symmetry Art
Symmetry art is a piece of art or drawing where both sides balance each other out. Generally, each side would be a mirror image of each side of the paper. Of course, there are different types of symmetry based on the lines of symmetry. Here are the main three different types of symmetry.
Reflectional Symmetry or Radial Symmetry - This type of art is if you imagine a dotted line down the middle of your art piece and each side mirroring the other. These were the type of art projects we're doing in our Valentine's Heart
Rotational Symmetry - This type of symmetry is when there is identical art (size, shape, color) if you were to rotate the art in a circular motion around a central point.
Translational Symmetry - shape or object creates symmetrical patterns in the same direction and the same distance apart within elements of your painting.
Valentine Heart Symmetry Art Craft
Symmetry is an important concept for kids to learn about balance and patterns. Children will explore symmetry in many areas of life so it's never too early to start learning. When I taught preschool, I loved doing symmetry art lessons with my students. They also loved it and were always so proud of their masterpieces.
One of my favorite ways to do an easy symmetry art lesson for early childhood is by using shapes. Hearts are perfect for this because kids can see both sides of the shape and understand the concept better. That's why this is a great craft activity for Valentine's Day or all of February leading up to Valentine's!
Check out our 21+ Heart Crafts too!
Supplies for Symmetry Art Project
First things first, gather the materials you'll need.
How to Make Heart Symmetry Craft with Kids
Fold a piece of paper in half and use a pencil to draw half of a heart shape.
Keep the paper folded and cut along the line you just drew.
Open the paper to see the heart shape and lay it flat on a table.
Use a foam/sponge tip paintbrush to dab dots of paint on one side of the heart only.
While the paint is still wet, close the heart and lightly press on it to smooth the paint.
Carefully open the heart to reveal a beautiful symmetrical art piece!
Isn't it so pretty?! One of the best things about this activity is no two hearts will look the same. Kids can make truly unique pieces and feel really good about their art. It's such a simple craft but it's so fun to make, that your kids will want to do it over and over again.
I'm all about quick and easy crafts so I hope you love this as much as I do. If you recreate this with your kids for Valentine's Day, share it on social media and tag me so I can see it. Find me on Instagram, Facebook, and Twitter.
---
We highlighted this Valentine's Day Crafts along with some other fun kid's crafts in our February Crafts for Kids along with our 101+ Easy Craft Ideas for kids.
You also do not want to miss our 101+ Printable Coloring Pages For Kids and 101+ Printables For Kids full of Crafts and Coloring Pages.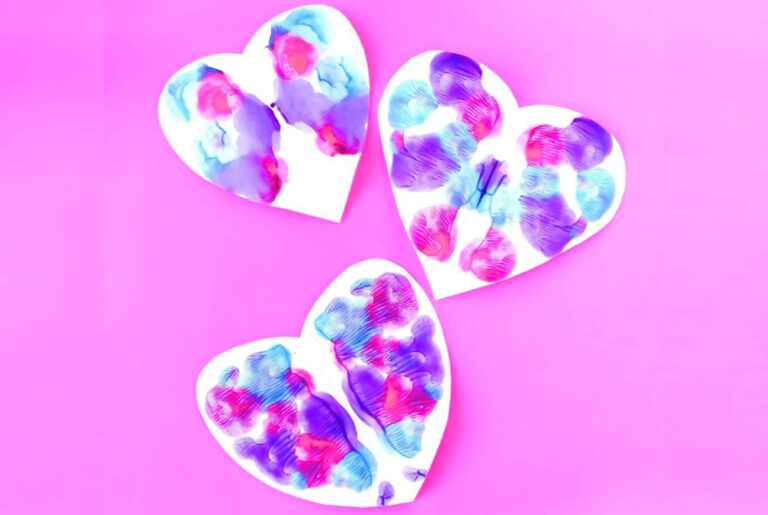 Looking for more easy Valentine's ideas for kids? Check out these posts:
CONNECT WITH MADE WITH HAPPY!
Be sure to follow me on social media, so you never miss a post!
Facebook | Twitter | Youtube | Pinterest | Instagram
Looking for crafts to keep your child busy? Sign up for my 5 Ridiculous HAPPY Activities in under 30 minutes for your kids delivered directly to your inbox!
Find and shop my favorite products in my Amazon storefront here!
HEART SYMMETRY ART
PIN IT TO YOUR DIY BOARD ON PINTEREST!
FOLLOW MADE WITH HAPPY ON PINTEREST FOR ALL THINGS HAPPY!