We love making our own Disney countdowns when a trip is coming up and this is our favorite kind to make! Chain links are fun for the kids because they get to rip off a paper for each day that passes. It's a perfect visual representation of a countdown easier for little kids to really see the days left until their Disney visit.
You can do it yourself in less than 15 minutes with some simple materials and really easy steps.
DIY Disney Countdown
What you need:
Construction Paper
Scissors
Tape or Stapler
Glue (optional)
Countdown Printable
Click the image below for the Free printable template you need.
For personal use only.
How to make the Disney Countdown: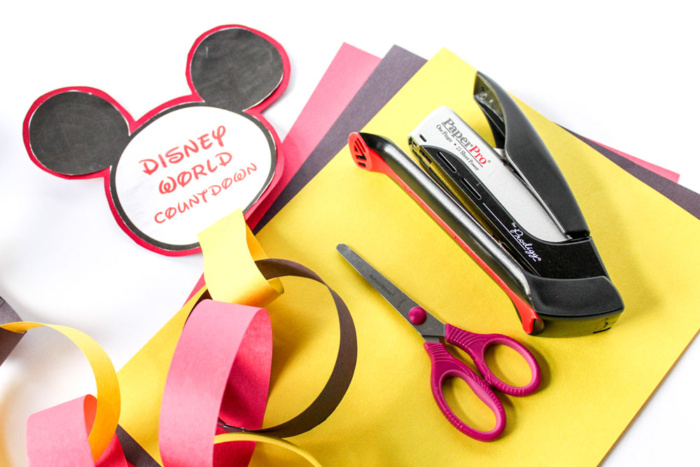 Start by gathering all your supplies and laying them out on a flat surface.
To make it easier, you can print the template onto card stock. I didn't have any on hand so I printed onto printer paper, cut it out and glued it to a construction paper. This makes the paper sturdier to be able to hold the rest of the chain link.
Fold your construction papers into fours and cut the slits. Then, cut those slits in half.
Cut a smaller piece to make the very top loop and then loop all your slits in whatever pattern you want. I did Mickey themed colors with red, black, and yellow.
To secure the loops, I used a stapler but tape can also be used or glue.
Hang up your chain link where the kids can reach it to rip off a piece each day!
Ways to make your Disney Countdown more fun!
1. Write a fun activity on each link that helps prepare for the trip. You can include reading a book, packing a special toy, or picking what rides to add to your plans.
2. Add Disney stickers or other embellishments like washi tape, buttons, glitter, & paint.
3. If you have multiple kids, each one can make their own personalized chain link.
4. Have your kids write numbers on each strip representing the days to practice writing, counting and work on those fine motor skills.
5. Use scissors with decorative edges for a more creative style.
This is such a cool little project because it be made in so many different ways and you can personalize it to make it more special. You can even use this technique for any trip you're planning, not just Disney.
My kids love making this chain-link every time we are planning a trip. They get so happy when they wake up and get to rip off a piece in the mornings and it gets shorter each time. I love how it's interactive and helps them with a visual so they know exactly how many sleeps they have left until the big day we leave for Disney!
Download Your Free Printable Disney Countdown
Other Fun Disney Activities You'll Love
CONNECT WITH MADE WITH HAPPY!
Be sure to follow me on social media, so you never miss a post!
Facebook | Twitter | Youtube | Pinterest | Instagram
Looking for crafts to keep your child busy? Sign up for my 5 Ridiculous HAPPY Activities in under 30 minutes for your kids delivered directly to your inbox!
Find and shop my favorite products in my Amazon storefront here!
DISNEY COUNTDOWN
PIN IT TO YOUR DIY BOARD ON PINTEREST!
FOLLOW MADE WITH HAPPY ON PINTEREST FOR ALL THINGS HAPPY!