I've been really into all things tie-dye lately and was inspired to make a craft. Since we're a Disney family, Mickey Mouse was the first thing that came to mind. Using things I already had on hand, I put together this Marble Paper Mickey Craft with my kids. It's fun, easy (like most of my crafts) really looks like marbled paper or tie-dye!
Marble Paper Mickey Mouse Craft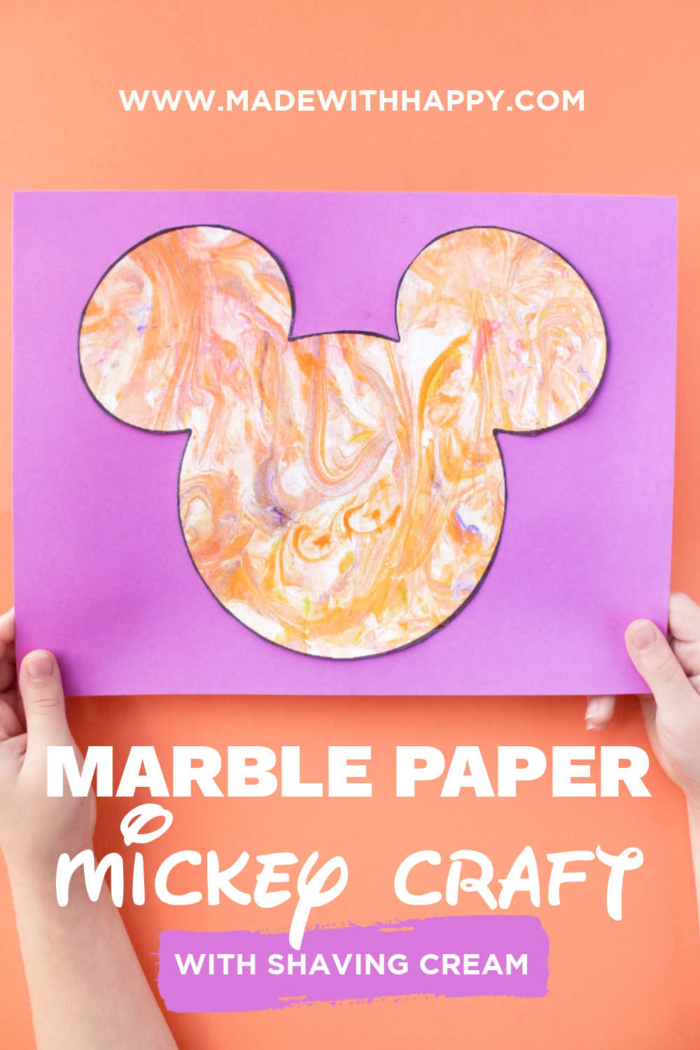 Materials Needed
You probably already have most of the items needed right at home!
Shaving cream (make sure it's the cream, not the lotion kind)
Food coloring (I used gel because that's what I had but you can use liquid)
Mickey Mouse shape outline template (see below for Free printable)
Craft sticks (or something to stir the shaving cream and later used for scraping)
Scissors
Glue stick
Card stock
Bin or box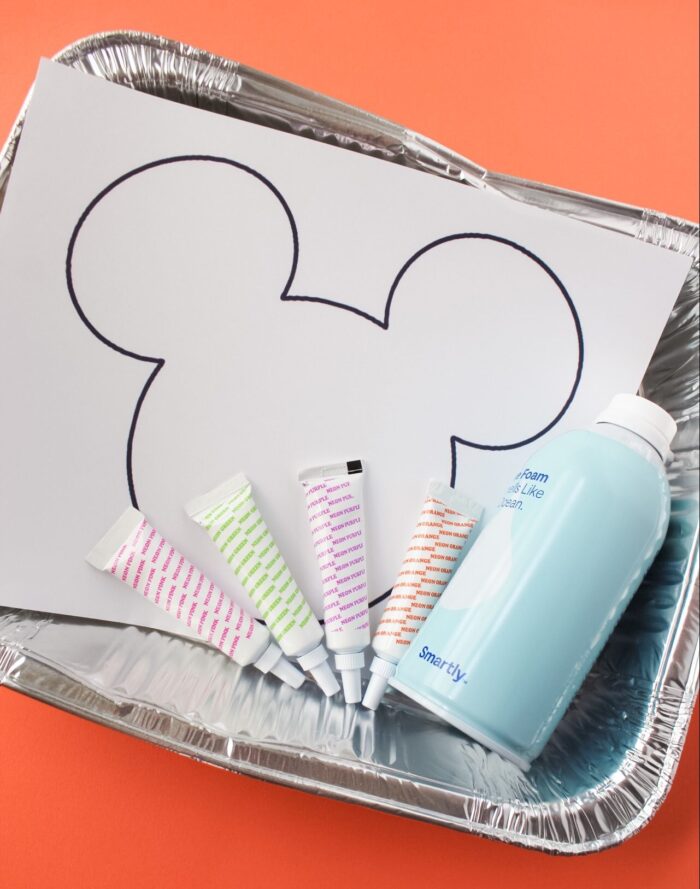 Need some Disney inspiration at home? Check out these FREE 20 Disney Themed Art Prints!
How to make the Marble Paper Mickey Craft
Before you start, prepare for a mess and set your bin on an area you can easily wipe clean afterward. I suggest using a cheap tablecloth to work on so clean-up is easy and fast. Also, food coloring can stain so keep that in mind with your kid's clothing.
Now you're ready to craft!
Print out the Mickey Mouse outline template on Cardstock for a sturdier paper.
Fill your bin with a generous amount of shaving cream.
Add drops of food coloring in colors of your choice.
Use a craft stick to mix the shaving cream and create a marble/tie-dye effect.
Place your Mickey Mouse template over the shaving cream and press down gently for a few seconds.
Lift your paper and scrape off all excess shaving cream.
Set aside to dry for a few minutes.
Cut out and glue to another Cardstock.
Hang up and enjoy your craft!
Looking for more Disney fun? Check out this DIY Disney Countdown!
If you want to do more than one piece of paper, scrape off the top layer of the shaving cream in the bin and add a fresh amount. Redo the steps and do it all over again!
The best part of this craft is it can be turned into a sensory activity afterward. If your child is interested, let them play with the shaving cream when you're done with the craft. It's a fun experience and even if it's a little messy, it's easy to wipe and clean up.
Download Mickey Head Template
For personal use only.
Other Disney Activities You'll Love
CONNECT WITH MADE WITH HAPPY!
Be sure to follow me on social media, so you never miss a post!
Facebook | Twitter | Youtube | Pinterest | Instagram
Looking for crafts to keep your child busy? Sign up for my 5 Ridiculous HAPPY Activities in under 30 minutes for your kids delivered directly to your inbox!
Find and shop my favorite products in my Amazon storefront here!
MARBLE PAPER MICKEY MOUSE CRAFT
PIN IT TO YOUR DIY BOARD ON PINTEREST!
FOLLOW MADE WITH HAPPY ON PINTEREST FOR ALL THINGS HAPPY!
Tag me on Facebook, Instagram, and Twitter. It really makes me so happy to see families using my ideas and having fun with their kids.
xo,
Alli