If you're looking for an easy Disney Costume idea this is the post for you. Here you'll find how to DIY Mickey, Donald and Minnie costumes or DisneyBounding.
I am a huge Disney fan and so is my family. We love visiting Walt Disney World as much as we can and have the best time there. With Fall in the air and Halloween approaching, it reminds me of going to Disney so much more. We went to Mickey's Not So Scary Halloween Party last year and cannot wait to go back! It's so fun to dress up and trick or treat around Magic Kingdom. One of the best parts of the party is getting to dress up in costume! I love seeing how creative people get to represent their favorite Disney characters.
This inspired me to DIY some easy Disney costumes for my kids and me. We dressed up as Mickey, Donald and Minnie and it was so simple anyone can do it.
This post contains affiliate links which means if you click a link or make a purchase I may make a small commission. For more info read my disclosure.
Easy Disney Costume Idea - DIY Mickey, Donald and Minnie
How to Make a DIY Mickey Mouse Costume
The first easy Disney costume idea is BMIC (Big Mouse in Charge) Mister Mickey Mouse. He is such a classic character and everyone loves him. My oldest son was so excited to turn into Mickey without having to put on a big costume. This idea is inspired by DisneyBounding which is a way of expressing your love of Disney through fashion.
Here's what you need to make your own Mickey Mouse costume or DisneyBound:
Black tee
Red shorts or pants
Yellow bow tie
White gloves
Mickey ears headband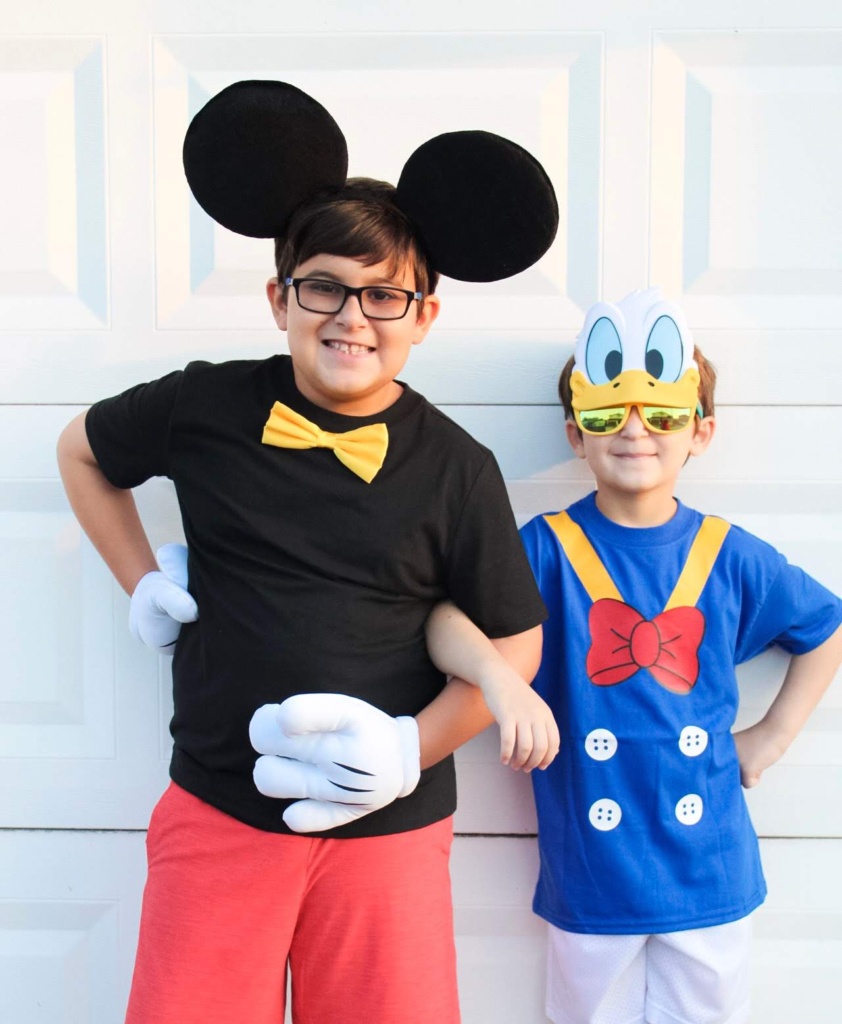 How to Make a DIY Donald Duck Costume
Another Disney costume idea is dressing up as Donald Duck. Of course my two boys picked Disney character best buds! My younger son wanted to be Donald but in a fun way that didn't require a hot or heavy costume. He wanted to wear this to his school for Disney Day and again whenever he wanted. It turned out so cute!
Here's what you need to make your own Donald Duck costume or DisneyBound:
Blue tee with Donald Duck embellishments
White shorts or pants
Donald Duck novelty glasses
How to Make a DIY Minnie Mouse Costume
If you have Mickey and Donald, you gotta add Minnie Mouse! This was my choice to match my kids and it's so easy to put together. I used mostly things I already had and can re-purpose for other occasions.
Here's what you need to make your own Minnie Mouse costume or DisneyBound:
Red polka dot dress (or skirt with black top)
Minnie ears
Black shoes
Black tights
Minnie Mouse gloves
If you're a Disney fan, give these easy costume ideas a try! You can customize to your liking and have fun with it.
If your recreate these Disney costumes, share and tag me on Facebook, Instagram and Twitter. It really makes me so happy to see families using my ideas with their kids.
---
Looking for more Disney fun? Check out these posts:
XO,
Bessy