If you love Disney and making things on a budget, this post is for you! My family is a Disney family and we love having Disney ornaments on our Christmas tree. Sometimes they can be so expensive and it would cost hundreds of dollars to fill the tree with just Disney characters. I found a way to make really inexpensive character ornaments using just a few items. Learn how to make DIY Dollar Tree Disney Ornaments for less than $3 a piece!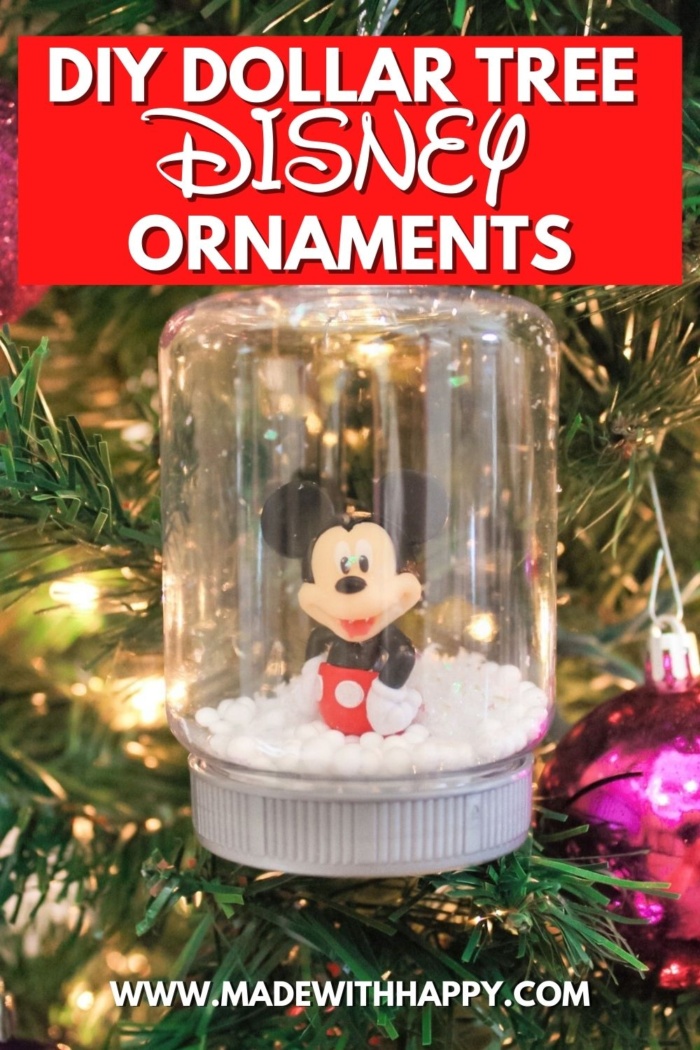 How to DIY Disney Ornaments Using Dollar Tree Items
Head to your local Dollar Tree and pick up these three things:
DIY Ornaments - they have a screw-on lid
Fake Snow - they carry 2 different kinds and one $1 bag will fill 10-15 ornaments depending on how much you use.
Disney Character Figurines - search the toy aisle for these. I have seen Mickey, Minnie, Donald, Princesses, and many Pixar characters.
Now that you have the items, it's time to make the easiest DIY. This only takes a few minutes and the only extra thing you need is a hot glue gun. You can also use E6000 glue or any other very strong glue you have on hand.
How to Make Disney Ornaments
Start by hot gluing the character to the inside of the ornament lid. If the character has a base it will be too big and the ornament won't close. I removed the base carefully from any that had one and glued it down the legs.
Turn the clear ornament part over and fill it with fake snow.
Without turning it right side up, secure the lid on the ornament.
Turn it over and watch the snow fall on the character.
Repeat the process with as many characters & ornaments as you want!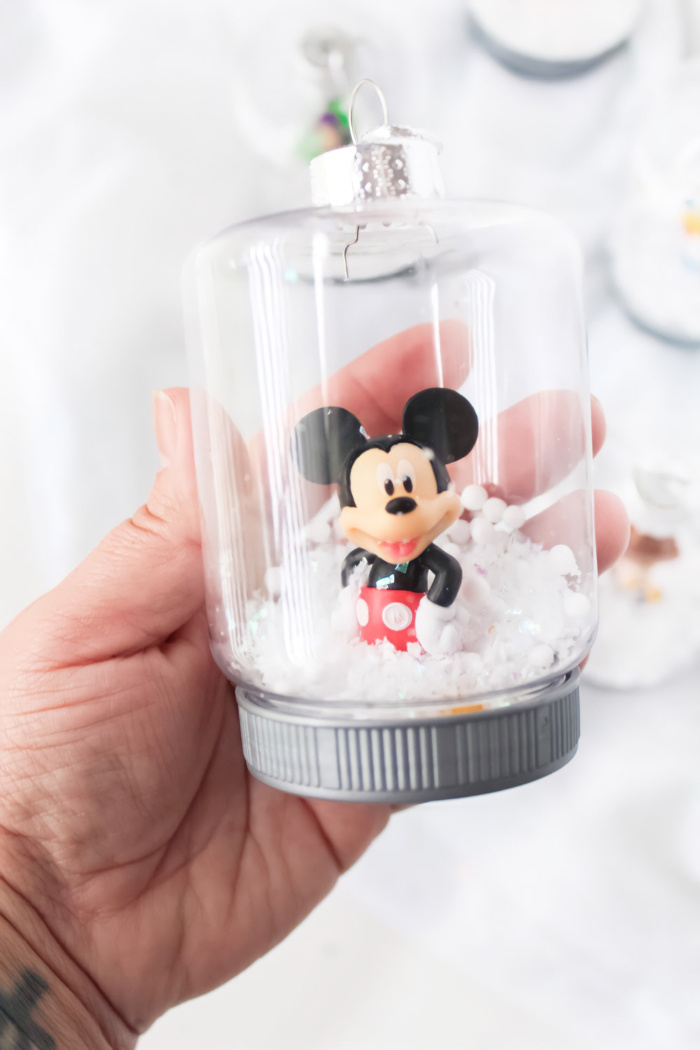 I'm all about super easy DIYs and crafts so this is perfect! It's also really inexpensive and that's a bonus. My total cost for making 6 ornaments was only $14 and I still have some snow left over to do more if I want.
Also, love how the whole family can do it together. Bigger kids and teens can do this completely on their own. For little kids, you take care of the gluing and let them have fun adding the fake snow.
More Ideas
Want to make this DIY even more budget-friendly? Use toys your kids already have! If your kids are like mine, they probably have tons of little figurines they don't play with as much stuck in a box somewhere. Use those and you don't have to buy any new ones. It's a great way to repurpose small old toys and it gives the project a nostalgic element.
Another fun option is to add tiny bottle brush trees! This makes it feel more like a Christmas scene and gives it a special touch. Dollar Tree sells tiny trees as well, but I didn't have luck finding any this time.
To make it seem like the characters have snow all over them, try hot gluing a bit of the fake snow onto the top of the character. I did it a bit with Woody and it looks like he has snowballs on his hat!
I hope you love & recreate this DIY with your families for Christmas. It's one of my favorites I've ever done!
Looking for more Christmas fun? Check out these posts:
CONNECT WITH MADE WITH HAPPY!
Be sure to follow me on social media, so you never miss a post!
Facebook | Twitter | Youtube | Pinterest | Instagram
Looking for crafts to keep your child busy? Sign up for my 5 Ridiculous HAPPY Activities in under 30 minutes for your kids delivered directly to your inbox!
Find and shop my favorite products in my Amazon storefront here!
MICKEY MOUSE ORNAMENTS
PIN IT TO YOUR DIY BOARD ON PINTEREST!
FOLLOW MADE WITH HAPPY ON PINTEREST FOR ALL THINGS HAPPY!