This post and its photos may contain affiliate links. As an Amazon associate I earn from qualifying purchases. If you make a purchase through these links, I may receive a small commission at no extra cost to you!
Need a quick gift to send to Grandma or Aunt Sue? Get the kids involved and make these adorable foot and hand print Christmas characters...You still have time!
What you'll need for the Santa: colored construction paper, white washable tempera paint, tiny red pom poms, white medium pom poms, wiggle eyes, felt, sharpie, glitter glue/puffy paint, tacky glue and hot glue gun, and of course miniature hands for stamping!
I started with a red triangle made out of felt (embellish with glitter if you wish), turning the corner down and adding the white pom pom using a glue gun. Then we stamped little one's hand. Remembering to leave room above Santa's beared, use tacky glue to adhere hat. Fill in with eyes and nose. Once paint dries, a little black mouth makes him complete!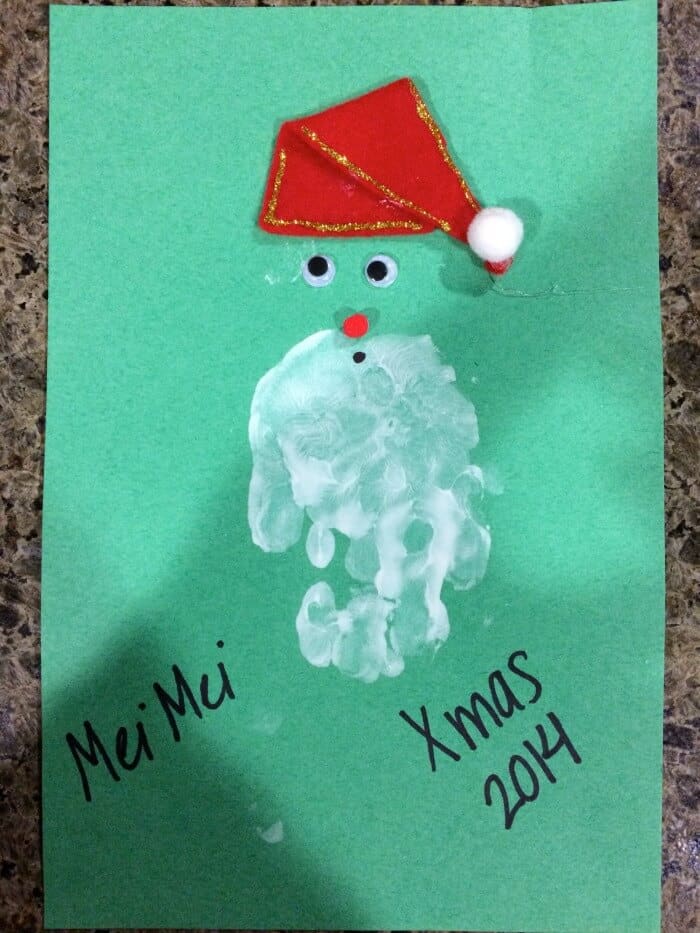 What you'll need for the reindeer: white construction paper, wiggly eyes, medium red pom pom, brown chenille sticks, sharpie.
We started with the brown footprint and once dry added the eyes, nose, and chenille sticks (tacky glue works best for his antlers). Baby girl wanted her reindeer to have eyelashes!