Living life to its fullest and wearing conversation heart sunglasses are fun this Valentine's Day! Have some fun making this Valentine's craft.
We are in full Valentine's swing over here and having so much fun, especially with these conversation heart sunglasses! Do you love Valentine's Day? I mean it's love, hearts, and candy!!! What is there not to love?
Conversation Hearts
Conversation hearts are a funny thing. I mean, who came up with those little candies? Do people really eat them still? We're answering all those questions in our Valentine's Day Facts.
I mean, I love using them in fun Valentine's projects, like this Conversation Heart Pot and these individual conversation heart pinatas. Are these the candy corns of Valentine's Day? Do you eat them?
I personally am not a fan of eating the actual candies. I'm much more of a chocolate fan, but the look of those cuties has me all heart-eyes. They are colorful, they have fun sayings and so they are a winner in my eyes.
Heart Shaped Glasses
Last week, we were perusing the dollar store and came across some fun heart-shaped glasses. We have owned a few different pairs over the years, but these ones had some decorative rhinestones on them, and Made with a HAPPY girl turns to me and says, wouldn't these be fun with big heart-shaped diamonds around them?
We love the idea of these cute heart sunglasses as party favors for a bachelorette party, a valentines day party, or just for fun. You can also find them wherever party supplies are sold throughout February.
In any case, once we saw those cuties it got us thinking. While we certainly aren't going to add heart-shaped diamonds to the glasses, we could make them just as much fun by adding the conversation hearts.
So we ran to the next aisle and grabbed a few packs of the conversation hearts.
Supplies for Valentine's Sunglasses
heart shapes sunglasses
conversation hearts
hot glue
How to Make Heart Sunglasses
We started to pour out the boxes and my rainbow OCD kicked in and I started to sort. You simply fire up the hot glue gun and start to place your hearts onto your glasses. Boom... Conversation Heart Glasses.
Oddly enough we only had two blue hearts and so we saved those for the outside.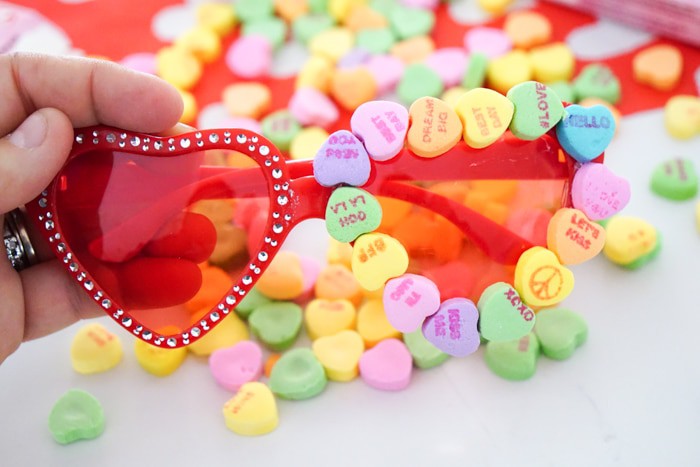 Make your way gluing the hearts around the front of the sunglasses.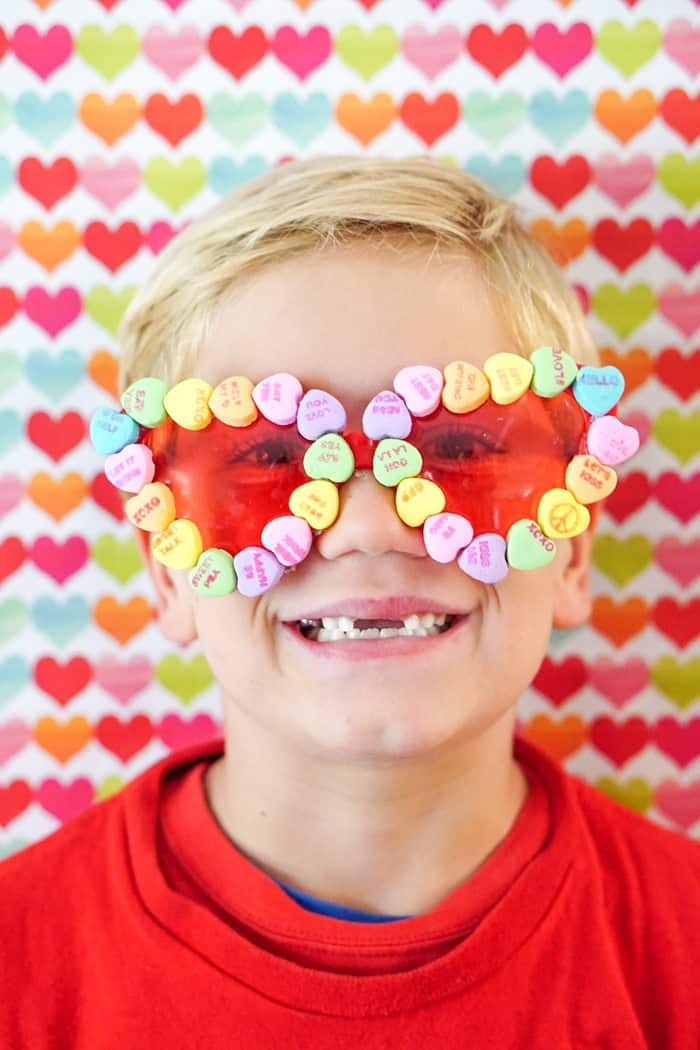 Once they were made both kids were begging to make a pair.
They brought them to their Valentine's parties at school and had so much fun with them.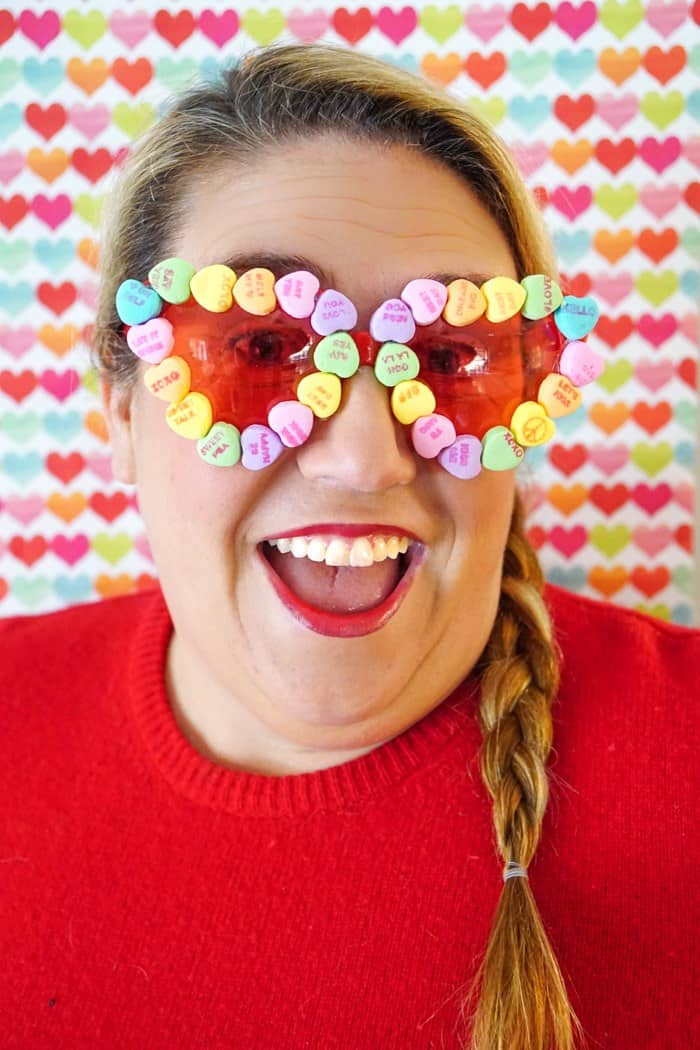 I even had some fun with them on Valentines Day running around town.
We hope you enjoy this fun Valentine's Day craft as much as we did making them.
Looking for some Valentine's Day Craft projects ideas for kids? Check out our 21 Easy Paper Crafts for Kids for Valentine's Day and 21 Heart Crafts Projects For Kids.
You also do not want to miss our 101+ Printable Coloring Pages For Kids and 101+ Printables For Kids full of Crafts and Coloring Pages.
Other Valentine's Crafts You'll Love
CONNECT WITH MADE WITH HAPPY!
Be sure to follow me on social media, so you never miss a post!
Facebook | Twitter | Youtube | Pinterest | Instagram
Looking for crafts to keep your child busy? Sign up for my 5 Ridiculous HAPPY Activities in under 30 minutes for your kids delivered directly to your inbox!
Find and shop my favorite products in my Amazon storefront here!
CONVERSATION HEART GLASSES
PIN IT TO YOUR DIY BOARD ON PINTEREST!
FOLLOW MADE WITH HAPPY ON PINTEREST FOR ALL THINGS HAPPY!