May the 4th Be with you and any Star Wars fan with these fun Star Wars crafts for kids of all ages. Great for a Star Wars party or just fun.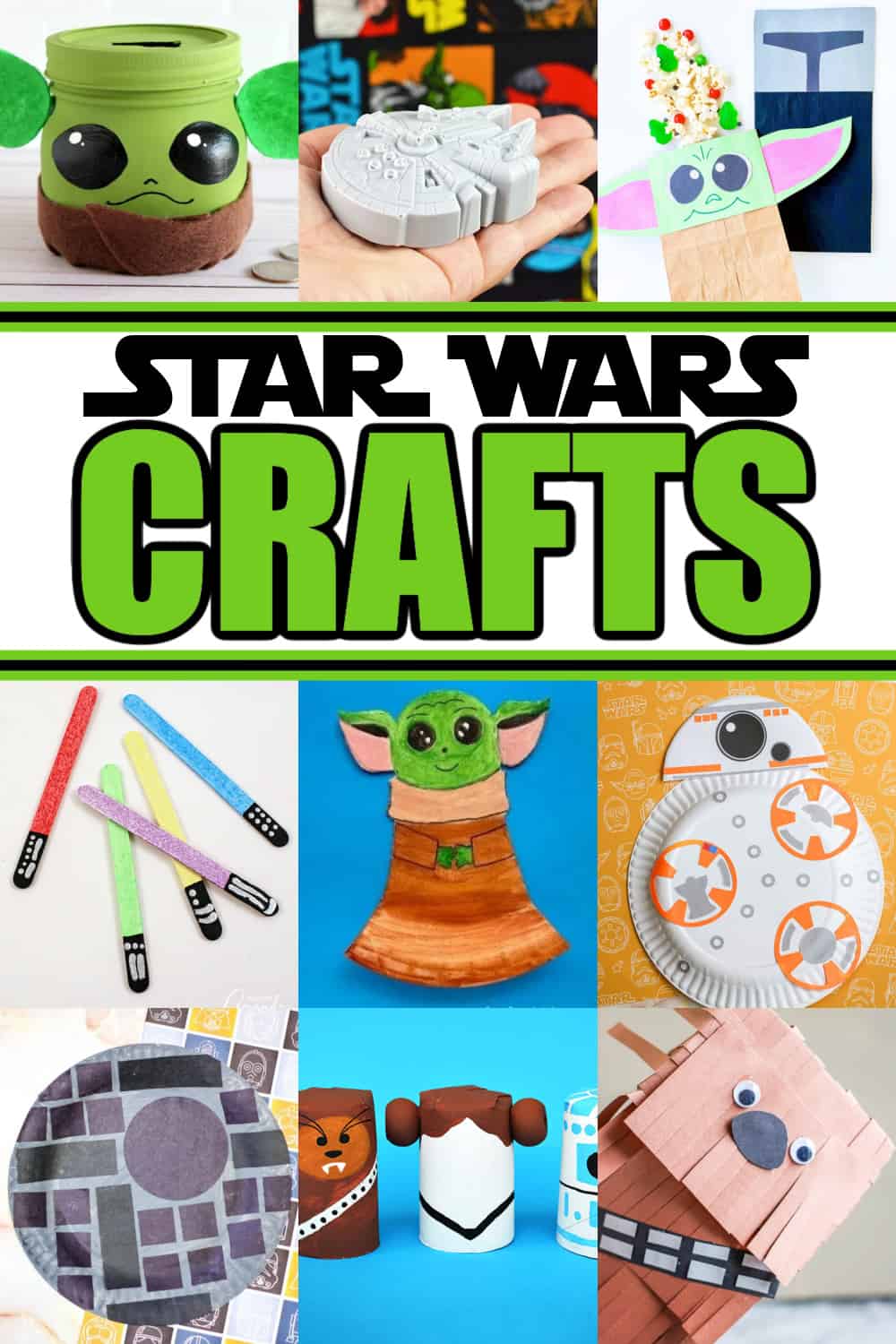 These Star Wars Crafts are filled with great projects of your favorite Star Wars Characters. Adults and Kids love Star Wars and will not be disappointed at all the fun.
In a galaxy far, far away…Star Wars crafts are being made and with the force, you and your children can make these crafts as well!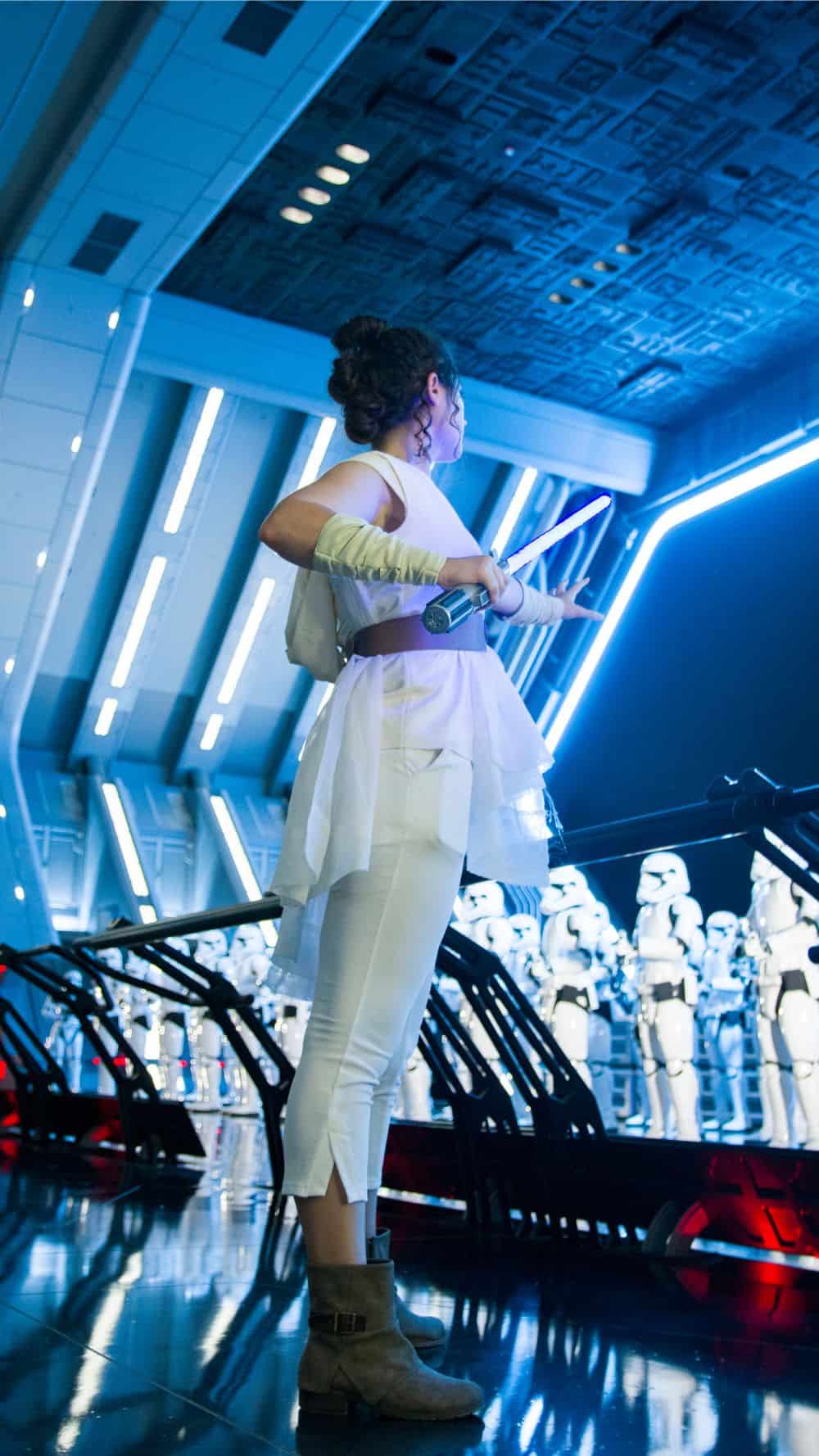 Star Wars Day
In our home, we go BIG for Star Wars Day (May 4th)! My daughter and I put our hair up in space buns, we all wear star wars attire, and we watch star wars throughout the day. Some restaurants or coffee shops around town will offer deals if you are dressed in any kind of Star Wars clothes. Last year, I went all out and dressed up like Rey.
The only thing that could make the day even better is CRAFTS! Who doesn't want to create a Baby Yoda craft or an r2-d2 pencil holder?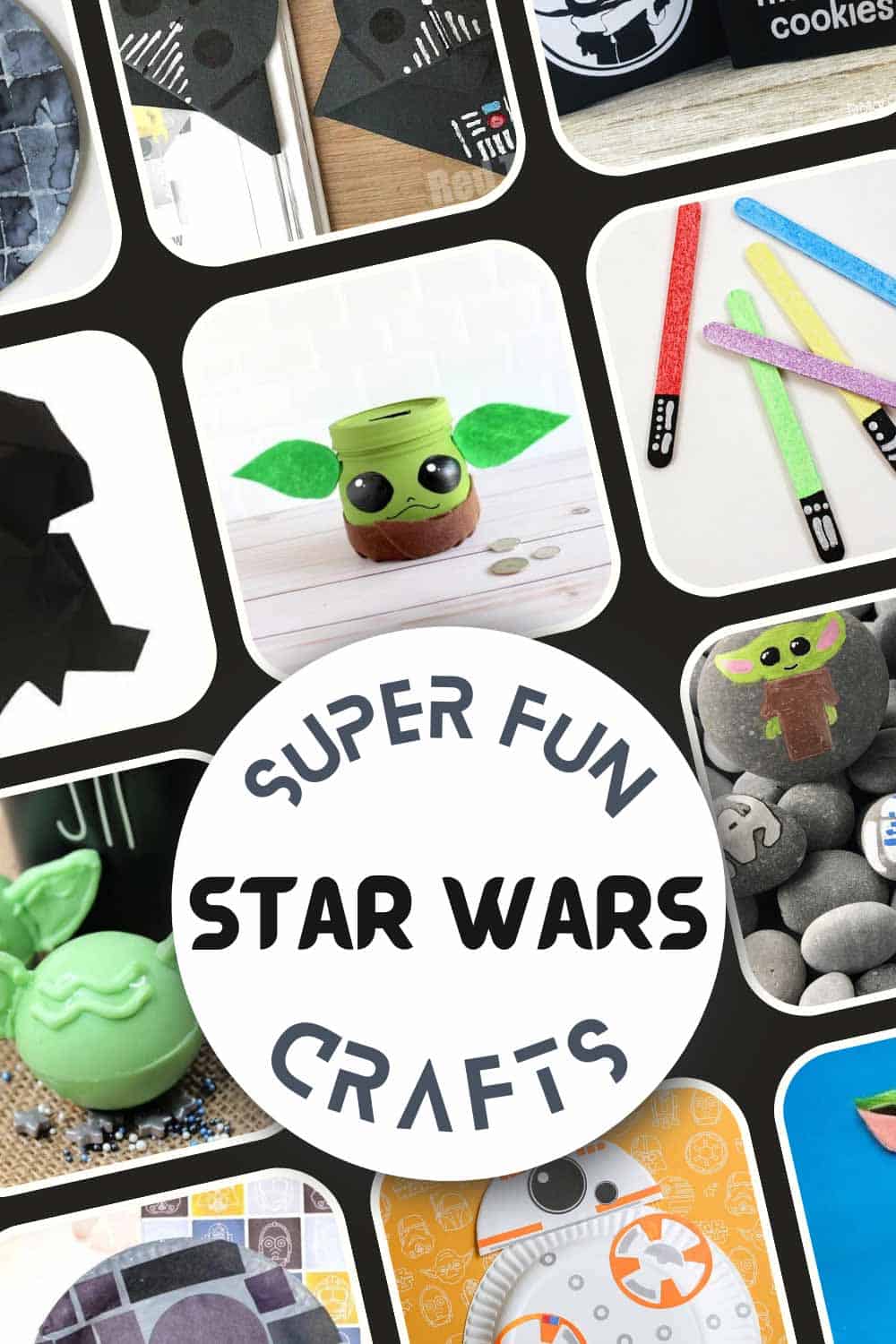 Star Wars Projects
With this craft set that kids will love, you can go all out or do a couple of crafts that fit your time. With the end of the school year nearing, what better way to celebrate than by making crafts with kids of all ages? This is a chance for teachers to geek out as well.
For a craft set like this, I like to keep a box filled with paper towel rolls, paper plates, popsicle sticks, different colored pipe cleaners, and more.
We follow the 3 R's (reduce, reuse, recycle) and so our craft box stays pretty full and is inexpensive to keep up.
These DIY Star Wars crafts can be shared with fellow Jedis just for fun, in a classroom, or even at a birthday party. I am all about having unique party favors at each Star Wars birthday party. As my kids get older, we usually have some crafts set out for everyone to make and then they can take the craft home as the party favor.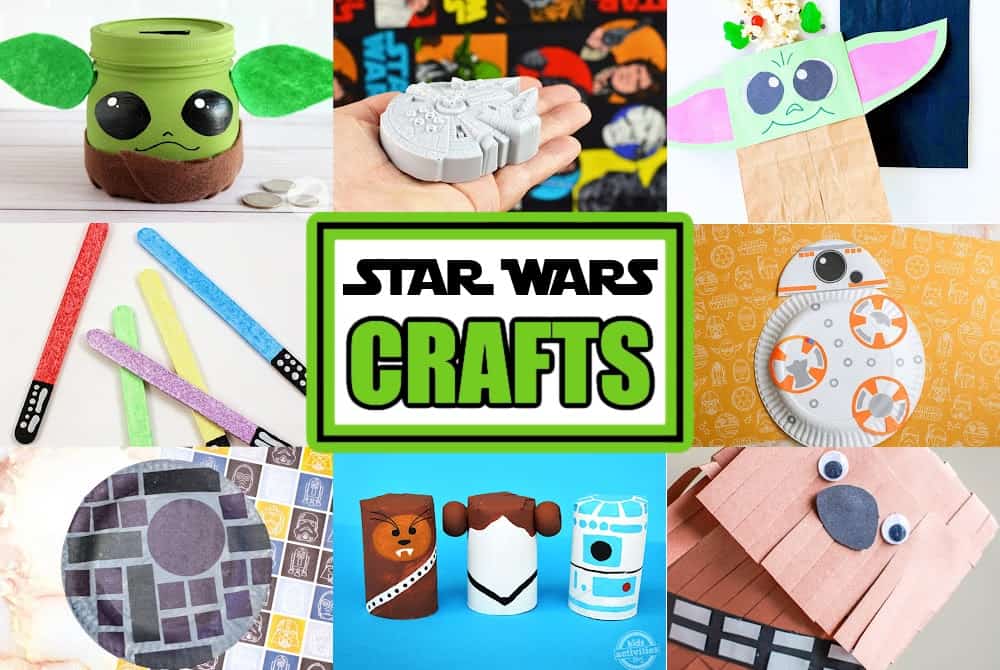 Best Star Wars Crafts For Kids
With Star Wars crafts, you can create all kinds of things that represent your favorite character(s). My toddlers love BB-8 and r2-d2. My daughter loves Rey and will act like her for days after watching the movies.
One of the many things, I love about Star Wars is the love for this fandom continues growing and is passed on to each generation. Creating more huge Star Wars fans of all ages. This year, get crafty, and MAY THE FOURTH BE WITH YOU!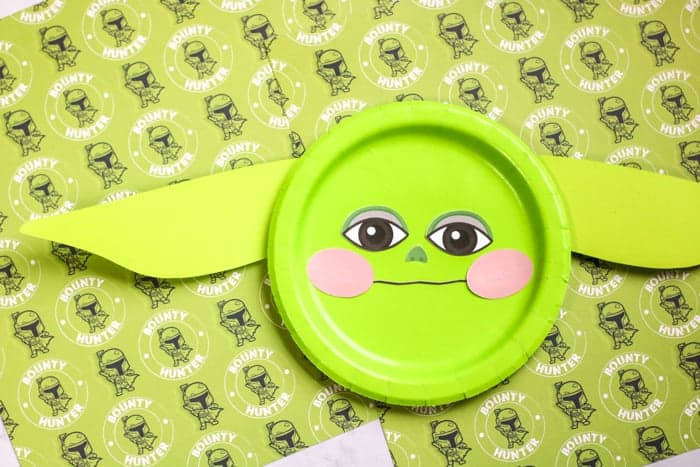 by Made with Happy
This is one of the fun Star Wars paper plate crafts. Simple Baby Yoda fun craft. Don't miss our other Paper Plate Crafts.
by Origami Expressions
Grab some black paper and get ready to fold your way to a galaxy far far away. This Darth Vader paper craft is perfect for any Star Wars fan who wants to try their hand at origami.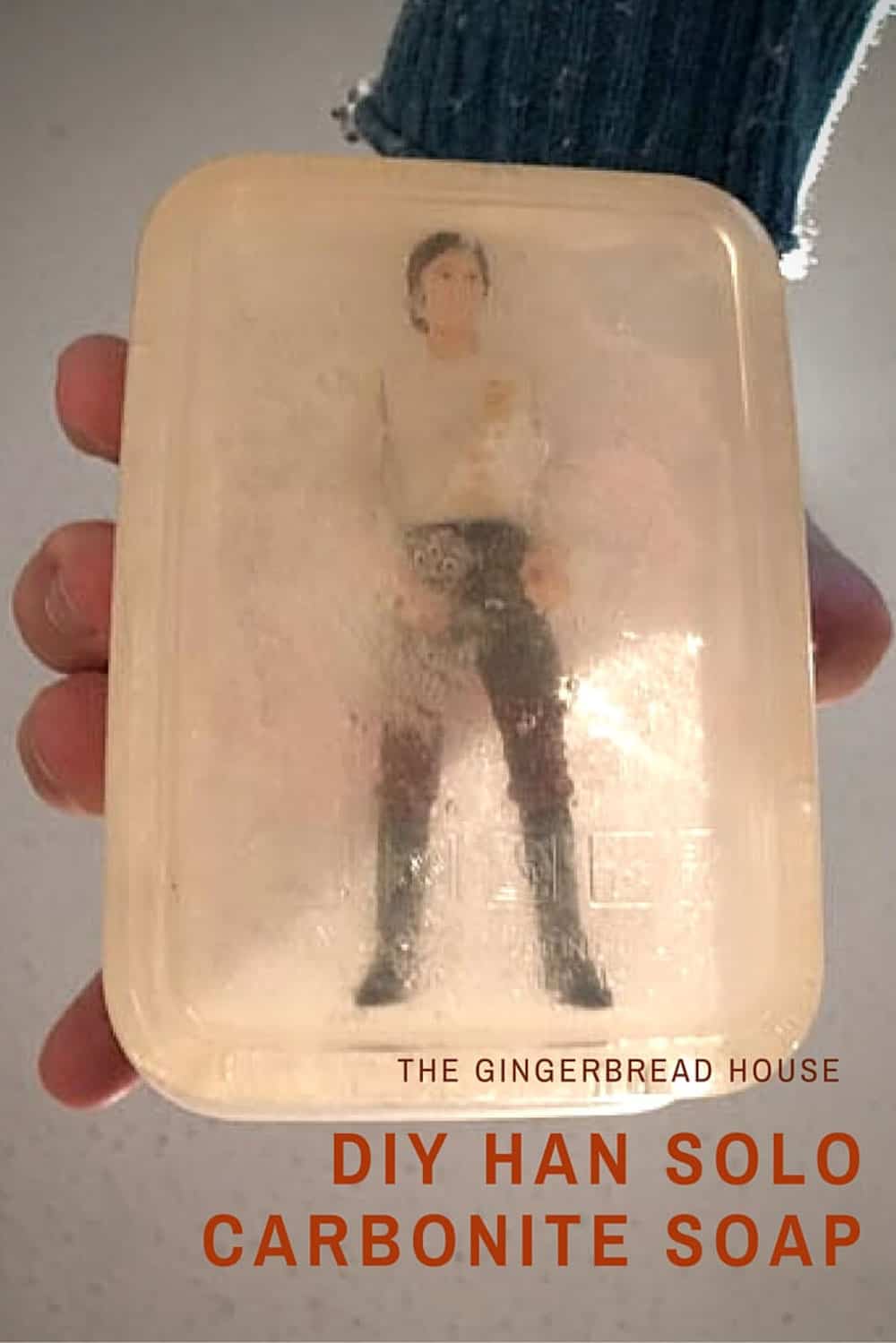 by The Gingerbread House
Hand washing just got a lot more interesting with this soap project. Who will rescue Han from the carbonite first?
by Simple Everyday Mom
Grab a paper plate and get crafting to make these adorable baby Yodas! Kids of all ages are going to love the way these turn out.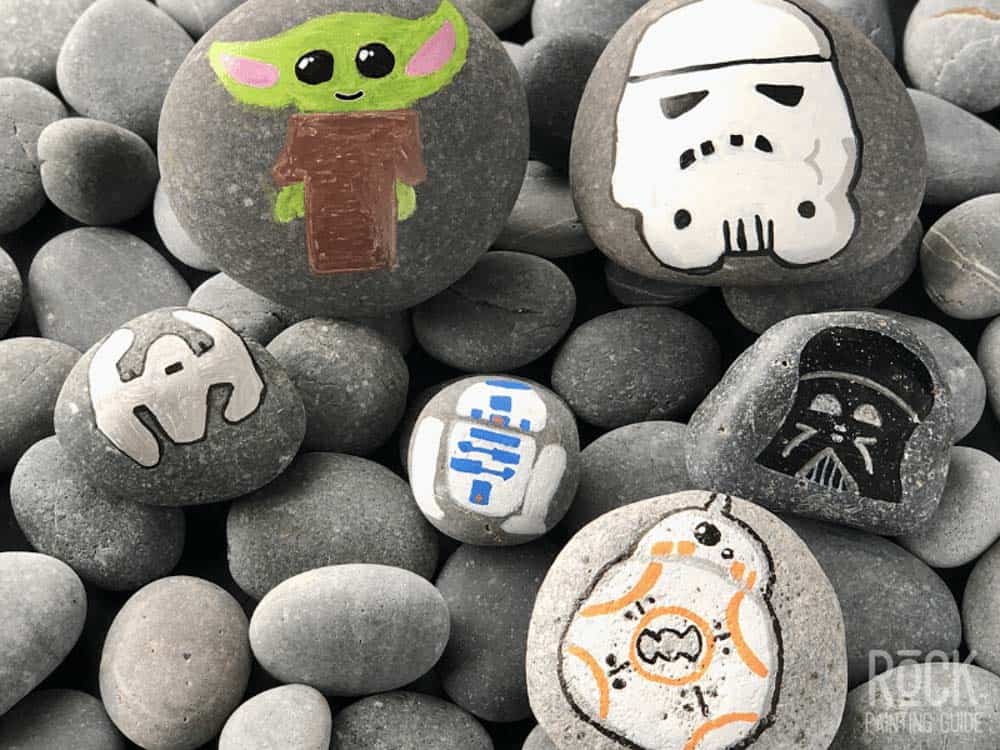 by Rock Painting Guide
Paint some of these and hide them around your neighborhood to share your love of Star Wars with everyone!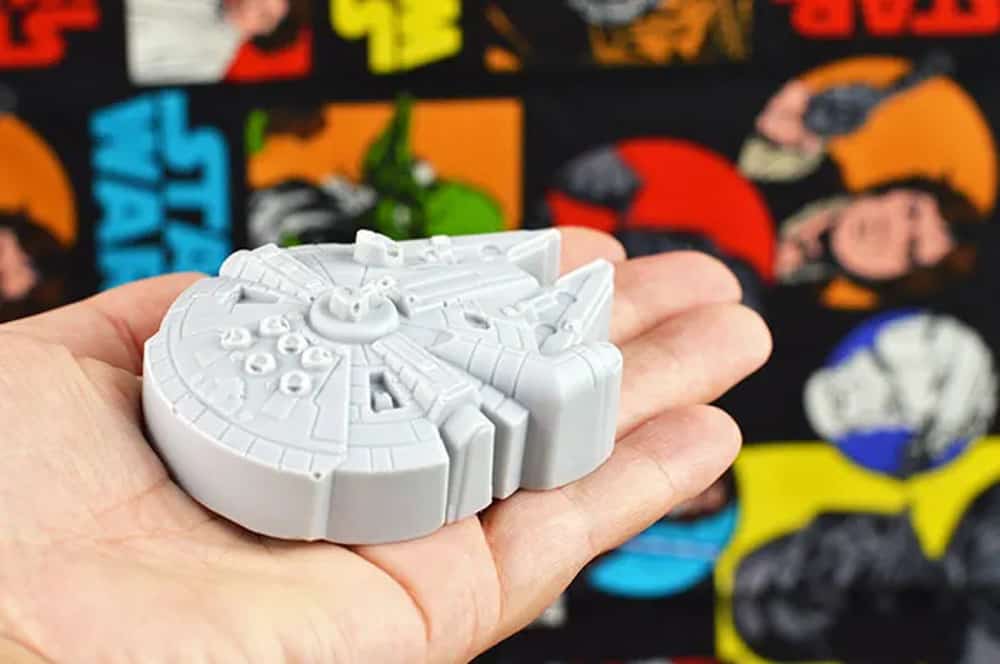 by Simplistically Living
Hand washing just got a lot more interesting with this idea for fun soaps that are sure to appeal to little boys.
by Kids Activities Blog
This idea takes empty paper rolls and transforms them into something fabulous! These are going to be so much fun to play with! Don't miss our other Toilet Paper Rolls Crafts.
by Attachment Mummy
Grab a paper plate and let your creativity flow to make everyone's favorite droid BB8! This activity is fun to complete and makes a great homemade decoration in a Star Wars-themed bedroom.
by Mommy Made That
What fan wouldn't love to have a chewy puppet? This idea is super easy to make with a paper bag and a few simple supplies.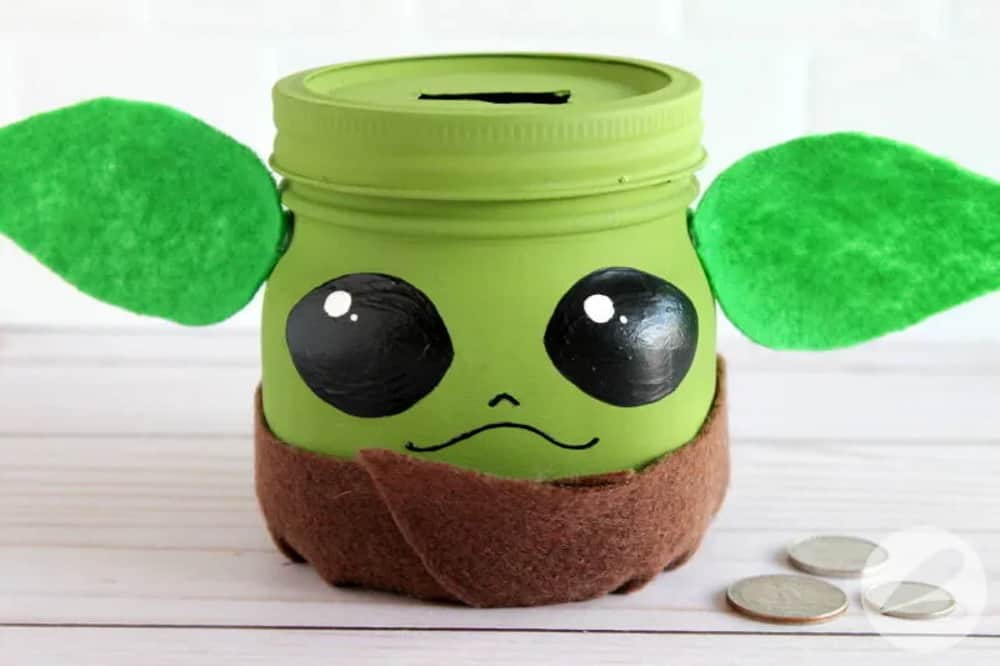 by Homemade Heather
This piggy bank makes for a really wise place to stash your savings. Kids of all ages will love this craft that is useful and cute.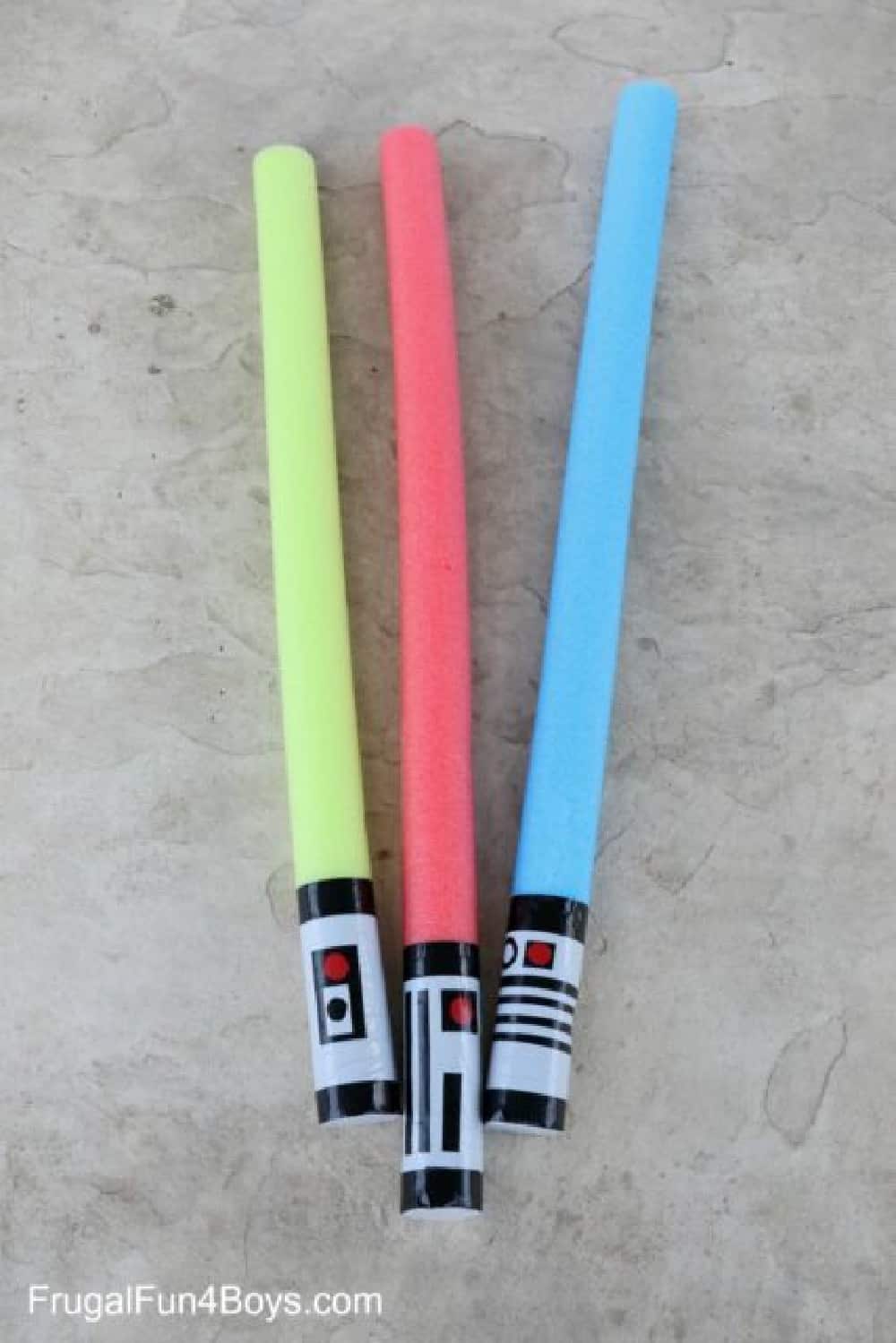 by Frugal Fun For Boys and Girls
Have fun with pool noodles. These lightsabers are awesome star wars crafts.
by Gluesticks and Gumdrops
This paper bag puppet is awesome for anyone who wants to bring epic wisdom to their play sessions. I am sure you will agree the eyes on this craft are perfect!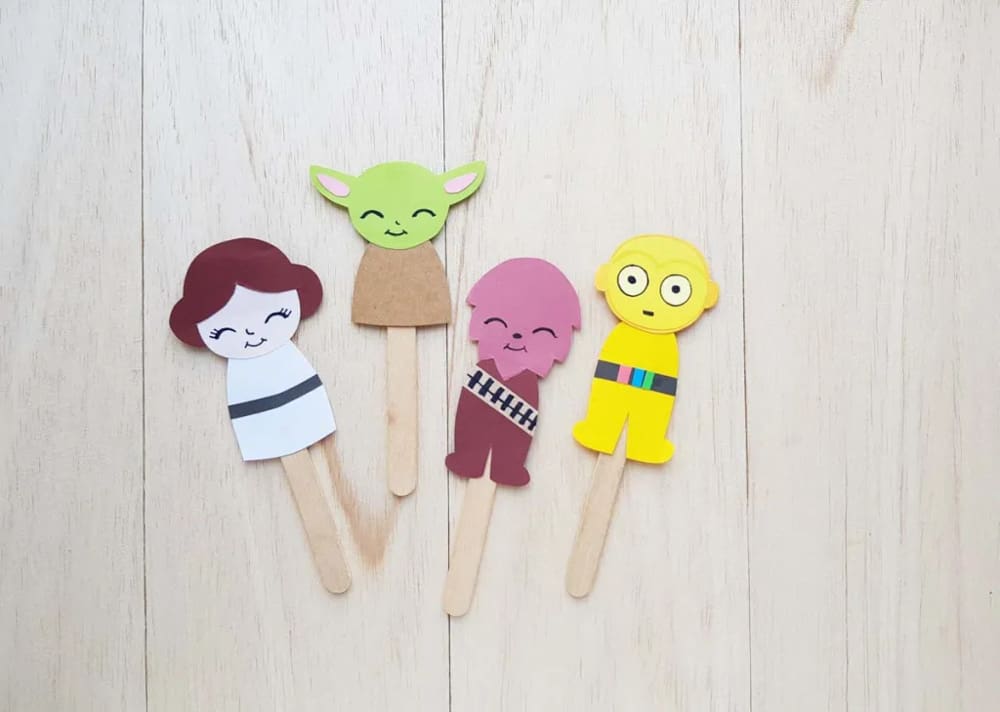 by Frosting and Glue
Make these stick puppets for on-the-go fun. These are perfect for keeping the kids entertained at appointments, meals out, or long car rides. Don't miss our other full list of popsicle stick crafts
by Everyday Shortcuts
The force is strong with these adorable Yoda cocoa bombs. These are perfect to make and enjoy during your next Star Wars movie night.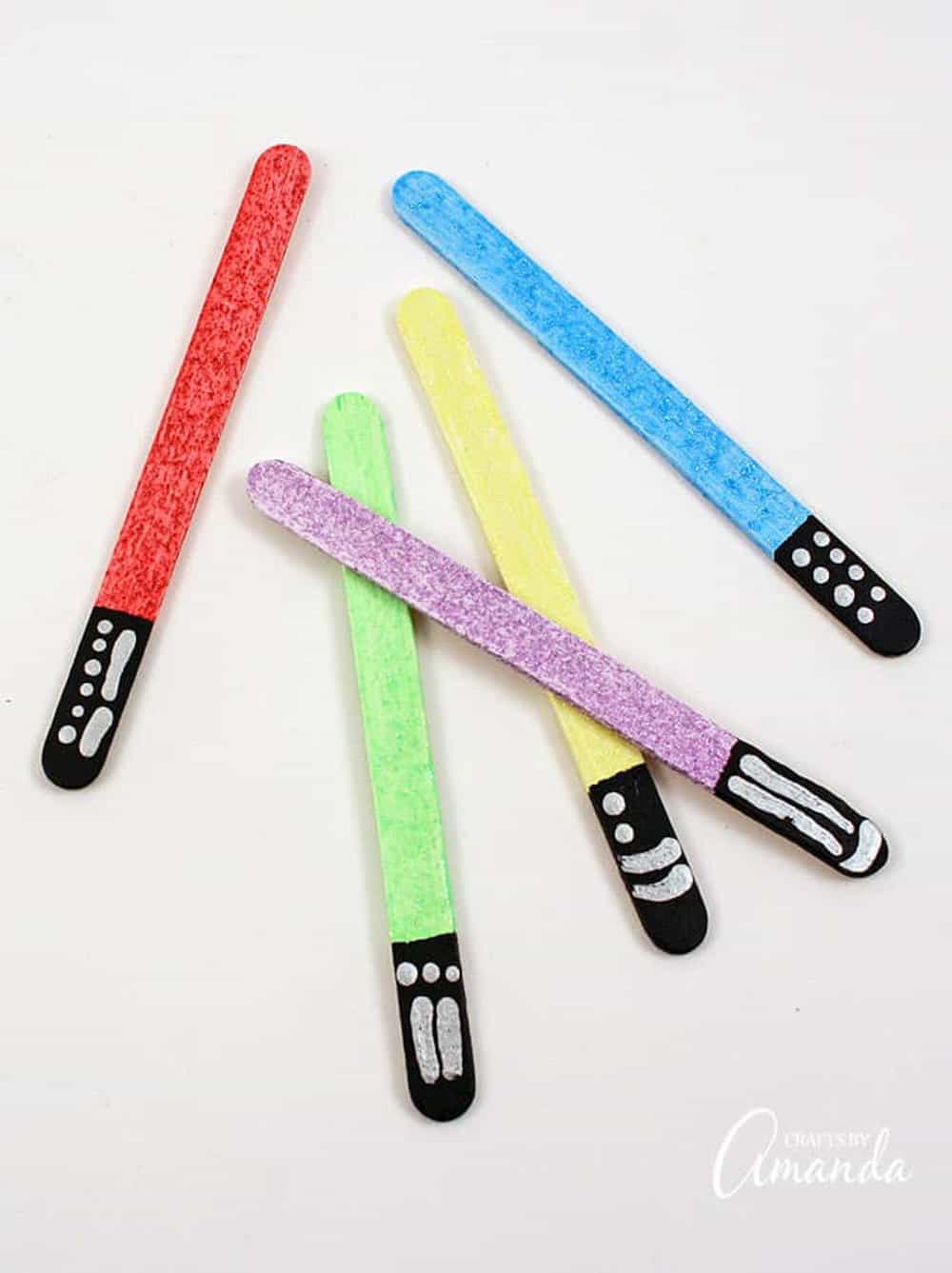 by Crafts by Amanda
A DIY bookmark will keep your spot safe in your favorite book. These are easy and fun so make a bunch to share to encourage a love of reading and is a fun way for each of your friends to have their own lightsaber.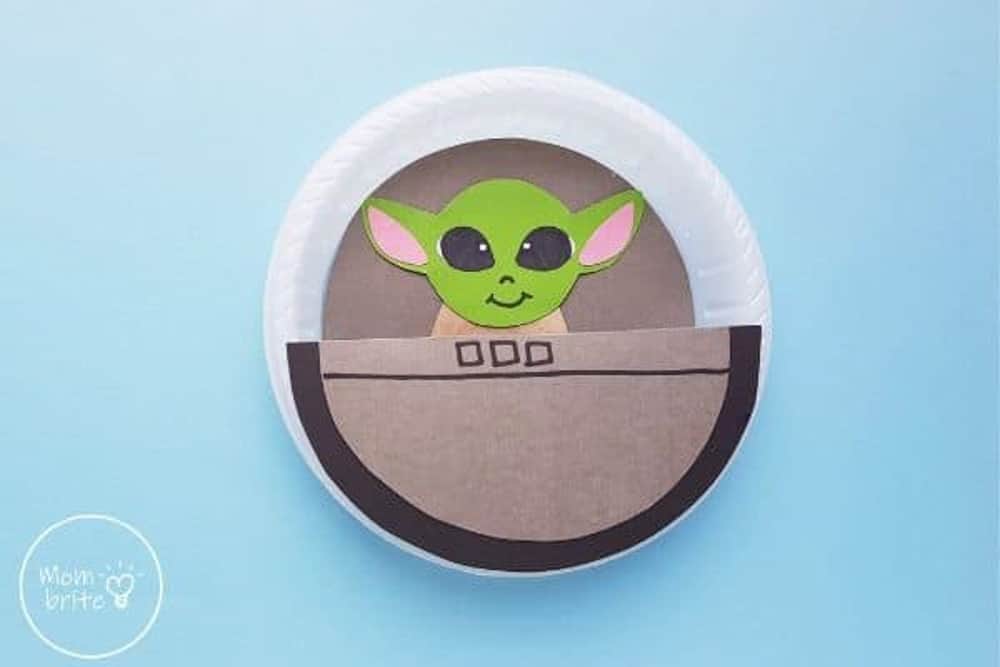 by Mom Brite
Grogu is everyone's favorite! So make a craft that looks just like him with the kids. This idea is sure to steal a few hearts.
by Easy Crafts for Kids
Make this craft with the kids. Love it, they will!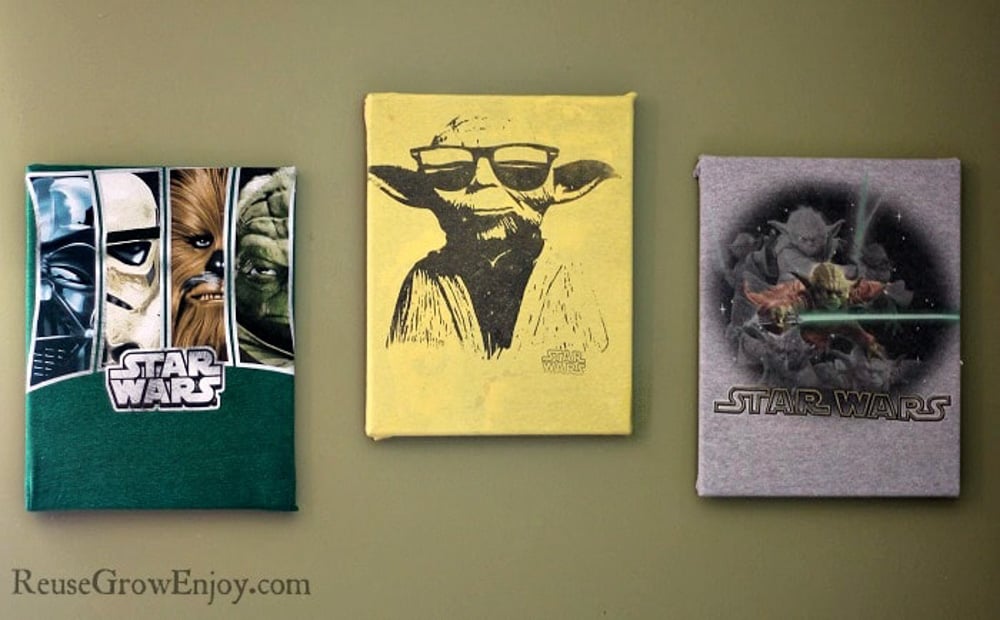 by Reuse Grow Enjoy
Give old t-shirts a new life with this really fun and stylish way to make your own star wars canvas art for the home.
by Red Ted Art
These corner bookmarks are just the thing to make and share for May 4th. These are going to be loved by kids of all ages and they are useful for young readers.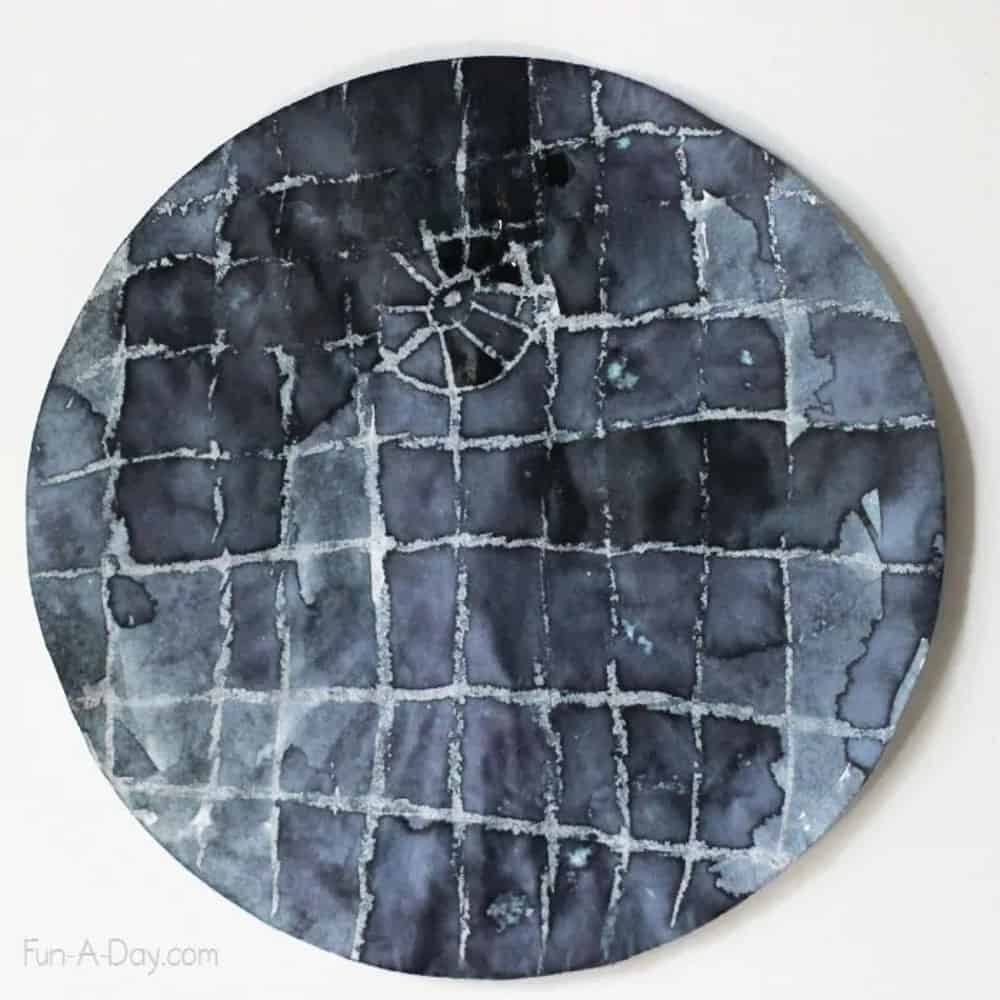 by Fun a Day
This project is very easy to complete with the kids, all you need are a few common craft supplies. They are going to love how their art turns out! Plus who doesn't love a death star craft.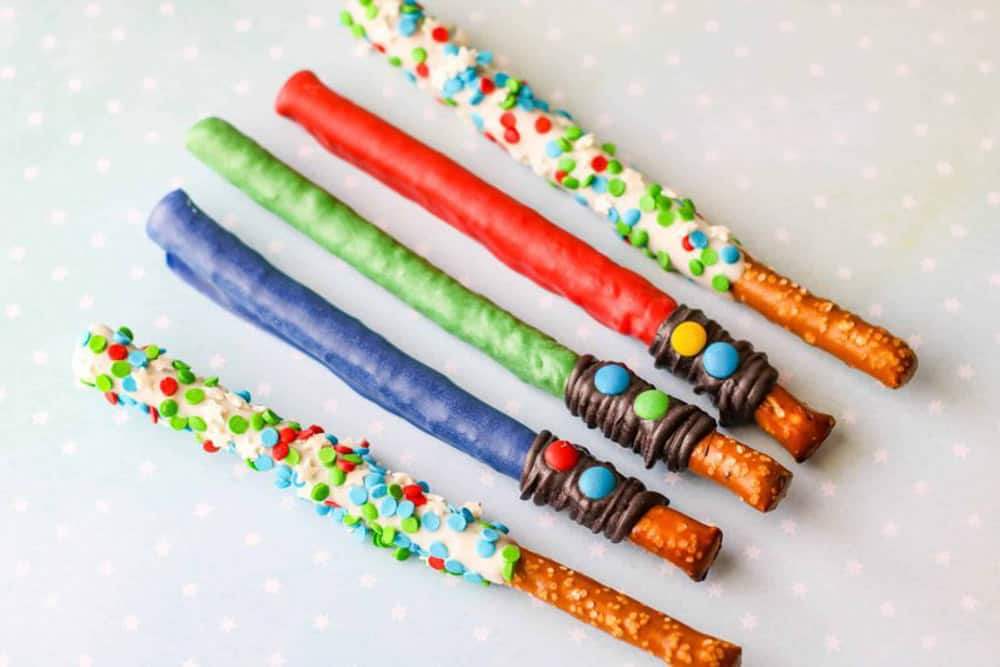 by Inspiration Edit
Make these lightsabers, and then snack on them later! These are so tasty that you won't want to risk battling with them!
by Lil Tigers
If you are planning a themed birthday party then these easy treat bags are a must-make! They are easy to assemble and make the perfect place to tuck treats into.
by Elle Marie Home
This wreath looks adorable, but it is so easy to make. This is perfect for a bedroom door if you have a major fan in the house!
by Big Family Blessings
These easy craft stick puppets are perfect for taking along for a fun friend to play with on the go. Your kids are sure to love making a yoda puppet and showing them off to everyone.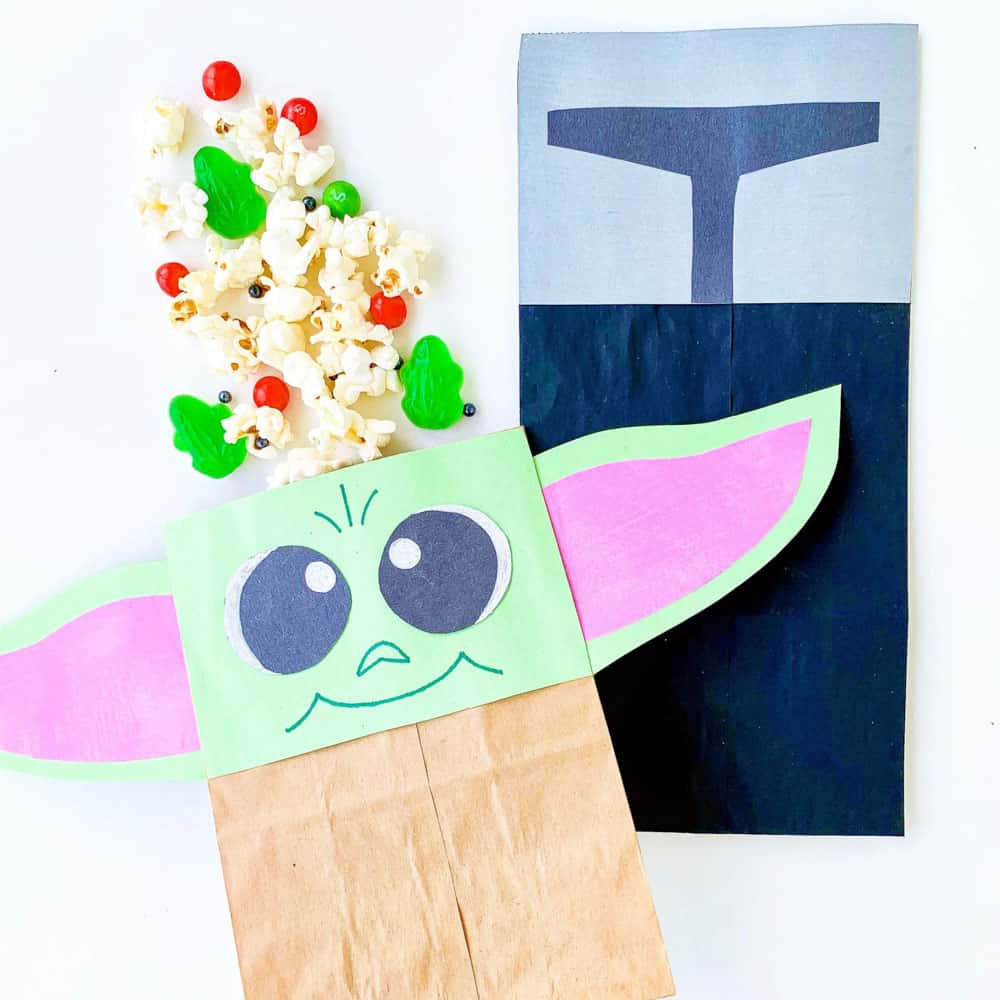 by Grace Giggles and Naptime
These goodie bags are perfect for your next Mandolorian viewing night. Stash your favorite snacks in these for a memorable family night at home.
by Dollar Crafter
This sign will look perfect in your room! Make these this afternoon thanks to the easy-to-follow instructions.
by Marcie in Mommyland
Grab a plate and let the little ones get crafting. They are going to love making their very own death star! This turns out perfect with easy-to-follow directions.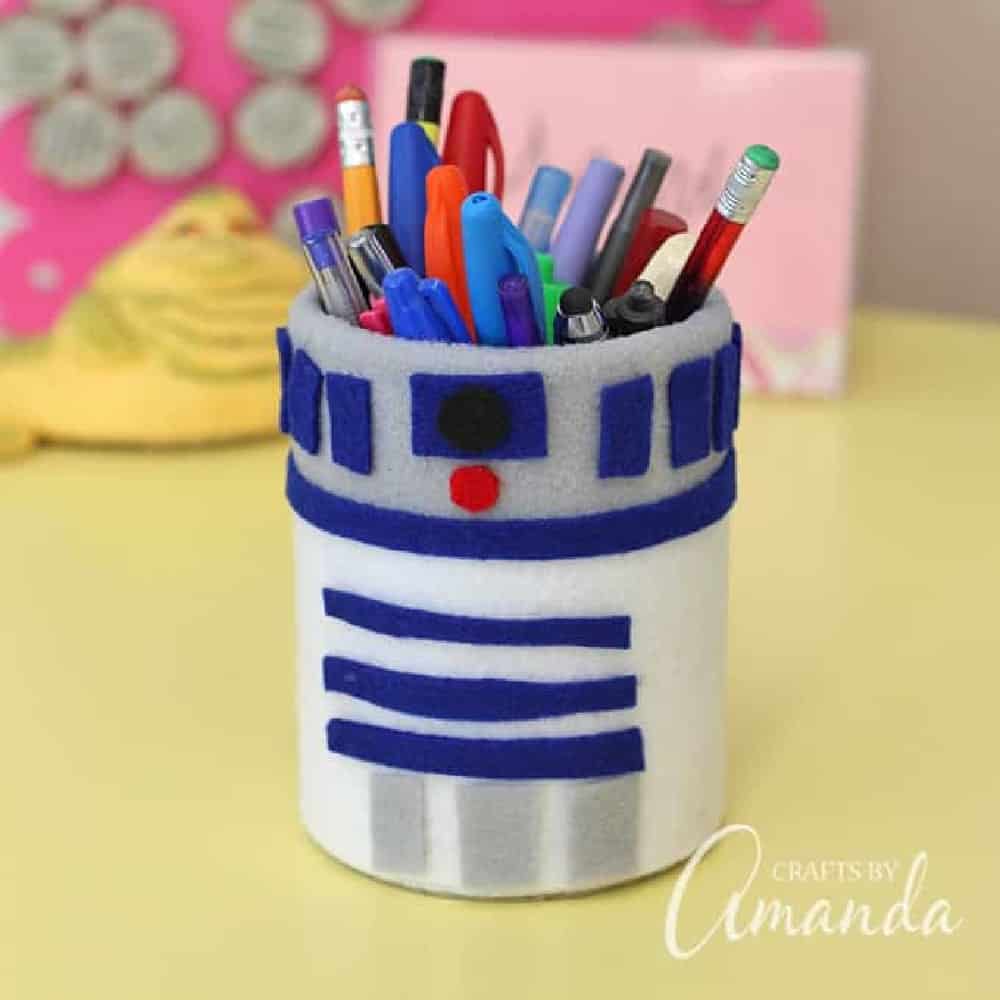 by Crafts By Amanda
Have some R2-D2 fun with one of our favorite star wars crafts an R2-D2 pencil holder!
by Mom Endeavors
Great star wars crafts for a Star Wars theme birthday party. A great way for any little Jedi to have all their dark side fun on their birthday.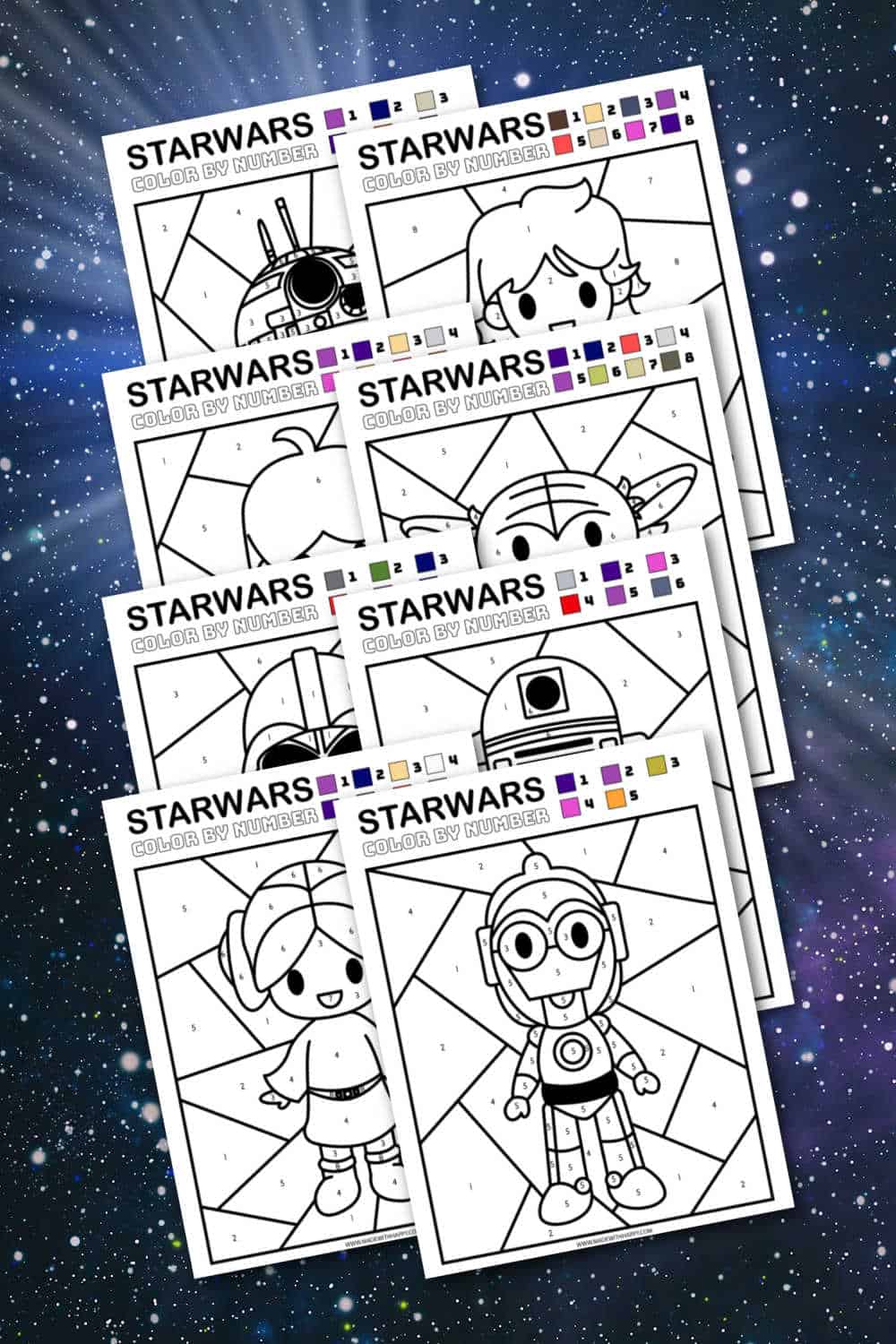 Have some coloring with the different characters. Whether it's Princess Leia, Luke Skywalker, Han Solo, or any of your other favorite characters from the Star Wars universe.
This printable template of baby Yoda is the perfect way to say Happy Valentines Day. Great your free template and love love!
We highlighted these Star Wars Crafts along with some other fun kid's crafts in our May Crafts along with our 101+ Easy Craft Ideas for kids.
CONNECT WITH MADE WITH HAPPY!
Be sure to follow me on social media, so you never miss a post!
Facebook | Twitter | Youtube | Pinterest | Instagram
Looking for crafts to keep your child busy? Sign up for my 5 Ridiculous HAPPY Activities in under 30 minutes for your kids delivered directly to your inbox!
Find and shop my favorite products in my Amazon storefront here!
STAR WARS CRAFTS
PIN IT TO YOUR DIY BOARD ON PINTEREST!
FOLLOW MADE WITH HAPPY ON PINTEREST FOR ALL THINGS HAPPY!