Hi friends, as you've seen the last couple of days, we are in full swing HALLOWEEN decorating over here and are oh so HAPPY about it. I love Halloween so much.
There are so many different, easy, ways to decorate. The kids love it and it just makes me HAPPY. That is of course as long as its not gory or scary because then, I'm out.
The other day, MWH Girl and I made our way into a local Halloween pop-up store and they had a wall of scary masks and just walking past it, made us both a little weary. We're wimps when it comes to that. 🙂
In any case, every year I like to share with you all a few different no-carve pumpkin ideas. Some past ones include Glitter Pumpkin, Sharpie Pumpkins and Painted Pumpkins. Today I'm excited to share with you a real easy one that adds all kinds of color or impact.
We highlighted this Easy Fall craft along with some other fun kids craft in our October Crafts for Kids along with our 101+ Easy Craft Ideas for kids.
No-Carve Pumpkin
First off, its no secret that I'm a rainbow bright kind of gal. Second, I have a love affair with white pumpkins, so having the opportunity to combine the two, makes my insides glitter with joy.
This little lady was so simple to make that there might be about 15 of them around my house because they are so pretty. Here is how you can make them at your house.
Supplies: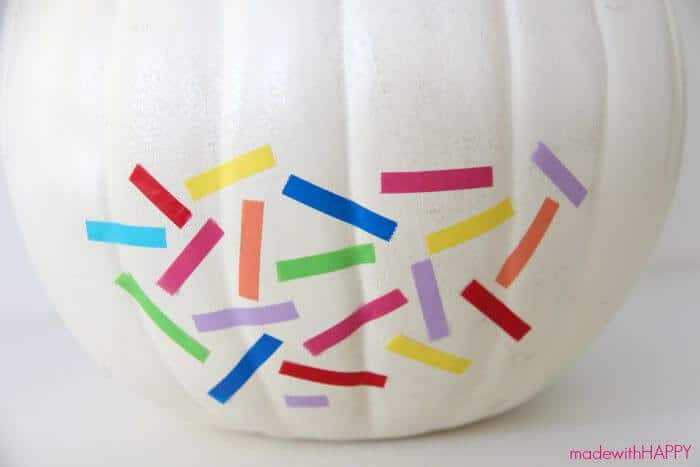 YEP, its that easy! I was so excited when I found this rainbow washi. I knew immediately that it was going on my next project.Simple cut the washi tape into half an inch pieces and spread them around the pumpkin like confetti.
I think this would look great with solid color tape too. Gold or Turquoise. FAB!!I used an artificial pumpkin, but this would be just as great on a real pumpkin. Just make sure to wipe the real one down before you stick the tape to the surface. If its too shiny, it will have a hard time sticking.
CONNECT WITH MADE WITH HAPPY!
Be sure to follow me on social media, so you never miss a post!
Facebook | Twitter | Youtube | Pinterest | Instagram
Looking for crafts to keep your child busy? Sign up for my 5 Ridiculous HAPPY Activities in under 30 minutes for your kids delivered directly to your inbox!
Find and shop my favorite products in my Amazon storefront here!
WASHI TAPE PUMPKIN
PIN IT TO YOUR FAVORITE BOARD ON PINTEREST!
FOLLOW MADEWITHHAPPY ON PINTEREST FOR ALL THINGS HAPPY!