These sweet emoji pumpkins are great way to add LOL to Halloween without having to carve a single pumpkin.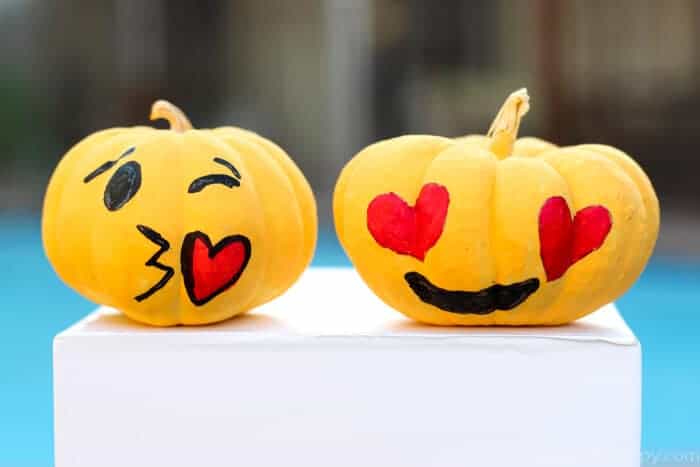 To be honest, I made these a few years ago now but just realized that I never posted the simple how-tos. They are becoming more and more popular and my kids are all about emojis I am even working on an emoji party that I should have out in the next couple of days.
Gosh, I can hardly remember a time without emojis. And actually, did you read the story about how my MIL is the one that had to show me how to add them to my phone?
Do you have a handful of emojis that you use on a daily or weekly basis? I know I do. They happen to be the two cuties up above for me. I'd love to hear about your top favorites. I can tell you my kids and it rhymes with loop and its brown 🙂
In any case, these are really easy and fun to make with just a few tubes of paint.
We highlighted this Fall craft along with some other fun kid's crafts in our October Crafts for Kids along with our 101+ Easy Craft Ideas for kids.
How To Make Emoji Pumpkins
Paint your pumpkins yellow first and foremost.
Then once it's dried then start adding the faces. I used a pencil to pencil in the face, and then paint them.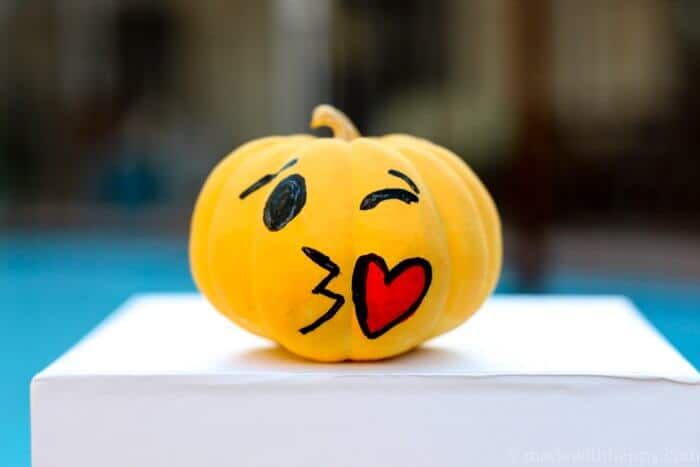 This is a fun project for the kids for sure. I even thought about having my kids in art class paint their own emoji pumpkin. I sure hope you and yours love these as much as we do.
Happy Halloween!
HAPPY EMOJI PUMPKINS