There are some fun activities to do with your kids this Summer including this fun walking on eggs activity.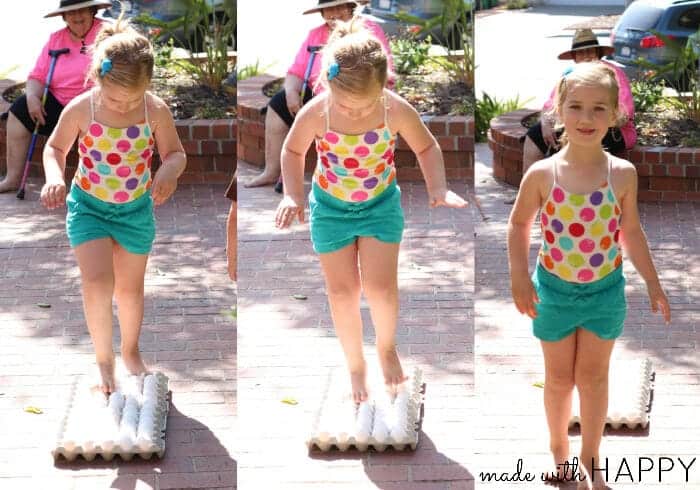 If you're anything like me, finding things to keep the kids active this Summer is starting to become harder and harder.
That's when I start doing some research on my favorite kid activity blogs and see what they are all up to. Lots of fun stuff and then the juices started flowing. Fast forward a few days and I'm cruising throuh Walmart when I see that ginormous pack of eggs for just a few dollars. That's when I remembered my friend Katie over at Happily Ever Mom who had her littles learning about eggs and walking across them.
Oh yeah, we're doing that. So here's what we did.
Yeah, seriously the two flats of eggs (72 eggs) was less than $5. We brought the eggs out to a fun spot that's easily hoseable (is that a word?) easy to hose down with water. Our kids are still pretty young, so we started out by talking about eggs and where they come from. We talked about how we use them for cooking and for breakfast and reminded them about how they love to crack them when we're making brownies. Yeah, I think they like the brownies more, but I mean, what kid doesn't 🙂
We then asked them about if they think that they could walk across them even though they crack easily when we're cooking. Made with HAPPY Girl was sure that they would break. So then we had them do it!She giggled and walked across and though it was so fun.The little was less sure about this endeavor, but with Daddy's assistance, made his way across. They both couldn't believe that they didn't break after stepping on them and decided they each needed to try it at least 5 more times each. So much fun! After they were done walking across the eggs, we taught them about trying to hold an egg on a spoon and walking with them. Great for their hand eye coordination, balance, and fine motor skills. Who doesn't love that. Plus, its really fun!
I highly recommend if you're looking for some backyard (front yard) activities that are low cost with lots of fun learning, then go out and get your kids egg walking. 🙂