Have fun unscrambling a winter season word list with this FREE Printable Winter Word Scramble. Great Winter activity for kids of all ages.
This Winter word scramble with answer key is a great game to get everyone excited about Winter and all the fun Winter activities.
This fun puzzle is great for kids in elementary school and above. If your child is younger, they may enjoy our Free Printable Winter Word Search or Winter Coloring Pages. Another option would be to group your little one with an adult or older child that can help in the unscrambling.
Winter Season
Winter is one of the most magical times of the year. The weather is cold, for most of the country. There are snow days and lots of fun holiday happenings. Christmas, Hanukkah, New Years', Chinese New Year, and Valentine's Day!
There are lots of fun activities in the Winter. Sledding, Skiing, Snowboarding, Snowshoeing, Snowmobiling, and even Dog Sledding! While there are lots of great activities out in nature, there are also the really cold days when it is a great idea to stock up on some fun ways to pass the time indoors.
If you're looking for some fun winter activities, we love the idea of Winter Bingo and Indoor Scavenger Hunt. For all your indoor activities, look to our Winter Printables where we have more than fifty different coloring pages, games, and puzzles.
Don't miss our Winter Bookmarks to Color for some coloring fun throughout the months of the season (December, January, and February).
Check Out These Other Winter Word Games!
Do not miss our 50+ Fun Word Search Puzzle For Kids!
Printable Winter Games
On those days when kids are in need of a fun winter activity or five:), having printable games and coloring pages on hand is a great way to keep kids busy.
We love the idea of having word scramble games, word searches, and bingo games printed out and on hand. This gives kids different options depending on whether they are alone or with a group of friends.
Grab a winter printable and get ready to have some fun!
We highlighted this Free Winter Printable along with some other fun kid's crafts in our January Crafts along with our 101+ Easy Craft Ideas for kids.
Word Scramble Games
This Winter word scramble worksheet is a great way to expose kids to lots of fun winter words. Word games like word scrambles are great at building spelling and vocabulary skills.
For those unfamiliar with word scrambles, let us explain them to you.
What is a Word Scramble Game?
Word scrambles are a word game. It is a printable winter word scramble worksheet with a word list. They are typically themed words around a specific topic, like Winter & Christmas or any number of themes.
The list of words is each scrambled on the worksheet and in many cases, there is answer keys included. For ours, we have a second sheet with all the unscrambled words in order.
How to Play a Word Scramble Game?
The object of the game is to unscramble the words. There is a level of difficulty based on the length and complexity of the word from the game.
Once each of the words is unscrambled the word game is done. The best part about word games like this is that they can be done either in a timed setting against a peer or at their own pace.
Having fun with the word scramble is first and foremost and flexing brain muscle is secondary.
You also do not want to miss our 101+ Printable Coloring Pages For Kids and 101+ Printables For Kids full of Crafts and Coloring Pages.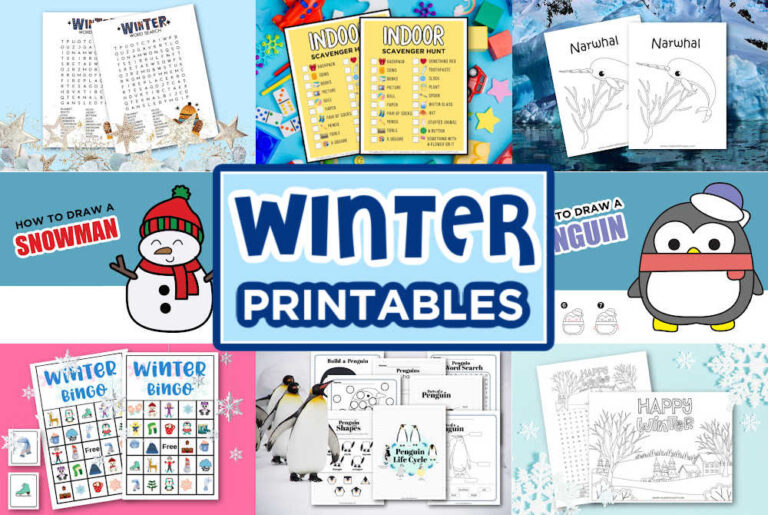 Other Winter Printables You'll Love
Download the Free Winter Word Scramble Printable
Enter your name and email in the form below. You will be taken directly to the instant download winter word scramble puzzle pdf file. If for any reason you do not want to enter your information, you can find the Winter printable word scramble in our shop too.
CONNECT WITH MADE WITH HAPPY!
Be sure to follow me on social media, so you never miss a post!
Facebook | Twitter | Youtube | Pinterest | Instagram
Looking for crafts to keep your child busy? Sign up for my 5 Ridiculous HAPPY Activities in under 30 minutes for your kids delivered directly to your inbox!
Find and shop my favorite products in my Amazon storefront here!
WINTER WORD SCRAMBLE
PIN IT TO YOUR DIY BOARD ON PINTEREST!
FOLLOW MADE WITH HAPPY ON PINTEREST FOR ALL THINGS HAPPY!