Do you have a huge Harry Potter fan in your house? Then you are going to love all these Harry potter crafts for kids of all ages. Wands, owls, and more!
These Harry Potter Crafts for Kids are making this muggle all kinds of HAPPY.
We've pulled together some of our favorite Harry Potter crafts full of creative ideas.
Entering The Wizarding World of Harry Potter
Platform 9 ¾, wands, brooms, potions, spells, gigantic spiders, friendships, and more are found in pages that J.K Rowling brought to life for many people worldwide.
I was 11 years old when I began reading Harry Potter books and was captivated by the first chapter. I couldn't put the book down.
Once I caught up, I had to eagerly wait for the next book to come out and would be either at the bookstore or the library on the day of the release. If using the library, I had to hope I was first in line or close to the holding list.
Fantastic characters came to us in 1997. I am raising my children as Harry Potter fans. My youngest has started reading Harry Potter and Sorcerer's Stone (or Philosopher's Stone in the UK).
We have a rule with Harry Potter books and films; you can't watch the movie until you finish the book. I want my children to experience both.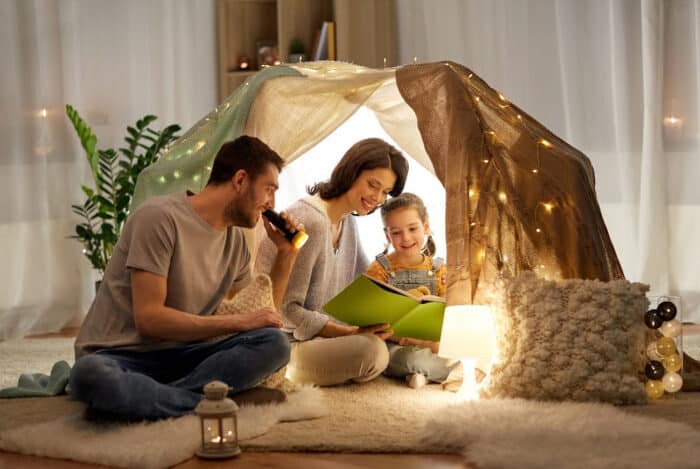 Harry Potter Family Fun
Fall time is my favorite time to read the Harry Potter books or watch Harry Potter films. I had the chance to attend each movie premiere in my hometown, and almost everyone would dress up.
In my first year going to a midnight premiere, I dressed as a witch student at Hogwarts (represented Gryffindor, of course). Then every premiere after that, I would cosplay as Sybill Trelawney (a professor at Hogwarts).
She was whimsical and passionate about her gifts. She was and still is one of my favorite characters.
The Sorting Hat
A fun fact about the famous Sorting Hat used in Harry Potter books and films to sort students into the four houses is that initially, there was no hat. J.K. Rowling (the author of the Harry Potter series) thought maybe a series of challenges to sort the wizards and witches could be done, but quickly moved on to other ideas.
One of those was the four founders of each house, coming "back to life," and they would sort the witches and wizards as they entered the grand hall.
Drawing names from a hat was on a list of ideas, and she took that and added magic to it; then, the Sorting Hat came to life. The Sorting Hat also pulls from the thoughts of the original four: Godric Gryffindor, Rowena Ravenclaw, Helga Hufflepuff, and Salazar Slytherin, while also having its distinct personality.
Harry Potter DIY Crafts
Swish and Flick! Crafts Appear! Now, if you are going to have a good Harry Potter-themed day, you have to have all the right magical additions. One of those is crafts!
Crafts like this would be perfect for a birthday party, a movie marathon, or a fun celebration of your love for Hogwarts. These Harry Potter crafts would be perfect for every HP fan out in the muggle and wizarding world! You can make each craft idea suited to your style.
Remember just how the Sorting Hat even considers your thoughts. You can do that with each design. Not everyone is a Gryffindor, and there is a reason that Hogwarts is home to four houses.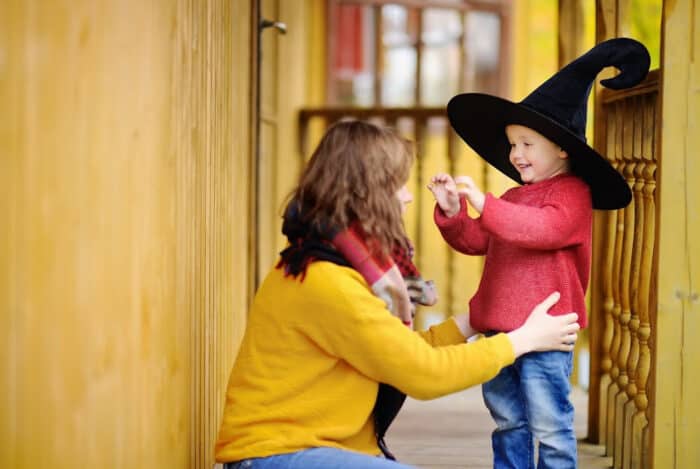 Witches and Wizards from all four Hogwarts houses make Hogwarts what it is and what it stands for. As mentioned above, Fall and Winter are the perfect time of year to read (or re-read) and watch films, but now you can add these fantastic, magical crafts.
Most importantly, remember these two things when crafting, swish and flick, and "it's LevIOsa, not LevioSA.".
Don't miss our Harry Potter coloring pages. These free printables are full of the magic of Harry Potter.
Harry Potter Wands
Let's start mystically! What's Harry Potter without his magic wand? Wands are a must!
You will know how to create the perfect wand for your children. Each wand suits the owner, so do not forget to add your unique touch and flare.
My favorite wand in the series belongs to the magnificent Professor McGonagall. 9 ½ inches long, fir wood, with a dragon heartstring core.
Professor McGonagall was a mighty witch and protected those she held close and loved. She was a strong, brave woman who knew how to stand up to friends and foes. She was not afraid of a challenge and knew when to use her magic.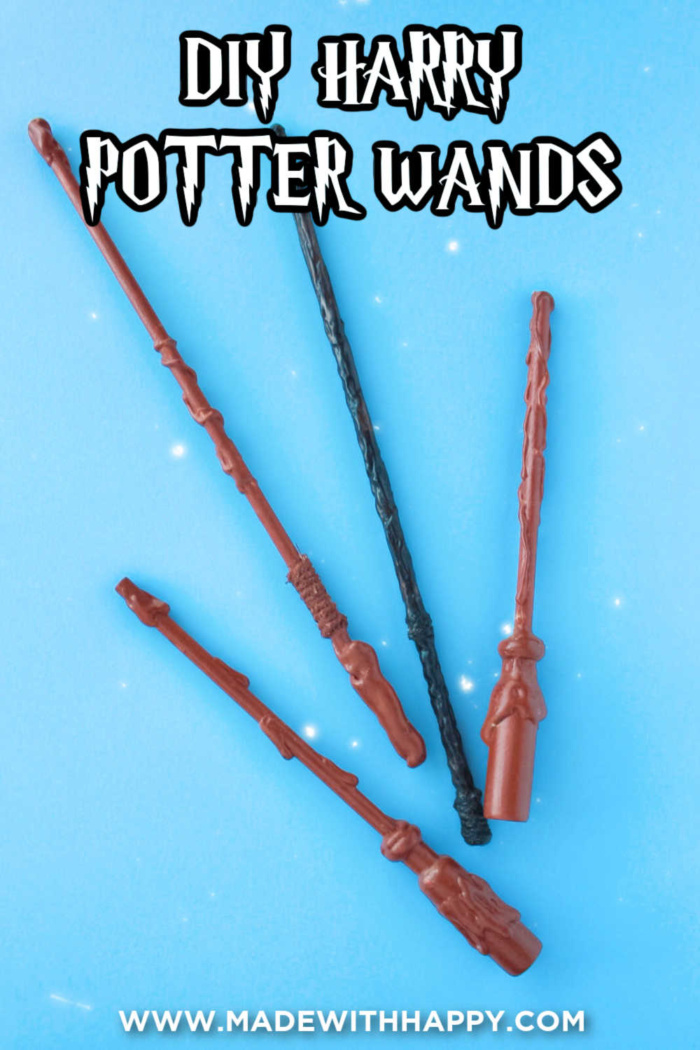 These DIY wands are one of our favorite Harry Potter craft idea projects. They are made with simple supplies and are a fun craft for kids of all ages. DIY Harry Potter Wands would be a fun activity at your next Harry Potter party.
These fun wands by The Inspiration Edit are a fun craft using a piece of paper and a hot glue gun and some acrylic paint. Your little wizards are surely going to think they are attending the Hogwarts school of witchcraft.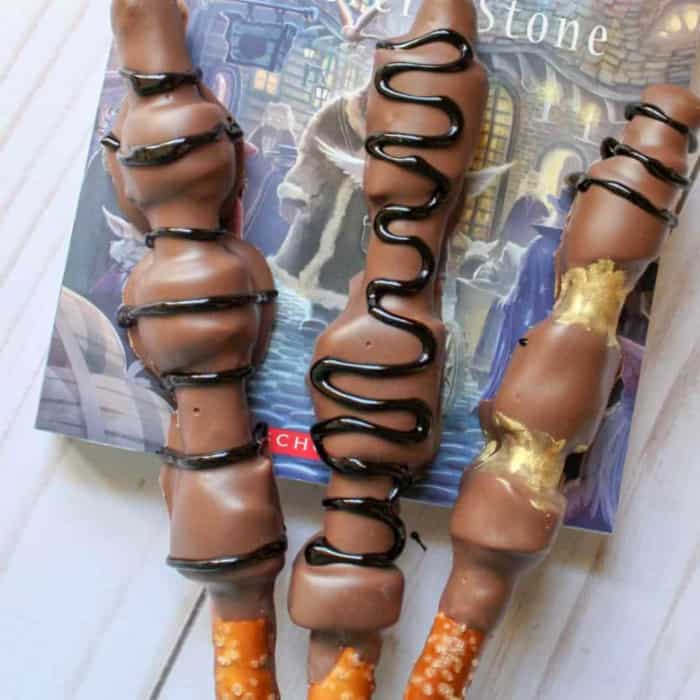 These edible wands by Nerdy Mama are so much fun and delicious. Great snack for a Harry Potter themed party.
Another magical wand craft by The Tiptoe Fairy that are fun and easy to make!
These fun wands by STEAM Powered Family are not only magical Harry Potter crafts, but stimulate your child's minds.
Harry Potter Bookworms
Hermione Granger is an avid reader, a bright student, and a best friend. Thinking of her personality, I wouldn't think she would turn the corner pages down in a book to save her spot. She would use a bookmark or two.
This craft set includes different bookmark styles to make. My favorite is the one for corner pages. Depending on your house, could be what colors you could use for each bookmark. My oldest child would love the bookmark with a character's face to pop up.
She resembles Hermione Granger with how much she reads! I need to make this craft with her now that she has started reading the Harry Potter books.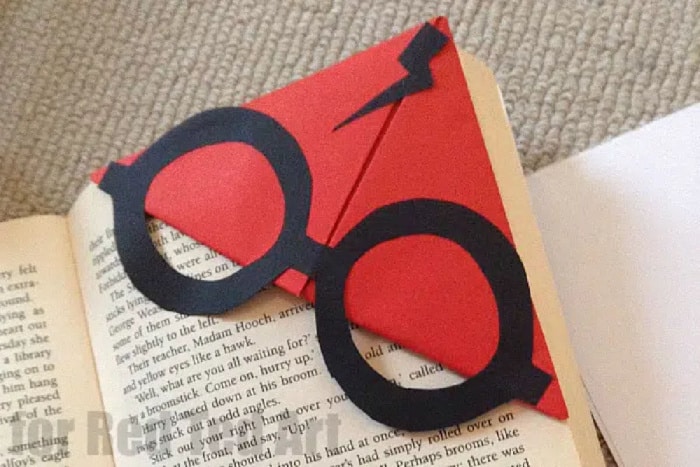 What better way to read the next Harry Potter book than accompanying it with these cute bookmarks by Red Ted Art?
Make your very own Harry Potter bookmark by Organized Island. This is a great craft full of fun. This Harry Potter themed bookmark is one of my favorite crafts.
These are the cutest Harry Potter Book ornament crafts from Artsy Fartsy Mama. These make great gifts for the ultimate Harry Potter fan.
Harry Potter DIY Crafts
What is a movie night without popcorn? These popcorn containers by Ruffles and Rainboots make Harry Potter-themed movies that much more fun! We love popcorn on the stove for movie nights.
Fall and Winter are perfect times to watch the Harry Potter movies, and now you can do so with magical popcorn containers.
If you are looking for a fun knitting craft for older kids, this knitted owl by Craft Bits is all kinds of fun!
These flying keys by Mooshu Jenne are a creative way to make winged keys that guarded the Philosopher's Stone
This is a wonderful Harry Potter craft activity by Tikkido. Great addition to your Harry Potter themed Halloween costume.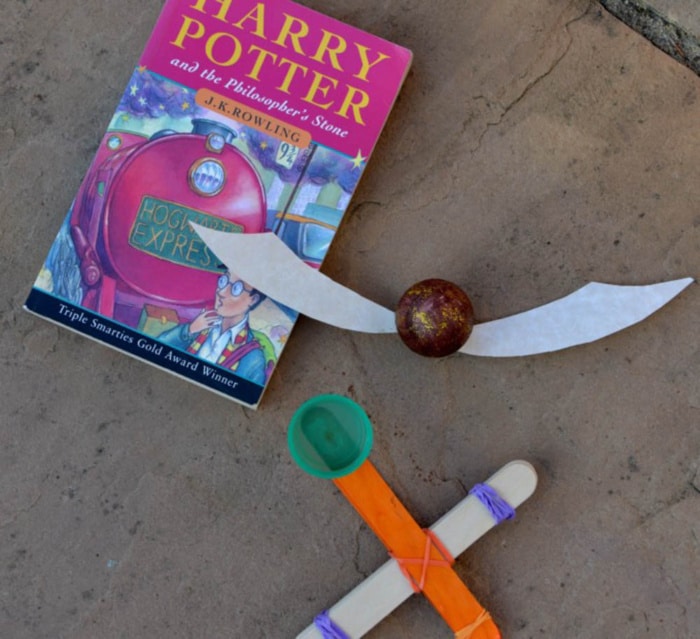 Another great way to incorporate science with a Harry Potter twist. Making golden snitches by Science Sparks and catapulting them. Fun!!!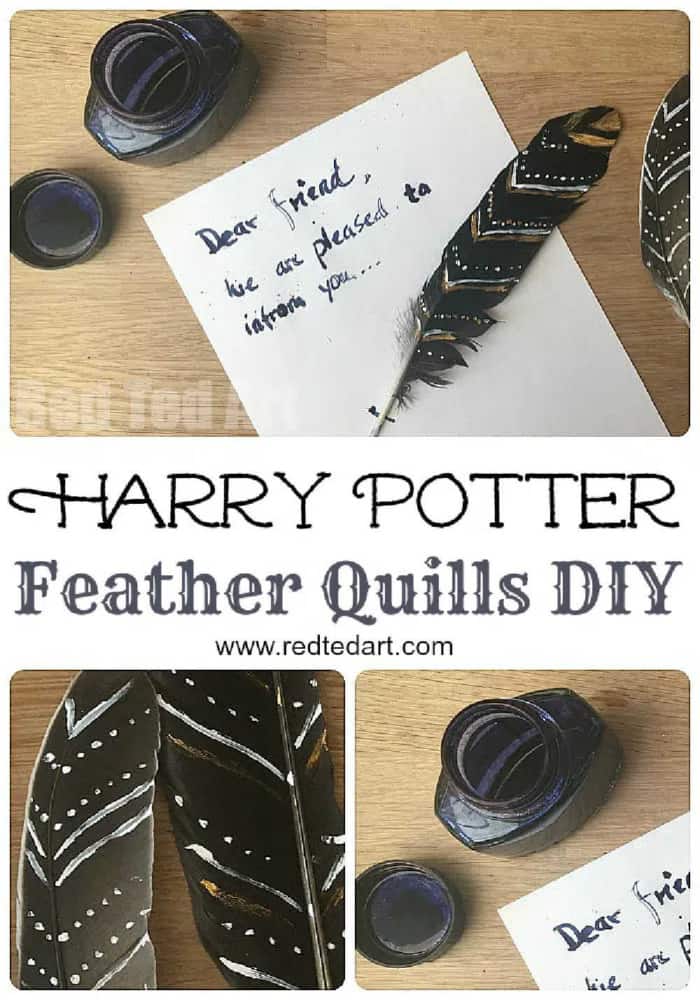 These feather quills by Red Ted Art are a fun way to get writing like you are a Hogwarts student.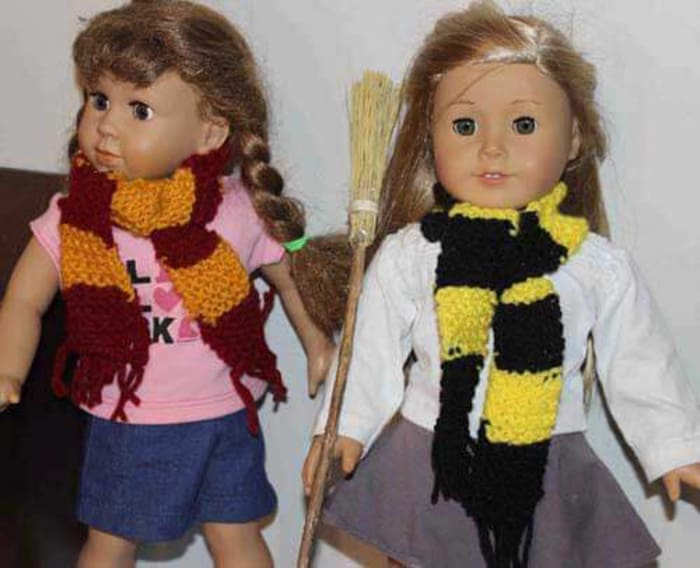 Do you have a young Harry Potter fan whose doll wants to look like Harry too? These fun needlepoint scarves by Needlepointers are a great starter project.
These magical harty potter DIY crafts spell books by Kids Activities Blog is next level fun.
A fun Hedwig Owl Charm by Kim and Carrie made from polymer clay.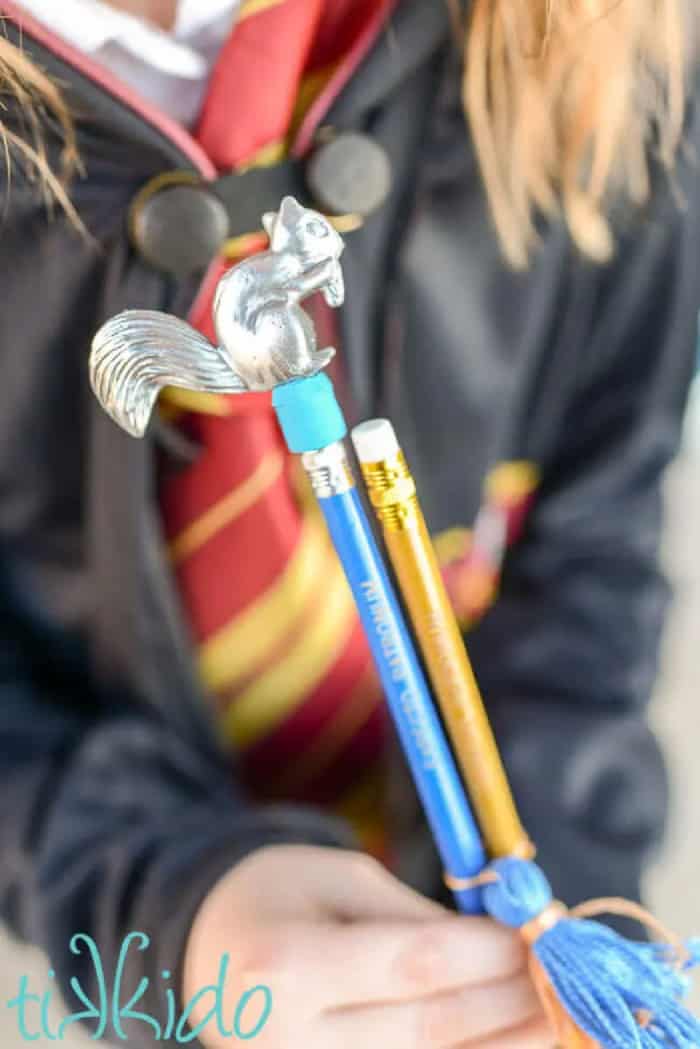 These are a fun way to take your school supplies up a level and create these fun pencil charms by Tikido.
My friend Lindsay at Artsy Fartsy Mama created the best book on Harry Potter themed crafts called Harry Potter Homemade. I highly recommend you grab your copy today!
We truly hope you enjoy all these easy Harry Potter crafts.
Happy Crafting!
We highlighted these fun crafts along with some other fun kid's crafts in our July Crafts (Harry Potter's Birthday Month) along with our 101+ Easy Craft Ideas for kids.
CONNECT WITH MADE WITH HAPPY!
Be sure to follow me on social media, so you never miss a post!
Facebook | Twitter | Youtube | Pinterest | Instagram
Looking for crafts to keep your child busy? Sign up for my 5 Ridiculous HAPPY Activities in under 30 minutes for your kids delivered directly to your inbox!
Find and shop my favorite products in my Amazon storefront here!
HARRY POTTER CRAFTS FOR KIDS
PIN IT TO YOUR DIY BOARD ON PINTEREST!
FOLLOW MADE WITH HAPPY ON PINTEREST FOR ALL THINGS HAPPY!