Learn how to make an easy DIY Harry Potter Wand with just a few materials. This is a perfect craft project for any Harry Potter fan. Great as a fun activity while watching the movies or after reading the books.
I am a big fan of the Harry Potter characters and movies. My kids just decided this year to get into it and want to dress up as Hogwarts students for Halloween. I'm so excited! We're doing a whole family "costume" theme for the 4 houses - Gryffindor, Slytherin, Ravenclaw, and Hufflepuff. To make things even more fun, I made us all personal DIY Harry Potter Wands. Store-bought wands are amazing but I really love the idea of making it myself and having a real one-of-a-kind wand.
Read on to learn how to make your own with just a few materials you probably already have at home!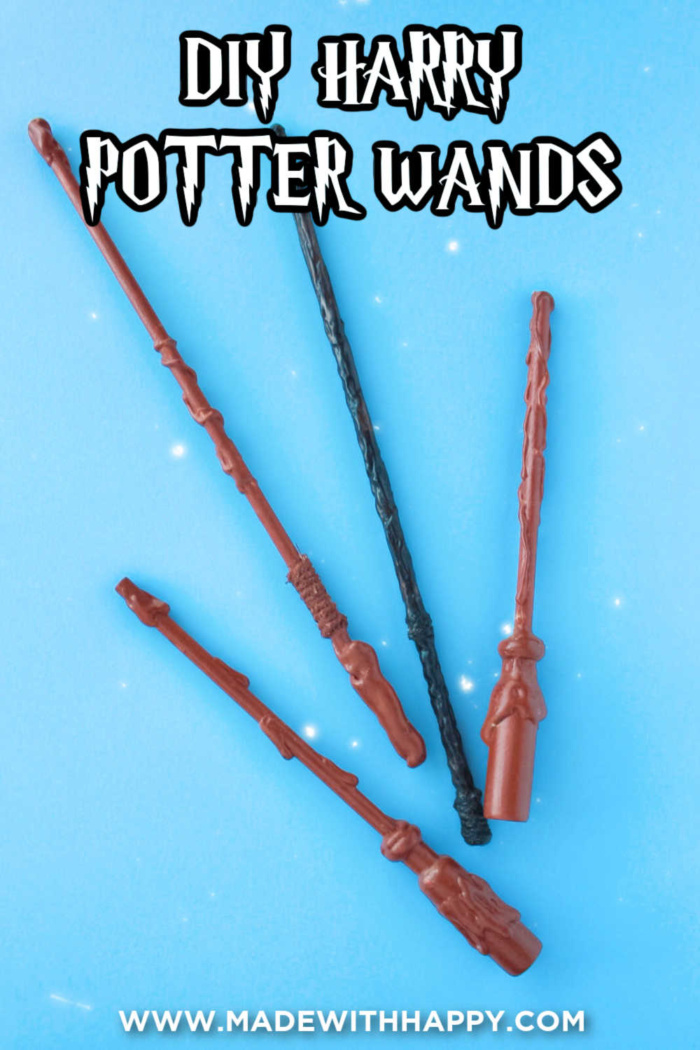 How To Make Your Own Harry Potter Wand
The first step is to gather your materials. You probably already have some of these. All you need are wooden dowels, hot glue, and paint. That's it! If you can't find wooden dowels at your local craft store, chopsticks or pencils are a great alternative. The only other materials needed are a paintbrush and mod podge for sealing.
Here's How To Make Your Own Wand:
Decide on the design you want and start adding hot glue to your wooden dowel. Add squiggles and blobs where you like to match the design you chose. You can recreate one from a character or make an original.
When the glue is dry, paint your wand. Do as many or as few coats as you want to create the effect and texture you prefer. I did about 3 coats and used a sponge tip brush to make it seem like a tree branch.
When the paint is completely dry, paint on a generous amount of the mod podge to seal it. I used the matte one and it goes on white but will dry clear. This step is optional but it gives it a nice finish and makes it look even more authentic.
Looking for more Harry Potter fun? Check out these Printable Harry Potter Coloring Pages!
Other ways to make your wand stand out:
Add rope or string for more dimension
Glue studs or jewels on before painting
Add a bit of glitter to your paint for a fun effect
Use clay to add a pointy edge
Glue on small toy creepy crawlers for a spookier feel
Mix different paints to make new colors
Use a craft knife and engrave your name or initials on it
Other Fun Crafts You Might Enjoy
CONNECT WITH MADE WITH HAPPY!
Be sure to follow me on social media, so you never miss a post!
Facebook | Twitter | Youtube | Pinterest | Instagram
Looking for crafts to keep your child busy? Sign up for my 5 Ridiculous HAPPY Activities in under 30 minutes for your kids delivered directly to your inbox!
Find and shop my favorite products in my Amazon storefront here!
DIY HARRY POTTER WANDS
PIN IT TO YOUR DIY BOARD ON PINTEREST!
FOLLOW MADE WITH HAPPY ON PINTEREST FOR ALL THINGS HAPPY!
Tag me on Facebook, Instagram, and Twitter. It really makes me so happy to see families using my ideas and having fun with their kids.
xo,
Alli