Do you want to make Dad feel extra super special this Father's Day? This "Superdad" themed Father's Day Frame Printable is the perfect gift idea! I love a good handmade gift from kids and this printable is easy for kids of any age to do. It's simple, fast, and works as a great last minute gift if you didn't have time to buy or make something in advance. Read on to learn how to download this FREE Printable and to turn it into the best gift for Dad!
Superdad Father's Day Frame Printable Craft
Here's how you can grab this FREE printable and turn it into the best Father's Day gift. You just need a few materials you probably already have at home.
White card stock (legal paper size 8.5x11in.)
Markers, crayons, color pencils or watercolor
1 5x7 photo of your kids with their superdad
Extra: 1 document size frame or 8x10 frame
Click the image below for your FREE printable.
For personal use only.
#1 Dad/Superdad
Supergrandpa version available too!
First, print out the page on white card stock. It's sturdier and thicker than standard printer paper. This makes it less likely to rip if your child colors in a little too hard with markers. Same with paint, it will hold the weight of paint better.
Now have your child go to town coloring the sheet! I used thin markers but you can use crayons, watercolor or finger paint. Set aside to dry if necessary and move on to the next step.
Turning Your Father's Day Frame Into a Gift
You'll notice the middle section of the sheet says "add 5x7 photo here" and that is exactly what it's for. When your sheet is dry, add the photo of your kids and their superdad on that space. Use glue or tape.
Keep in mind the printable is made to fit an 8x10 frame with the smaller photo in the middle. However, if you'd like you can print this on a smaller scale and adjust your photo size. For example, if you need to make two superdad sheets and want to maximize your card stock you can format to fit two on one sheet.
Here's how it looks when it's done. I love it!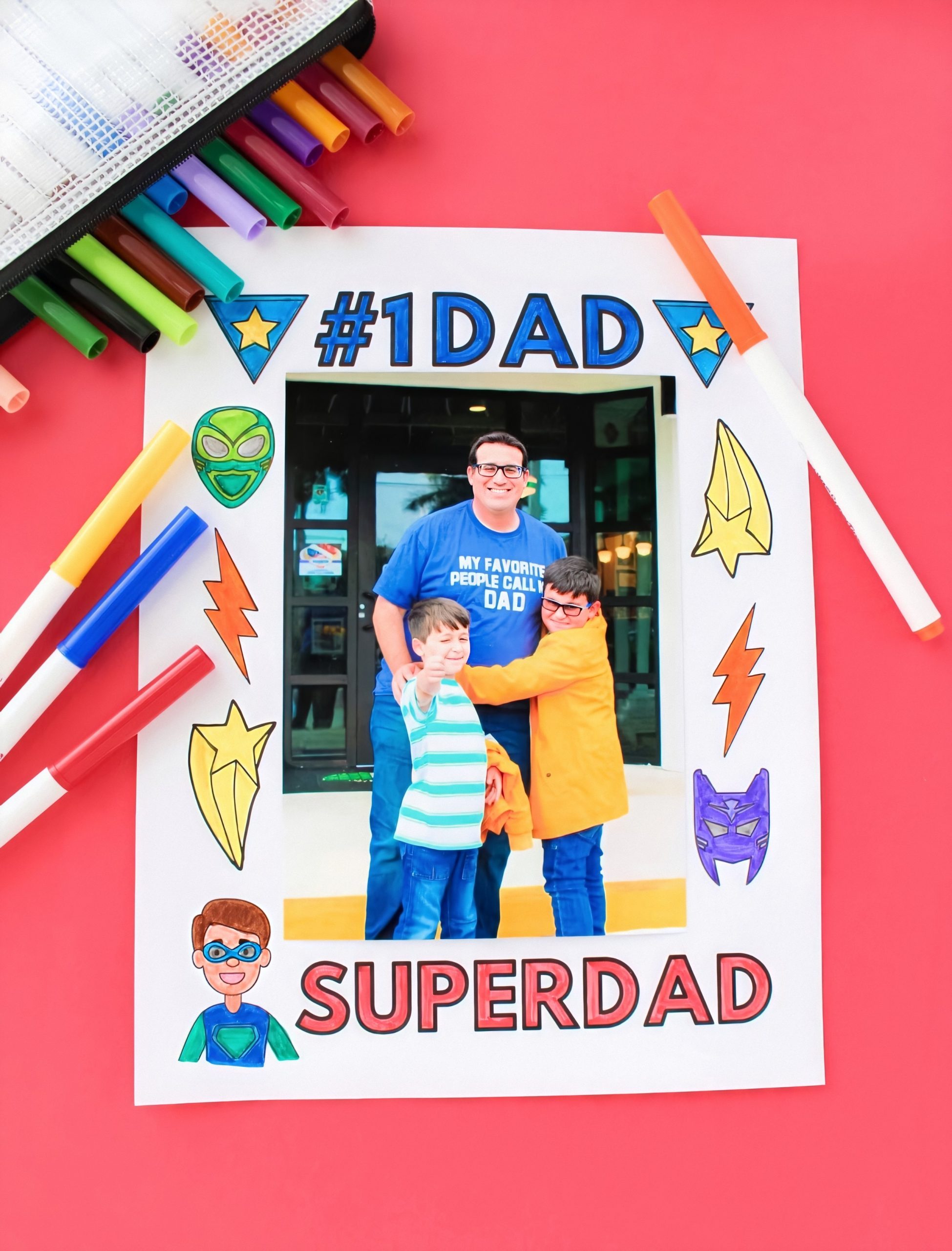 You can leave this as is and gift it this way or add it to a frame. Another thing you can do is laminate it if you have access to a machine. Either option will make this special Father's Day gift last for years!
Looking for another cool kids printable? Check out this All About Me Kids Worksheet!
---
I hope you recreate this craft and if you do please share it with me! Tag me on Facebook, Instagram and Twitter. It really makes me so happy to see families using my ideas and work with their kids.
XO,
Bessy