This post and its photos may contain affiliate links. As an Amazon associate I earn from qualifying purchases. If you make a purchase through these links, I may receive a small commission at no extra cost to you!
We are excited to be working with The Nutro™ Company along with Socialstars as part of a sponsored series sharing some awesome ways we have one of the HAPPIEST dogs on the planet.#HonestToDog

Quite often you are hearing from me about recipes I've made for my family and how I deal with picky eaters and add variety, but not as often do I get to talk to you about an important member of our family and her eating habits. This sweet beautiful face is that of the Made with HAPPY Dog, Caddie. She grew up on the golf course, so she's our Caddie 🙂 Those ears... I die.
While I don't talk about her as often I as should, it doesn't mean she is any less important part of our family. She is our oldest babe and will be 12 this December and is. like most family pets, a huge part of our HAPPY family.
She eats her dinner with us in the dinning room and shares in our nightly discussions about how our days were. Since most days she spends with me at home in my office, I often update the family on her behalf as to what fun she had. 🙂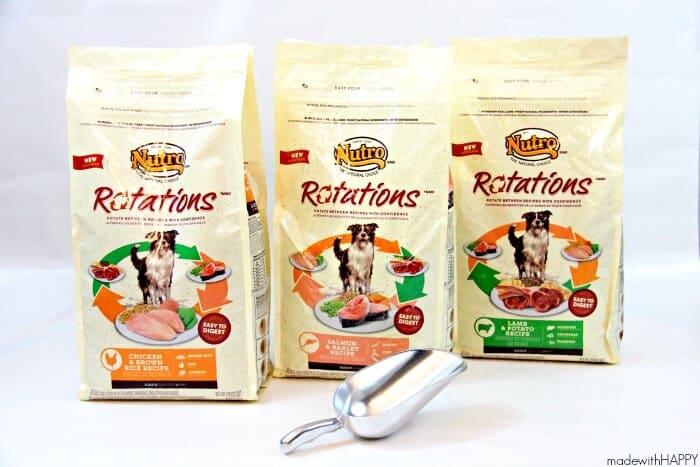 As with our human family, I try and make sure our food is healthy, good tasting and that I'm adding variety each night. In the past, I would try and extend the same to our Caddie girl, but would have trouble switching dog foods because it would mess with her tummy. That was until we tried NUTRO™ ROTATIONS™. There are three recipes that safely allow you to change up your doggy's dinner and not hurt their tummies. AWESOME RIGHT?

Now when we sit down to eat dinner each night, we can coordinate Caddie's dinner with ours. So if we're having chicken, she's having chicken and brown rice. We're having fish, she's having fish. We've noticed that she quicker to eat her meals, which we assume is because she's liking the variety and that it tastes delicious. HAPPY DOG, Hooray!!!
Don't forget to follow The Nutro Company on both Facebook + Twitter
®/™Trademarks of © The Nutro Company 2015