Hi friends. We're getting close to Thanksgiving and I can't even tell you how excited I am. I've been having turkey and gravy dreams the last couple of days... NO JOKE. I seriously can't wait!
Every year my eyes are super bigger than my stomach and I'm sure this year will be no different. I was testing out some recipes earlier this week to make sure that if you are struggling with any of the dishes, I can help out. I had an idea about stuffing.
Most people I've talked to, say that they both put the stuffing inside the bird as well as make a dish outside to ensure there is plenty.
Well, why not make them into muffins?
In the pursuit of all things HAPPY, I made them, and umm... they were D---- wait for it... VINE. Seriously, so freaking good. Here is how I did it.
Ingredients:
Stuffing - I'm partial to Mrs. Cubbisons, but if you rather make from scratch, go for it.
Mirepoix - Again, go easy. You have plenty to do on the day of, save yourself some time! - Otherwise, 1 cup chopped carrots, 1 cup chopped onion, 1 cup chopped celery
1 ½ Cup of Chicken Broth
1 stick of butter
½ Pound Sausage (optional)
Directions: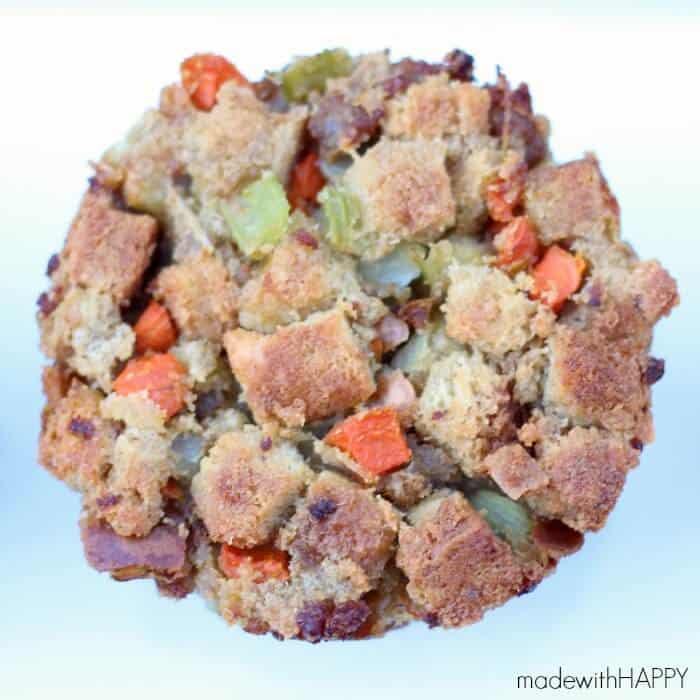 Pre-heat oven to 350 degrees.
In a medium sauce pan, melt the butter and saute the mirepoix until translucent and softened. Add the sausage and cook through. Add to the breadcrumbs. Mix in the chicken broth until fully combined.Spray your muffin tin with some non-stick spray and then pack the stuffing into the muffin cups. Into the oven for 40 minutes.The outsides are crisp and the inside is moist and delicious. Its perfection. I kind of want to swim in it, but that might just be me 🙂
Happy Cooking!