With just $50 we were able to turn this yellow and brown bathroom, into a modern white dream.
Our bathroom was like many of the bathrooms from the 80's and full of brown and brown, and more brown. I know I claim to be an equal color opportunist, but brown is seriously on the bottom of my HAPPY color list.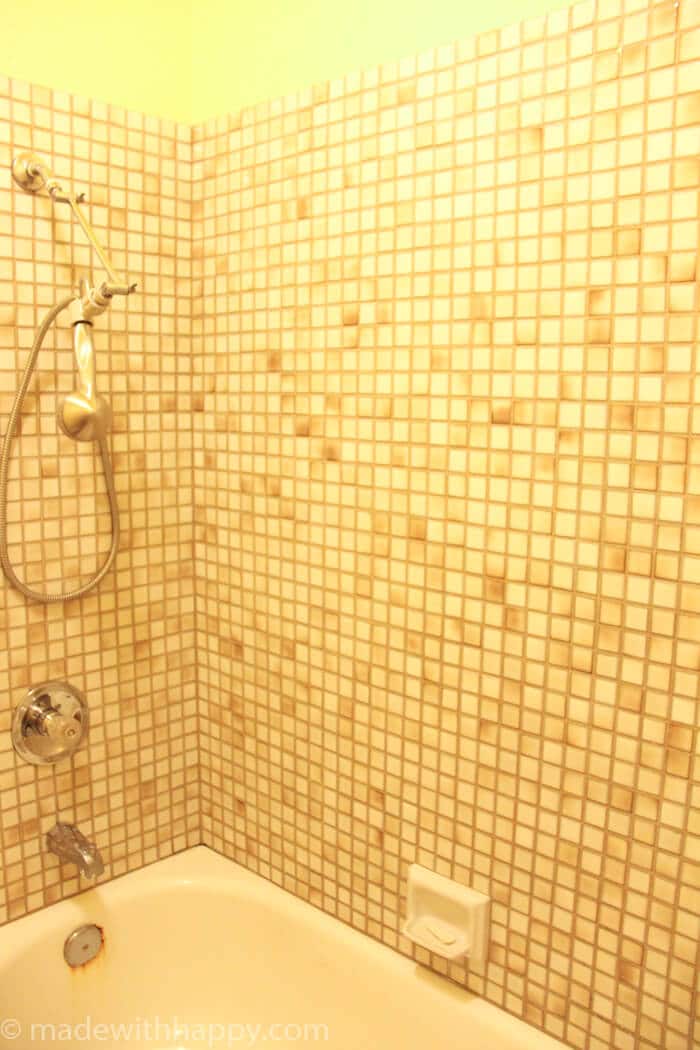 This bathroom has been one of the biggest eye soars since moving in to this house over 11 years ago. The challenge with this bathroom is that although it is way ugly, everything was in good shape. There were no loose or cracked tile, the vanity top was fine too, they were all just a terrible color.
Painting Tile
After doing my research, I found that Rust-Oleum has a product that allows you to paint the tile. After speaking with the folks over there, they sent me a box of Tub and Tile and some Lagoon colored spray paint to try out myself which when purchased would cost about fifty dollars.
There are a few things you should know before starting a project like this. I would plan on not using that space for a few days. The tub and tile not only needs time to dry, but the fumes are pretty potent and will need time to air out. Adding a few fans would definitely help in airing out that space as well. Plan on wearing a mask. The fumes are pretty strong and I was wearing a mask the entire time. I chose to tackle this project on a weekend when my family was away camping and so no one else in the family was subjected to the fumes.
DIY Budget Bathroom
I first started by applying the paint with a brush, and then realized that a small foam roller was the best way to apply it for the small tile.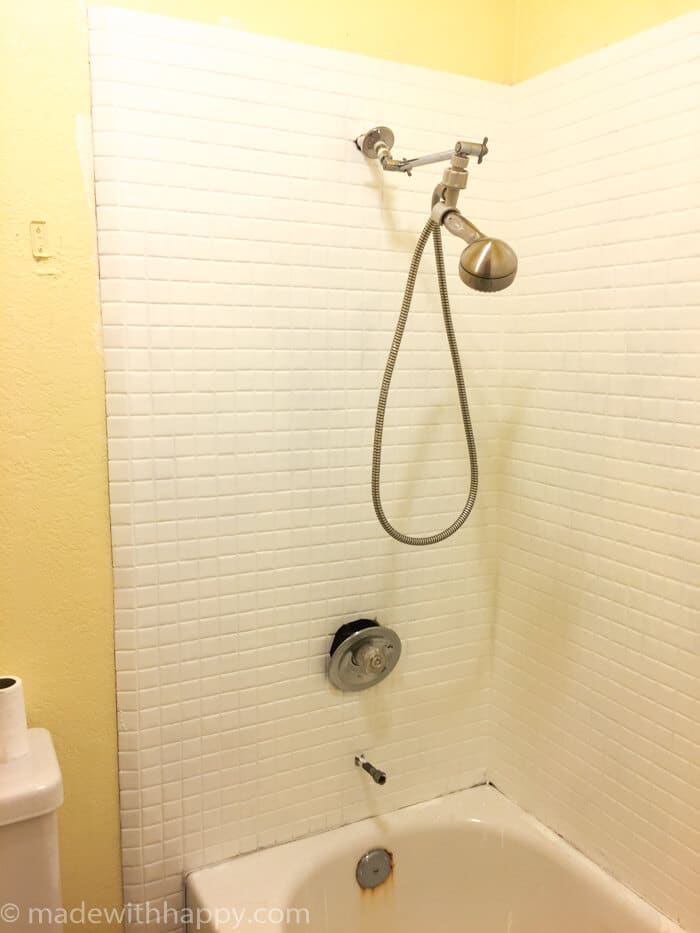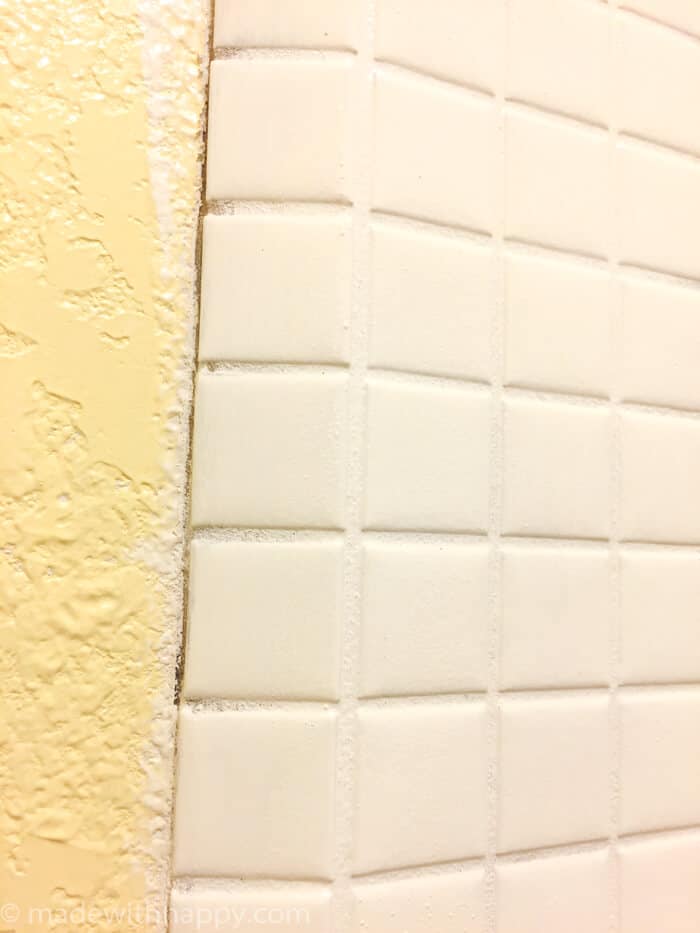 It took two coats for the bathroom tile and it turned out AWESOME! My favorite thing about the Tub and Tile is that it is self-leveling, so while you want to make sure you are applying it in even strokes, it self-levels and looks fabulous!
After the bathtub, I applied it to the vanity top. I do not know exactly what material the vanity top is, but it was that yellow tinted marble like material from the 80's. I was so excited to see how great the tub and tile worked on it.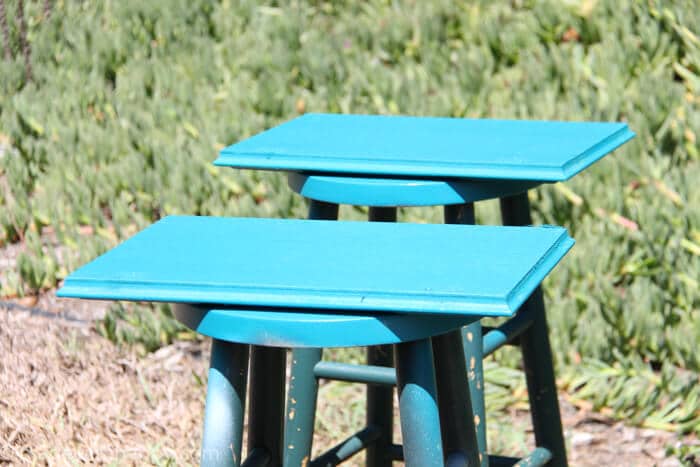 While I was waiting for the Tub and Tile to dry, it was time to tackle the cabinets, mirror, light and hardware. We had changed out the cheap wall mirror a few years back with a framed mirror. We sprayed the cabinets the lagoon blue and the mirror, the lighting fixture and cabinet hardware the rose gold. We painted the walls white to start and viola, the transformation was unbelievable.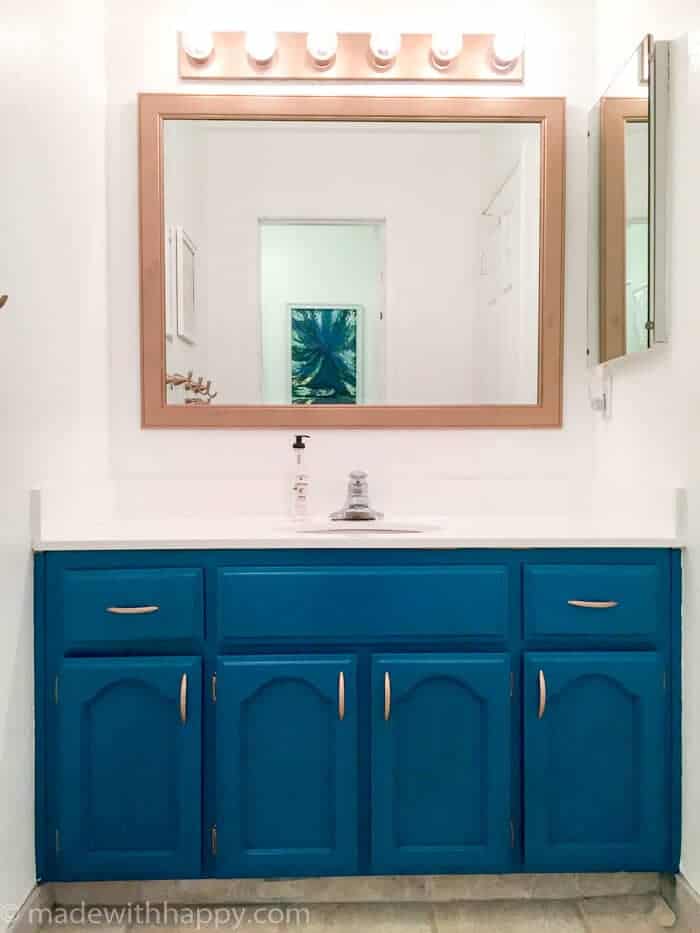 In all honesty, the bathroom looked so good, when my husband got home, he literally thought I had re-tiled the bathroom and bought a new vanity. I explained to him about the Tub and Tile and how much I flipping loved this product and his jaw was on the floor. Both the bath tub and counter are easy to clean now. I am so proud of this makeover, that I may be another 11 years until we have to touch it again.