Trend alert!! The drugstore has been stepping up its game and jumping on board all of the high-end makeup trends lately. Obviously, today we'll be discussing MATTE LIPSTICKS! I love love love anything matte. Matte primer, matte foundation, matte lipstick, matte nail polish. And I've been loving that the drugstore has picked up on this trend and included its own version of mattes. Affordable is always better 🙂 I've recently purchased the eight matte lip products above, all under $8 each. I wanted to try all of these out and let you guys know what's worth the hype. I've seen people raving about the majority of of these lip products and I wanted to test them out myself. Plus, look at the packaging of each of these! So sleek! So today I'll be swatching and reviewing each product for you and letting you know how it worked for me. The links to everything will be down below. Okay, let's get started…
NYX Soft Matte Lip Cream in "Stockholm" $6

I've heard so much hype and seen so many swatches of these NYX Matte lip creams that I had to try them for myself. I purchased this color and one more online. It always seems that I'm so much more excited to try a product when I order it online versus buying it in the store. I guess it's the waiting part. It builds up my excitement. Anyway, I did really like this product. It wasn't anything super special but it did have great pigmentation and wear. And they have AMAZING color choices.
NYX Soft Matte Lip Cream in "Abu Dhabi" $6
This is the second NYX matte lip cream that I purchased. First of all, can we just take a minute and admire this nude? IT's BEAUTIFUL! And it looks really great on the lips. It was slightly pinker than I thought it'd be but it ended up working out really nicely with the makeup look that I had envisioned. Same wear and pigmentation as the previous shade but I do like this color a lot better.
Jordana Modern Matte Lipstick in "01 Matte Bare" $3
I did not have high expectation for this product at all. I only picked it up because it was on sale at Walgreens and I happened to be in the area, picking up a couple of Jordana lip liners. I thought, why not? Plus it's super cheap, even when it's not on sale. I LOVE THIS COLOR OMG. Seriously. This might be my favorite matte lip color that I have. It's just the most perfect pinky everyday nude. It lasted a pretty long time on my lips until, of course, I had hot wings for dinner. After that, there was no trace left. But again, I really, really love this color and highly recommend!
Maybelline Vivid Matte Liquid Lipstick in Nude Thrill $8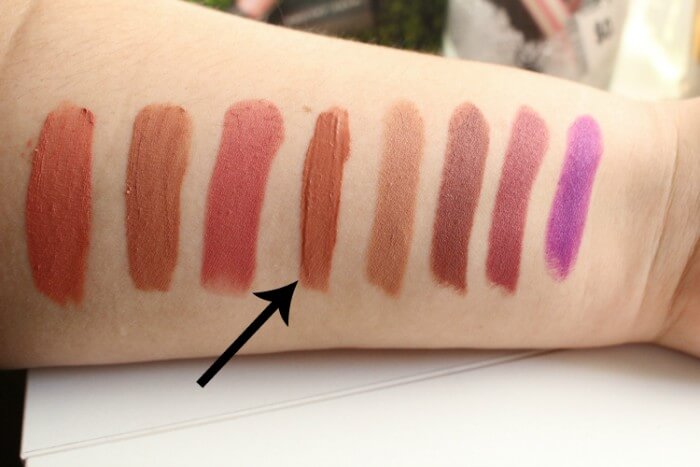 Okay, I was super excited about this purchase because I've been hearing so much about it. Plus, the packaging is great. I LOVED this color and could not wait to try it out! Too bad it sucked! Yep. Sorry, Maybelline. I was expecting a MATTE finish, since it's called "Vivid Matte" but that is not what I got at all. This product does not dry matte. Yes, the color choices are pretty good and I did really like the shade that I picked but I was totally turned off by the lack of matte. As you can see in the pictures, it is not matte. I understand that sometimes it takes a little while for a lipstick to completely dry and settle in to its matte finish but this one never got there. I wore it all day and it never dried matte. As far as the wear, I wasn't impressed there either. Since it never dried matte, it seemed to come off pretty easily when I ate or drank.
These last four swatches are all part of Maybelline's Color Sensational Creamy Matte collection. Highly recommend all of these! The only downside would be that even thought he packaging is gorgeous, it makes it difficult to see which color is which. They all look the same! It's okay, though because they're still amazing 🙂
Maybelline Color Sensational Creamy Matte in "Nude Embrace" $7.50
Ahh, the Maybelline Creamy Mattes line. Yes. Very much yes. I love this line! There are so many great shades and they're truly matte! And creamy! Unlike the dryness of the NYX lip creams, these don't really feel drying on your lips. They don't last as long as the NYX ones but it's not a significant difference. This shade right here is the nudiest nude I've ever found! Just look at it! It's perfect for everyday and would look great with pretty much any eye look. The wear was pretty good and the pigmentation was great!
Maybelline Color Sensational Creamy Matte in "Nude Nuance" $7.50
LOVE. THIS. COLOR. I love brown-toned nudes so this shade was right up my alley. It doesn't look as dark on the lips as it does in the swatch but it's still so beautiful! Great pigmentation, again, and pretty decent wear. I like this shade when I'm doing a softer eye look and a more nude shade blush.
Maybelline Color Sensational Creamy Matte in "Touch of Spice" $7.50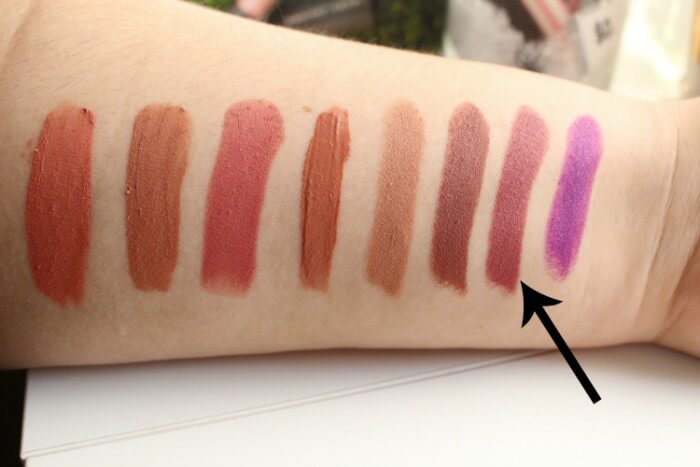 I heard so much about this specific shade that I just HAD to buy it. The funny thing was that when I finally did, I went home and saw that I already owned it. BLAH! Oh well. Now I have two 🙂 Anyway, this color is super popular in the virtual makeup world and it's for a reason! It's a really pretty matte brownish pink tone that's perfect for everyday or even for a night look! It goes with everything!
Maybelline Color Sensational Creamy Matte in "Vibrant Violet" $7.50
Oh. My. God. YES. I received this shade as a Christmas present from my sister and I'll be honest it sort of terrified me when I saw it. My first thought: "BEAUTIFUL!" My immediate second thought: "This will never work on me." I was totally wrong, thankfully! I still have not wore it out in public, other than over to my parents house, but I just need to build up the courage! Same pigmentation as the other shades but this shade is a total rockstar! And it seemed to stay on my lips a little bit longer than the other colors.
Links to each product:
NYX Cosmetics Soft Matte Lip Cream
Jordana Modern Matte Lipstick
Maybelline Vivid Matte Liquid Lipstick
Maybelline Color Sensational Creamy Mattes
Hope you enjoyed!