I'm so excited to announce another fun series this Summer.

Is that not the cutest freaking logo ever? I'm in LOVE!
What is SUMMER without CAMPING? And what is Camping without HAPPY? Umm, not HAPPY, and that is so not anything we want to think about here. 🙂
I'm super excited because over the years we've actually turned into some pretty good campers here at MWH. Quick story. When MWH Dad and I were first dating, we decided to go on our first trip together. Out to Arizona to visit his brother, then up to the Grand Canyon to camp. Neither of us had any kind of camping gear, and not thinking too much into it, we asked a friend to borrow their two person tent and we were on our way. We arrived at the Grand Canyon and were hiking down the rim of the canyon, both in shorts, working up a sweat. Keep in mind this is early April and you would have thought when we noticed the snow on one of the rims, one of us would have had a second thought about the temperature, NOPE. Later that day we found our camp site, hit up the camp store for some fire and grilling utensils and we were good. That was until about midnight, when we quickly realized why there was snow on the ground. It was sooo flipping cold. The tent we borrowed was a summer tent and had no roof and did nothing to keep us warm. We were both so cold and neither wanting to be the first to admit defeat and pack it up. One of the longest nights of both of our lives and we fowed never again to go camping un-prepared. Live and learn! 🙂
Camping! Have you gone this summer? We've gone once this summer and are actually headed out to our second camping adventure this weekend. To kick off the new series, I thought I'd share with you my favorite camping treat. Its not s'mores, its
Gooey Tubes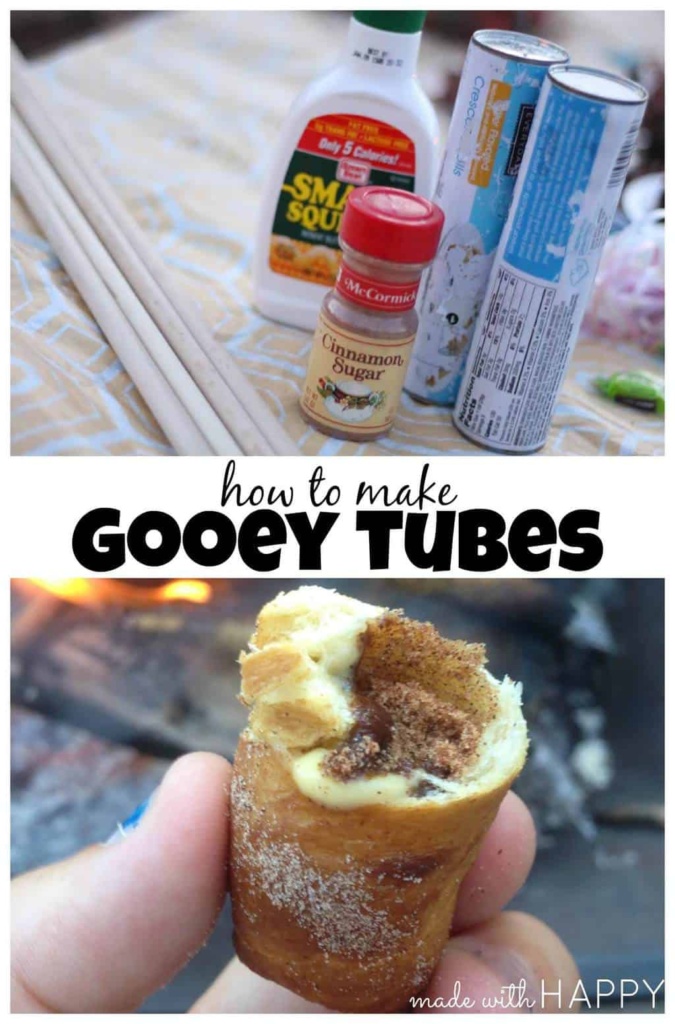 Its one of those treats you will make once and is guaranteed to make it to each of your camping trips from here on out.
Okay, here's what you need.
dowels - I prefer ½ inch thick dowels.
store bought can of crescent rolls
squeeze butter
cinnamon sugar
chocolate (optional) - chips or bars
Part 1 - Constructing the Tube
Open crescents and start with one pre-cut dough piece
Roll the dough between your hands back and forth
Mold dough into a snake like figure 6 or so inches in length
Starting at the end of the dowel, attached one side of the dough to the top of the dowel
Wrap the dough down the dowel in a spiral motion
Making sure there are no gaps in the dough, attach all the way till the dough is fully attached.
Part 2 - Making the Gooey Tube
The dough on the down should look like a tube covering the dowel 🙂
Over to the fire
Start to roast your tube. There are a couple different methods to roasting and its very much like roasting a marshmallow. You can move it right into the thick of the fire and it will cook and become quite crispy. Or you can cook above the flame (my favorite) and slowly turn the dowel to make sure its cooking
You will know the crescent is done when it slips off the dowel.
Now to gooey it up. Down the tube of the crescent, add your squeeze butter. Go as much or as little as you like. You're camping, no judgement here if you give it one extra squeeze.
Add the cinnamon sugar down the tube. Again adding as much or as little as you like. The butter heats from the warm crescent and it in turn melts the cinnamon sugar. (
Optional at this point, and by optional, I mean on your third gooey tube you may want to push a piece of chocolate from your s'mores stash down the tube right off the fire. It melts at the bottom and well, its unbelievably delicious as well.
There you have a tiny piece of camping heaven. The dowels can last for many many uses and we only recently decided to purchase a few more after maybe 5 years of using the first ones.
They will soon be a family favorite(like my family's) as much or even more than s'mores. I promise.
Happy Camping!