This post and its photos may contain affiliate links. As an Amazon associate I earn from qualifying purchases. If you make a purchase through these links, I may receive a small commission at no extra cost to you!
We kicked our Summer off with a bang this year as traved to to the Midwest as a family. Kansas City was our first stop on what we called our Made with HAPPY Midwest Adventure. We surprised the kids and stayed at Great Wolf Lodge Kansas City.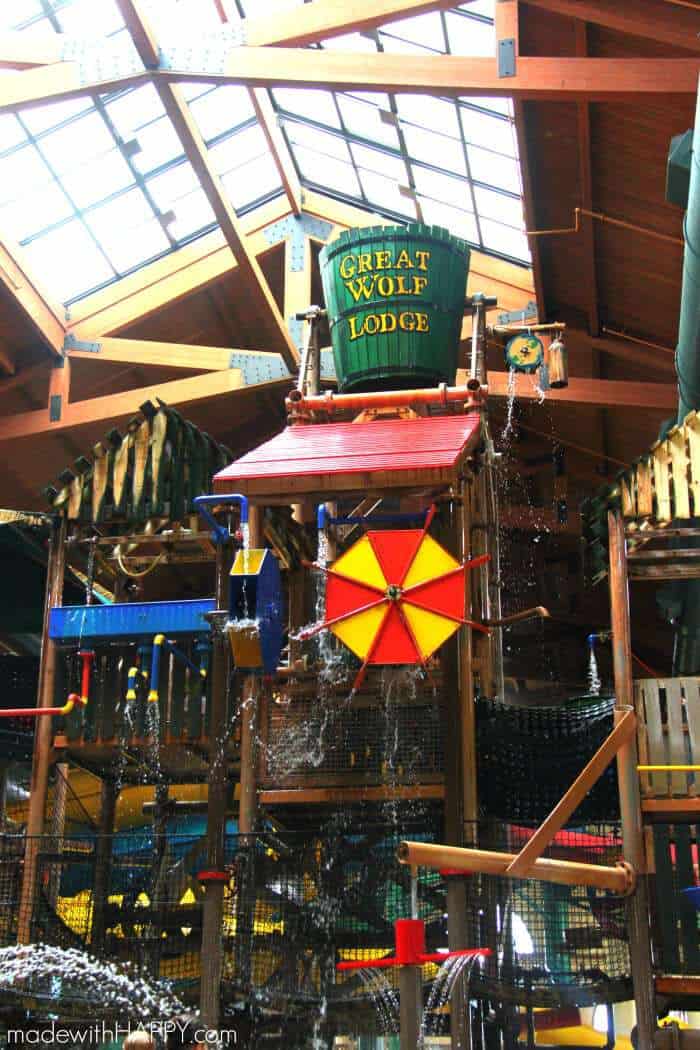 While this wasn't our first trip to Great Wolf Lodge, it has been a few years since our last visit and the first time both kids were floaty free! Sweet!!
Great Wolf Lodge recently opened its first location in California just up the road from us in Garden Grove and knowing that we have been, I get a number of questions from friends and readers about Great Wolf. While I have not been to the one in Southern California, I can tell you what I know and love about the Great Wolf Lodge Kansas City and can only assume that any Great Wolf Lodge you go to, you will have a similiar if not better experience.
Great Wolf Lodge Kansas City
Are all the waterslides indoors?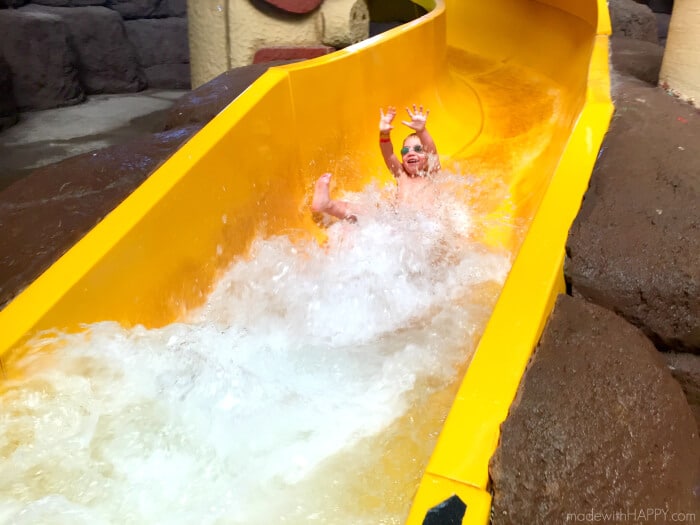 Yes, for the Kansas City location, I can tell you that all waterslides are indoors. There are 3 large intertube riding waterslides, and two slides coming off the treehouse, and then two mini slides for the ity-bity ones.
What else is there to do in the water park besides slides?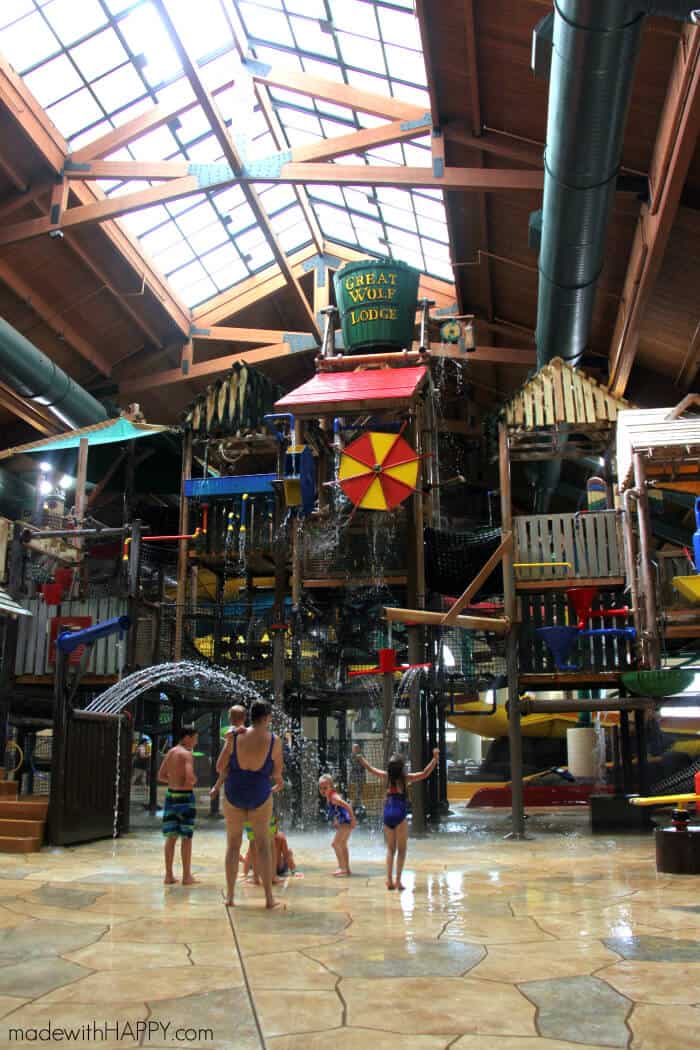 There is a large treehouse type structure in the middle of the park that filled with climbing ropes, tubes, water buckets, water gun, levers.
Every couple of minutes, a little bell goes off notifying those below that the gigantic water bucket is about to dump.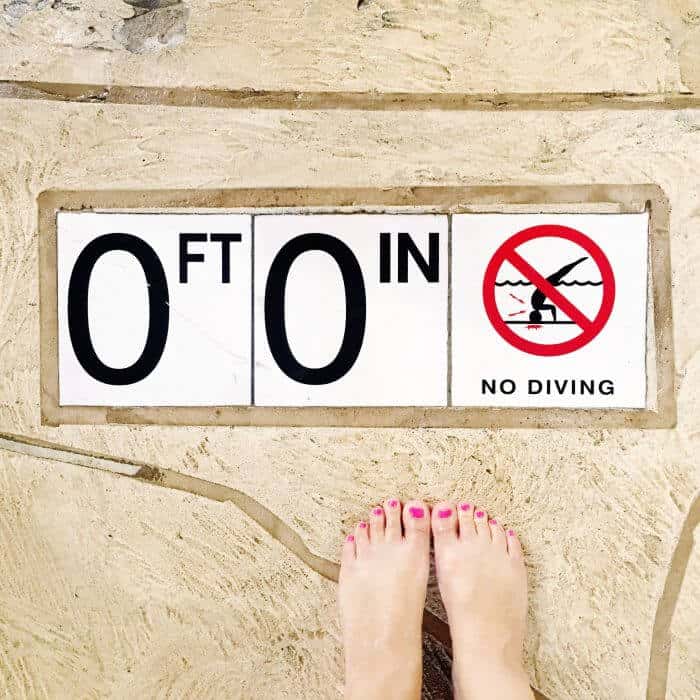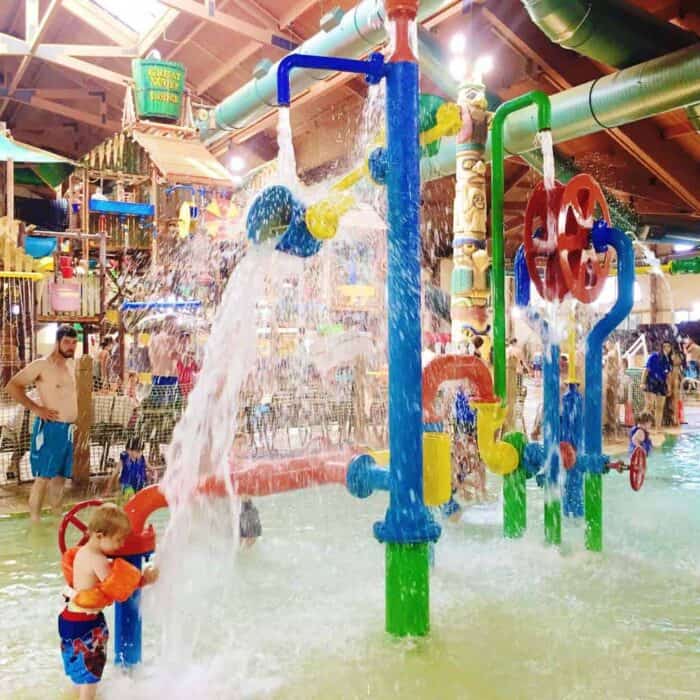 There is a splash pad area for the littles that is less than a foot of water and allows them to have their own water bucket and lever fun.
There is a lazy river that allows for a little downtime of floating and relaxing.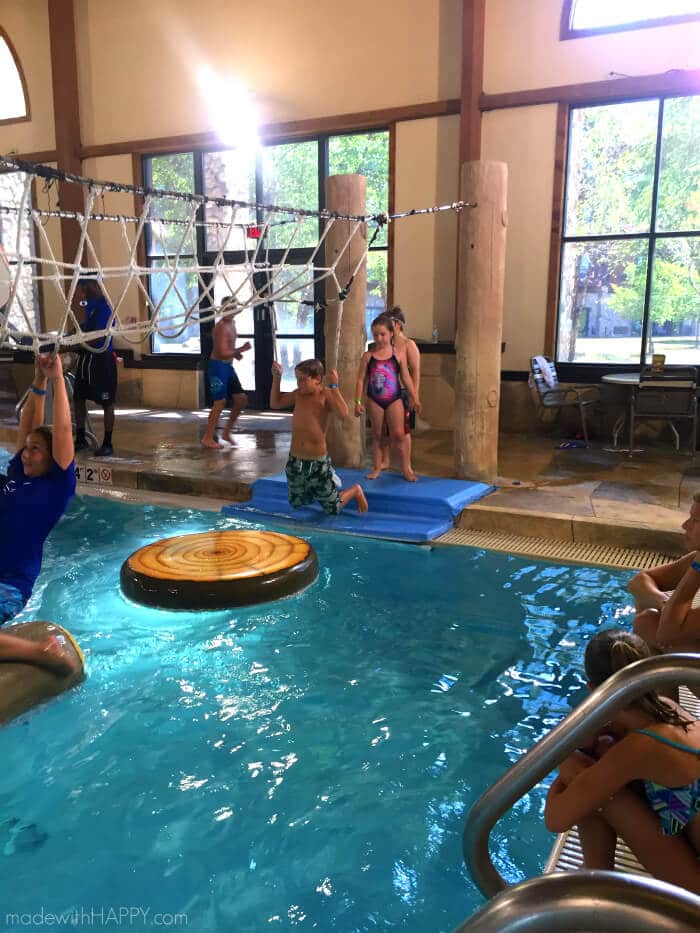 One of our kids favorite areas of the park was this rope area that allowed them to practice their inner America Ninja Warrior and rope climb through the water to the other side.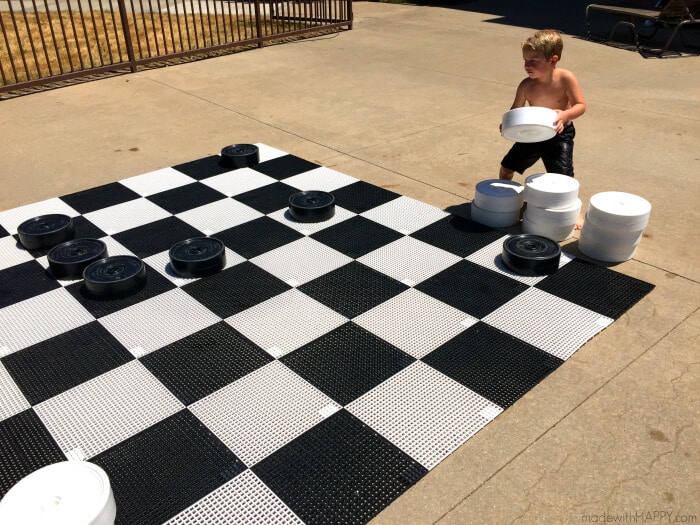 There is also an outside pool with basketball hoops and fun outdoor checker set perfect for a out of water break.
Are there other non-water slide activities for the kids?
Absolutely YES!!! SO MANY THINGS TO DO!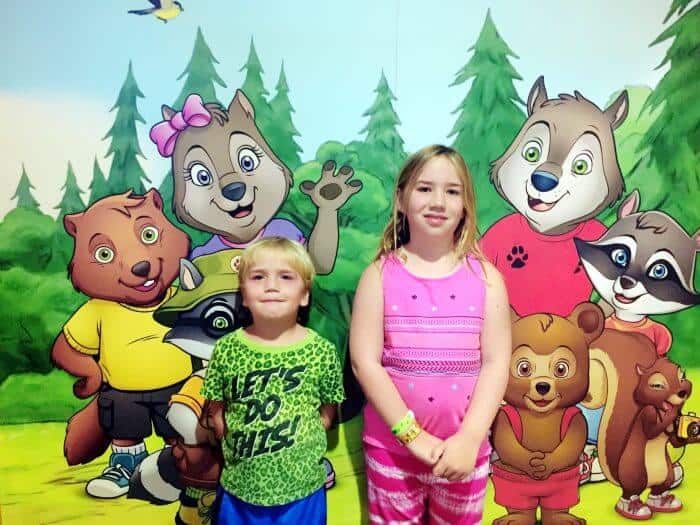 There are so many things to do, that you could have your kids busy and active all day long.
Mini-Golf: They have a 12 hole mini-golf course outside that they call Howl in One. 🙂
Cub Club: A fun room filled with crafts, coloring, puppets, and toys. Great for a little dry downtime.
Arcade: There is a full blown arcade in the hotel. All the games you love at the boardwalk with skeeball, tickets and prizes.
Scoop Kids Spa: Both MWH Girl and I wanted to do this so bad this trip, but there just was not enough time. Next time, for sure we will check it out and report back.
Character Visits and Activities: There are a ton (I really am not exagerating) of times throughout the day that they have character visits, wolf walks, yoga in the morning, face paintings, crafts, story readings, and pj parties at night. They get the kids involved, they get them moving and dancing and I know my kids adore each of the activities as much as the last.
Compass Quest & MagiQuest: This my friends is hours if not days of fun! We did not truly know what in the world everyone was running around doing until this visit. They have two different interactive games setup throughout the hotel. The MagiQuest is the main game and then the Compass Quest, takes it another level. We played MagiQuest and had a ton of fun.You purchase a secret wand (computer programed) and througout your visit you go on different adventures locating different items througout the hotel. We had a ton of fun figure it all out and running around the hotel like crazy people.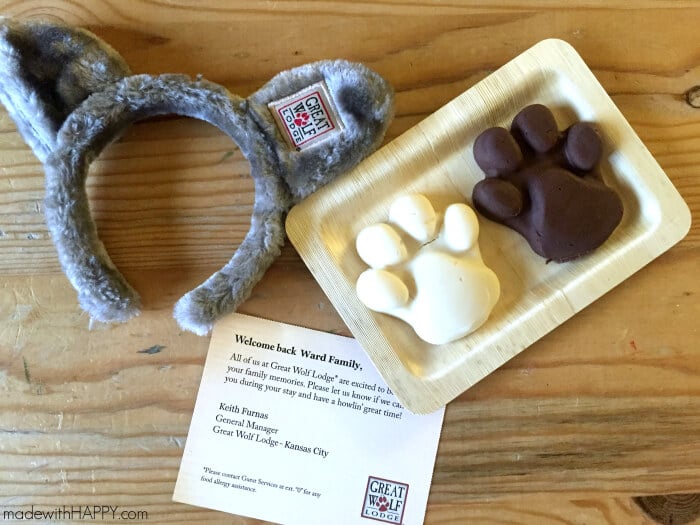 The Great Wolf Lodge Kansas City is not only one of my family's favorite all time resorts because of ALL.THE.FUN, but as a parent, I truly appreciate how they are looking out for the well being of the entire family and making sure we all have an absolute blast!
I hope you and your family are able to stay at a Great Wolf Lodge too! I would be more than HAPPY to answer any other questions you might have about Great Wolf Lodge.
HAPPY GREAT WOLF LODGING!!!