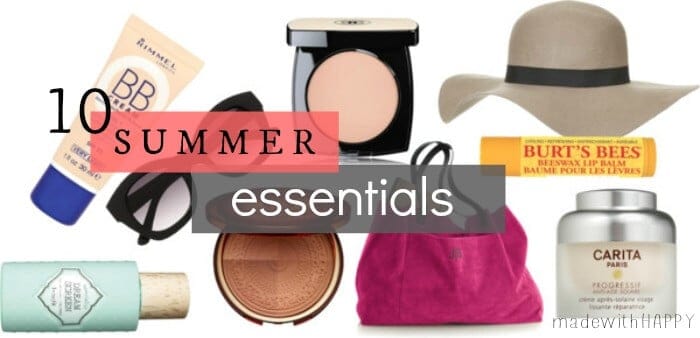 1. Sunglasses: need I say more?
2. Floppy hat: This is perfect for when you want to catch some rays but you don't want to walk away with a completely burnt face. Sun also damages your hair so it protects that, too!
3. Sun screen: 30 spf+ is ideal!
4. Lightweight foundation with spf: These are really easy to find in the drugstore. Some of my favorites are: CoverGirl Outlast Stay Fabulous 3-in-1 Foundation SPF 20, Maybelline Fit Me Foundation SPF 18, and Physicians Formula Youthful Wear Spotless Foundation SPF 15.
5. Lightweight powder: This is super important! Your face tends to get oily quicker but you don't want to talk around feeling cakey and sweaty at the same time. Finding a powder that is lightweight is crucial! Neutrogena Sheers Powder SPF 20 is a great one because it is sheer, making it thinner and it does has SPF to protect your skin.
6. Warm toned bronzer: Bronzer is great, especially when you haven't got to your full tan potential just yet. It's important to get a warm-toned bronzer rather than a cool-toned one because when you're tanning, a cool-toned bronzer can give you a grayer look. Cool-tones are better for the winter months!
7. Lightweight moisturizer: Even though your skin is oilier in the hotter months, it is still really important to moisturize your face. Using a lightweight one will help make you feel like you can slap it on in the morning (or at night) without feeling greasy.
8. Chapstick: This one is so simple but not everyone thinks of it. It is really important to keep your lips moisturized during the summer because the sun does affect them. Finding one with spf in it is an extra bonus!
9. Beach bag: When looking for a summer beach bag, you want to find something big but not too big. You want something lightweight, but sturdy. You never know what you might need to throw in there! Also, stay far away from white. It is called a BEACH bag after all. Sand + white fabric = regret.
10. After sun cream: This is an added protector for your skin and not 100% necessary. If you tend to burn easily and peel fast, I recommend this stuff. You can find it at pretty much any drugstore. It keeps your skin from getting crispy!
Some other Summer Fun Posts you might enjoy