Llamas are super in right now! From fun quotes like "Say your drama for your Llama" which I frequently use around our house, to fun colorful ways to decorate with Llamas.
Look around at the stores and you are sure to find at least one item that has a sweet Llama on it. Llamas represent symbols of endurance, balanced action. Though they can become stubborn if treated poorly, they are hard-working and dependable.
Llama is here to remind you that only through hard work and perseverance will your dreams be realized.
Before we go into our fun Llama finds, we wanted to let you know about a fun Golden Llama Treasure Hunt going on at Cost Plus World Market right now. It's happening in-store only. You can find your local store here. My closest store is in Oceanside, CA, and can't wait to get in to join in the golden llama fun.
Golden​ ​Llama​ ​Treasure​ ​Hunt
Find​ ​a​ ​Golden​ ​Llama​ ​and​ ​receive​ ​a​ ​coupon​ ​valued​ ​at​ ​$20,​ ​$50​ ​, or​ ​$100! Over​ ​$1​ ​Million​ ​in​ ​Total​ ​Rewards!
How​ ​to​ ​play:
Every​ ​day​ ​beginning​ ​Wednesday,​ ​November​ ​1st​ ​through​ ​Wednesday,​ ​November 22nd,​ ​your​ ​local​ ​Cost​ ​Plus​ ​World​ ​Market​ ​store​ ​will​ ​hide​ ​5​ ​Golden​ ​Llama​ ​pieces throughout​ ​the​ ​store.
Each​ ​day,​ ​we'll​ ​share​ ​the​ ​daily​ ​clue​ ​in-store,​ ​via​ ​email​ ​and​ ​on​ ​our​ ​social​ ​media channels.​ ​Use​ ​the​ ​clue​ ​to​ ​help​ ​you​ ​find​ ​a​ ​Golden​ ​Llama​ ​and​ ​you​ ​could​ ​receive​ ​a reward.
Locate​ ​(1)​ ​Golden​ ​Llama​ ​piece​ ​and​ ​bring​ ​it​ ​to​ ​the​ ​nearest​ ​store​ ​associate​ ​to exchange​ ​for​ ​a​ ​reward​ ​coupon​ ​valued​ ​at​ ​$20,​ ​$50​ ​or​ ​$100.​ ​Reward​ ​is​ ​valid​ ​only​ ​on the​ ​day​ ​it​ ​is​ ​awarded.
*Limit​ ​one​ ​(1)​ ​reward​ ​per​ ​person​ ​throughout​ ​the​ ​Promotion​ ​Period,​ ​regardless​ ​of​ ​store location(s)​ ​visited.​ ​EMPLOYEES​ ​NOT​ ​ELIGIBLE.​ ​See​ ​Terms​ ​of​ ​Participation​ ​for​ ​complete details.
We are even ready to give you your clue to Day 1.
Now head on over there!!!
Okay, now on to our fun colorful finds of Llamas. Here are our full finds. Hope you find the perfect Llama for your home at World Market!
Decorate with Llamas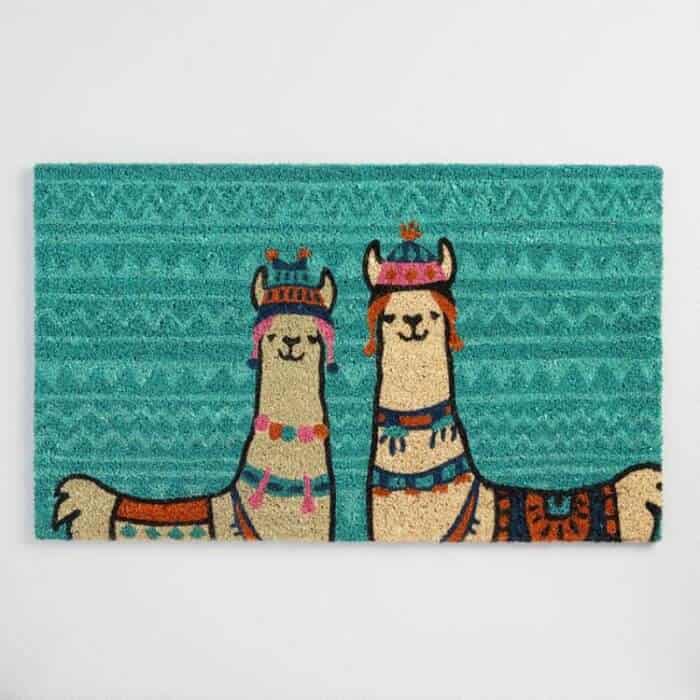 Folkloric Llama Shaped Throw Pillow Super cute & colorful stuffed llama Throw pillow to add a pop of color to any boring space. It is sure to strike up a conversation about the Llama shape. Super fun!
Llama Coir Doormat
Loving this bright aqua-based Llama doormat. Great way to bring some excitement & interest to anyone's front door!Gold Llama Accent Lamp Base
It's A LLAMA LAMP you guys!!! This amazing little treasure is sure to add some pizazz to your living room or bedroom! What an incredible Gold Llama accent lamp that is too adorable to pass up! Plus having this Llama lamp in your house will remind you of all the hard work you have accomplished in life!
Kids' Llama Apron
What a sweet little apron to give as a gift for the upcoming holidays! I am sure it will bring tons of smiles and enjoyment to a little one's face to wear this around while helping bake some delicious cookies this fall! Love all the colors too!
Blue Embroidered Llama Kitchen Towel
Fun & festive dish towels for your kitchen! Bring that Llama into your home this holiday season!
Don't forget these Llamas symbolize endurance and balance in your life!
Ceramic Llama Cookie Jar
Too dang cute! This adorable ceramic Llama cookie jar would look fabulous in a kitchen that just needs to bring in some fun color! Fun & funky gift for anyone!
Happy Llama Framed Print On Wood Wall Art
Can't pass up this unique and colorful Llama Wall Art for your home, especially because it is called "Happy" Llama Framed Print. Fun and interesting piece of art to add to any room.
DECORATE WITH LLAMAS
PIN IT TO YOUR PINTEREST BOARDS!
FOLLOW Made with HAPPY ON PINTEREST FOR MORE GREAT HOME DECORATION IDEAS!

Shop all the HAPPY items from this post!