Entertaining during the holidays can be so much fun, and with little touches like these DIY Christmas napkin rings made out of cranberry and rosemary, it can make it all kinds of festive!
Cranberries have long been a festive addition to any holiday decor. We love to string them as garland on the tree, place them in jars around the house or sprucing up any holiday cocktail.
I love the color and festive feel they provide. I don't know about you, but we tend to host a great deal over the holiday season and are always looking for fun ways to gussy up the table. That is where these DIY Christmas napkin rings came to fruition.
We own a gigantic rosemary bush in our backyard and I'm always incorporating it into our meals. It wasn't until recently that we started decorating with it as well. It smells amazing and is a great greenery.
There are a few different ways that you can incorporate the cranberries and the rosemary into your tablescapes, I've put together two different ways that will add some fun color and holiday spirit.
DIY Christmas Napkin Rings

Supplies:
Bag of cranberries
Rosemary
Bakers Twine
Scissors
Christmas Napkin Option 1
Simply remove the rosemary needles from the bottom two-thirds of the sprig. Simply poke the cranberries onto the rosemary skewer. You can tie a piece of twine around the napkin to hold the sprig in place.
Christmas Napkin Option 2
Simply cut a piece of craft wire about 1 foot long. Thread the cranberries onto the craft wire. Thread around 12-14 cranberries depending on the thickness of your napkins.
Twist the ends of the wire once you have the cranberries threaded.
Cut a few different ends of the rosemary and fold the wire the rosemary to hold it down at the top. Then tie a bow with the twine and viola.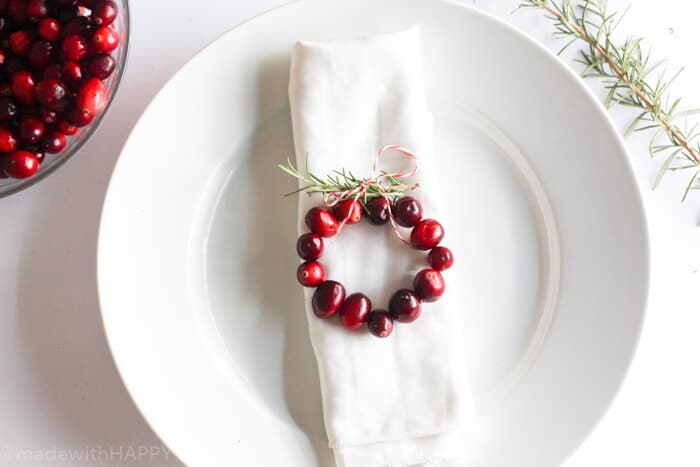 DIY CRANBERRY ROSEMARY CHRISTMAS NAPKIN RINGS
PIN IT TO YOUR DIY BOARD ON PINTEREST!
FOLLOW MADEWITHHAPPY ON PINTEREST FOR MORE GREAT RECIPES!